StarWind software is around for a long time. Previously known as a software company only, StarWind now offers since some time, a fully pre-packaged solutions – Starwind Hyper-Converged Appliances (HCA) for ROBO and SMBs.
The solutions are bundled with Hypervisor of choice (VMware or Hyper-V), StarWind Virtual SAN, Data protection (Veeam), Management 5Nine Software (for Hyper-V). Starwind provides Customized installs for clients depending on the needs they have. Often it is 2-3 nodes, but the largest solution can scale out to 64 nodes. The hardware appliances are pre-assembled at the factory and pre-installed at Starwind. Then shipped to the customer where a StarWind engineer finishes the configuration.
Storage is handled by StarWind, and will protect the data by synchronously mirroring the datastore, created out of a local storage. The local storage can be a mix of SSDs, HDDs where the SSDs are configured for level 1 caching. StarWind uses conventional RAM as a write buffer and Level 1 cache to absorb writes.
Disk caching can operate in two modes:
Write-through –  Application data in the memory cache changes, updating of the corresponding disk block is immediate.
Write-back – In write-back mode, updates of data on disk occur only when the contents of unused blocks of memory are supplanted from the cache. Write-back mode has better performance, but data integrity may be compromised by system failure.
As a hypervisor, there is a choice between Microsoft Hyper-V or VMware vSphere. Basic Hyper-V management is assured via 5nine software (in partnership with StarWind), but they can also pre-install and pre-configure Microsoft SCVMM which can manage larger environments.
Microsoft
Microsoft can be deployed as a Windows Hyper-V server or as a Hyper-V (Core, without GUI console). In both cases, Starwind installs the core software onto the hypervisor. The management of Starwind Hyperconverged solution is done via a Starwind console. VM tasks can be managed via console from 5Nine software. (to be developed….) The Starwind management console and 5Nine console can be deployed:
Within the hypervisor (core or GUI)
As a remote console
Web-based console (New) – no flash. Only HTML 5 based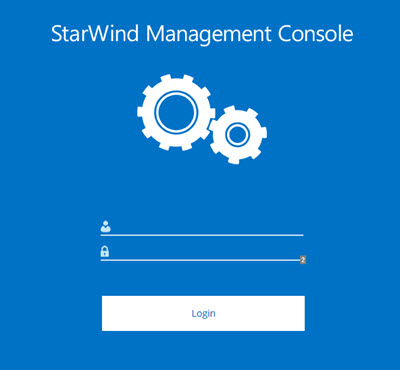 To install the Starwind Web-based console you need to download separate appliance and within the Starwind Assistant check the "Configure user account for Web-access to Management console" checkbox.
StarWind Virtual SAN Installer Wizard.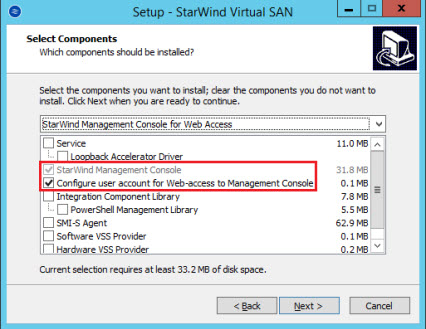 You can install that on any Windows-based physical host or virtual machine that has LAN access to your StarWind Virtual SAN servers. It is recommended to install StarWind Web Console feature on StarWind Virtual SAN servers to keep the configuration simple.
VMware vSphere
VMware vSphere is another option as virtualization solution. Again, the servers are fully pre-installed.
Starwind can be deployed as:
VSA (virtual appliance) on the top of VMware (Single OVF to download and deploy).
Together VMware VSAN – in this case, VMware VSAN assures traditional vSphere storage policy for VSAN. Starwind is installed as a VSA and provides additional storage services on the top of VSAN.
Storage services support:
NFS
SMB 3.1
SMB direct
iSCSI storage outside of VMware
VTL (Virtual Tape Library) – can be used as a destination for backups.
Additionally, In a case of VMware VSAN Hybrid version, Starwind can do Inline deduplication (VMware does not do it in the Hybrid version. Only on All-Flash architecture). Each server is configured with RAID 5/Raid 6 for spinning media.
Three different HCI model lines
Get the full Datasheet here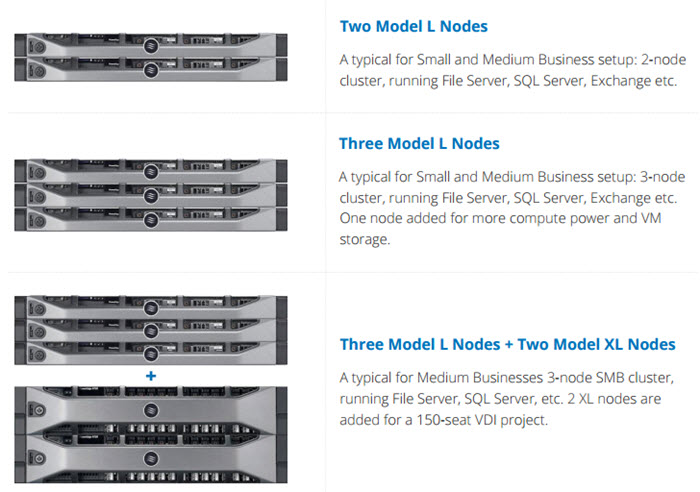 Hardware Example for the Model XL:
Note that Starwind has S, L and XL models. S and L are for small/medium sized businesses. The very starting pack ha all the essential components of the virtualization appliance in just 2 servers simplifying the configuration and minimizing the initial investment even with an all-flash variant. You don't need dedicated network switches for storage as just two servers can be plugged in directly (without switching). The monitoring/management networking uses your existing switching. Note you'll need a switch if you start a "green field" deployment, not if you have some kind of existing environment.
All storage traffic runs through a direct connected 10 or 40 GbE back end and does not affect existing networks. StarWind HCA Model XL scales-out to a maximum of 64 nodes.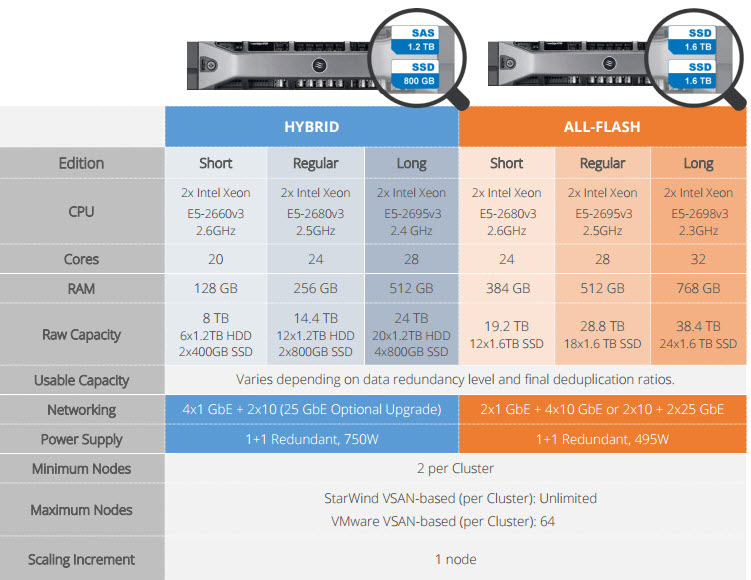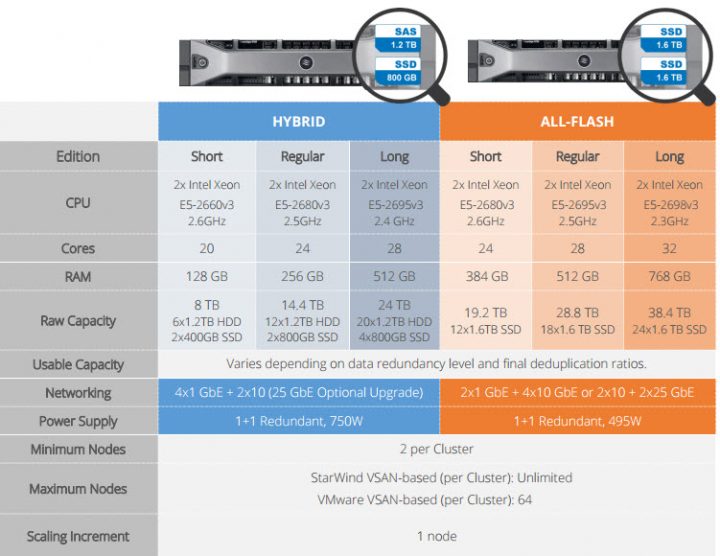 Networking part:
Often networking part is problematic. Not with Starwind as everything (almost) comes already setup and ready to go. The networking is preconfigured and simplified for the end user (admin) who doest not have to go through it. Everything is preinstalled and preconfigured with one exception – the management network which is specific to each customer.  There are dedicated links for the heartbeat and also dedicated links for the storage replication (handled by Starwind).
An example of Networking Diagram …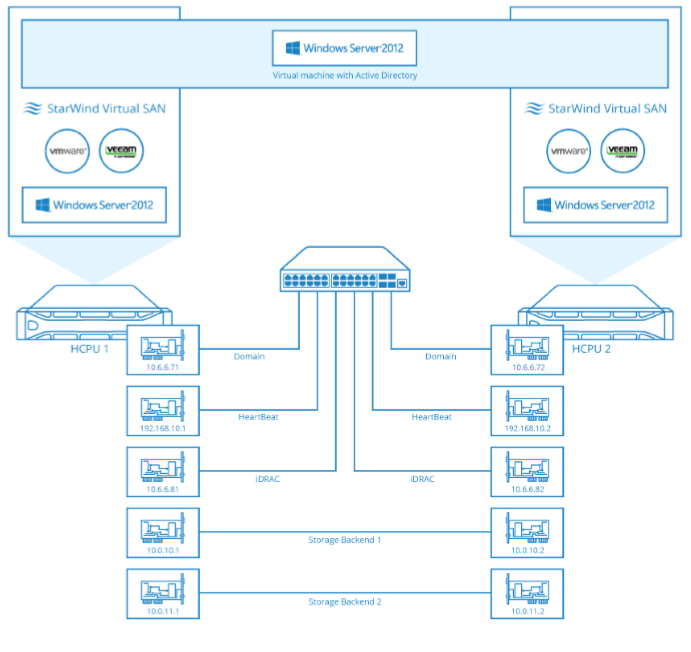 Data protection Included
Veeam as a backup solution. They could not do a better choice for their packaging. Veeam Backup supports VMware or Hyper-V environments and is part of the HCA bundle.
Wrap-up:
StarWind and their hyper-converged solution is a complete solution, designed for SMBs in mind. SMBs often works with service providers, which, due the fact of simplicity of deployment, have less and less work….
The admin or IT engineer does not have to worry about that the servers will arrive incomplete or as not being set-up (do-it-yourself). The solution includes a hardware (preconfigured), software (preinstalled/preconfigured), a hypervisor (preinstalled/preconfigured), and data protection(preinstalled/preconfigured) – all this is under one supporting package.
They have more in the pipes, currently working on a StarWind Virtual SAN supporting VVOLs, which you can download as a tech preview.
Links: 
You may be interested in my other posts about Starwind:
More posts about StarWind:
StarWind Hyper-Converged Appliances (HCA) for ROBO and SMB  – [This Post]