A free version of Starwind SAN is available for download.
There has been a Free version of Starwind SAN software made available for download at Starwind. While this free version lucks the advanced functionalities of the paid versions (like mirroring, automatic failover or failback with fast synchronization), but the Maximum storage capacity stays unlimited.
With the free version of Starwind iSCSI SAN you can still try some of the goodness available in the free version. I think that it's a great occasion to check this out…
While Microsoft Free iSCSI target which is available with 2008 R2 server operating system, you can use and install Starwind iSCSI SAN on a desktop PC with no server software (like 2003 or 2008 Server) too.  And also there are some features that the Microsoft iSCSI target does not provide, like De-duplication, Write-back and write-through cache or CDP.
Here are the the features:
Data Deduplication – is a specialized mechanism of data-compression that allows reducing needed storage capacity due to the process of eliminating duplicated data.
Snapshots & Clones – Capture point-in-time snapshots with unlimited rollback points or make full volume copies.
CDP (Continuous Data Protection) – CDP provides a replication mechanism to ensure an RPO (Recovery Point Objective) of zero data loss for applications that require a lower RPO than asynchronous replication can provide.
Thin Provisioning – Allocate space dynamically for highly efficient disk utilization.
Support for iSCSI Standards – IPSec, CHAP, MPIO are all fully supported in StarWind Free.
You can have a look at different versions of Starwind SAN software here.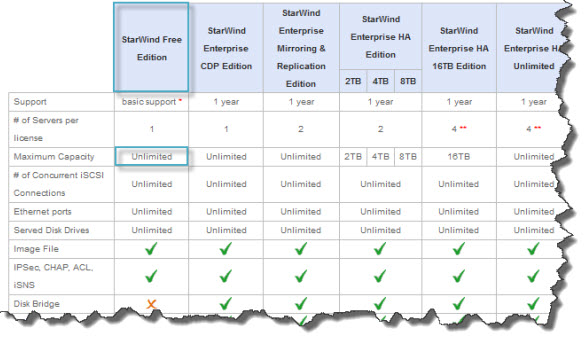 You can learn more about Additional StarWind Features: High Speed Cache, Virtual Optical Drive, RAM Drive, Microsoft Server Core Support.
Source: Starwind