Starwind VMware Backup – has been launched. Starwind has released new backup product for VMware vSphere called Starwind Backup for vSphere. Fully compatible with latest vSphere 5.1, the product can do backup and recovery of running VMware vSphere or Hyper-V Virtual Machines.
The product has had quite a long beta period, and I already informed you about the preparation, but the compatibility with latest vSphere 5.1 has been confirmed just recently, with the final release of the backup product.
For those of you who don't know Starwind, and who are new in virtualization. Starwind had always very easy to setup products, their iSCSI SAN Software can be setup in minutes on any windows based system. The VMware Backup software integrates itself as a plugin to the existing Starwind Console.
Starwind VMware Backup for VMware vSphere – The Features:
AgentLess Architecture – no agent needs to be deployed into each VM, in order to backup.
Incremental backups – the product can do Incremental backups, where only the blocks that changed since last backup are written.
Backup Several VMs simultaneously – when creating backup job, there is a possibility to include several VMs. So you can configure the backup job to fits your needs.
Global Deduplication– Built-in Global Deduplication saves up to 80% of disk space.
VMDK format of backups – Backups are stored in original hypervisor format (VHD for Hyper-V and VMDK for VMware). The advantage is rapid restore operations and interoperability with third party tools.
There is a TCP port 9090 which must be enabled in case you're firewalled between the Starwind backup server and the VMware vSphere or Hyper-V hosts.
Here is the look from the user interface in the Starwind VMware Backup console. In my case I added a vCener server. In fact the backup product integrates itself as a plugin to existing Starwind management console. Click to enlarge.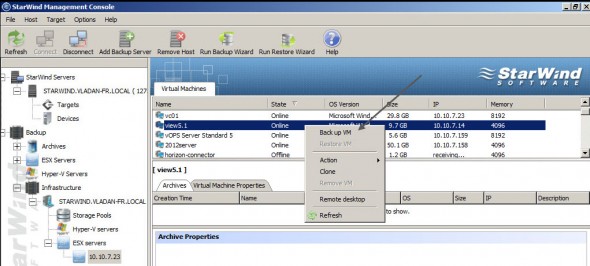 In addition, all guest operating systems supported by VMware are supported for backups. It means any VM running under vSphere 4.x and higher are supported.
During the installation you're asked to configure Storage Pool, which is used as a deduplication target for storing VMs. The storage pool can be a DAS, SAN, iSCSI. You are able to add deduplication target to existing storage pool later by executing the wizard by right clicking the storage pool.

Starwind VMware Backup – How to restore?
Restoration of VMs is possible very simple by launching a wizard by right clicking the VM. As you can see on the image bellow, its also possible to Launch the VM from Archive (same functionality as Veeam's vPower). This is something that users (and me too) are taking almost for granted, since not only Veeam provides this functionality, but also other vendors like PHD or Acronis.

Find out yourself and try Starwind VMware Backup for 30 days for free in your environment.
So we now have quite a lot of vendors offering fo backup/restore/replicate of VMs running under VMware or Hyper-V, but to find your way through, it depends on many parameters and variables of your own environment.
Source: Starwind Press Release
Another news concerning Starwind – Free HA for 2 node iSCSI cluster. Previously paid option, this is now free (with capacity limited to 128Gb).
A quick quote from the press release:
StarWind free editions offers a unique set of features, including Active-Active High Availability, Data Deduplication, CDP and Snapshots, Thin provisioning and high speed caching, etc. Such features as Asynchronous WAN-replication, SPTI and SAN/NAS cluster file share sharing are offered as paid upgrade options.
See the full press release about Starwind VMware Backup here.
Starwind Native SAN for Hyper-V enhanced version released
Quick quote from the full press release:
The new version of StarWind Native SAN for Hyper-V is enhanced with the three-node synchronous mirroring of HA storage cluster. The system provides real-time replication and simultaneously updates the three distributed copies of data. The new HA architecture ensures 99.9999% uptime, provides at least 50% higher performance compared to the 2-node configuration, intensifies redundancy, makes the storage resilient against failures, and greatly simplifies the maintenance. Henceforth, you can add high availability to StarWind virtual devices. It is possible to add high availability to the CDP-device, or export the entire physical disk as the HA device.
Full press release here.
Enjoy… -:)