Stratoscale Symphony 3 Generally Available, the announce was officially announced yesterday. Don't you know Stratoscale or what they do? A Hyper-converged storage, what else? Yes, hyper-converged storage solutions are hot, since several years, but more and more vendors finally bring more useful features for clients. And also more offers is good for the competition if you ask me.
Stratoscale is using commodity hardware, so any x86 servers can be installed with their OpenStack pre-packaged (easy to deploy) solution where the local disks are used to create a storage pool, like for example VMware vSAN or Nutanix.
Stratoscale is a relatively new company, and they are already on v3 of their product. This proves the agility and rapid development cycles! Stratoscale Symphony UI (web based) allows managing the whole cluster which needs at least 3 nodes to start with. Then again, when you need, just add an additional node and scale linear way. The Same principle likes for vSAN.
But Stratoscale goes beyond On-prem environments as they also using Amazon AWS Region to stretch the filesystem to span both. Additionally, you'll also get a very large catalog of AWS applications available at Amazon (constantly growing). All this has multi-tenant and self-consume support!
Stratoscale Symphony 3 – What's New?
Object Storage – cloud-driven storage in which objects storage resides side by side with block storage on the same hyper-converged infrastructure. You can move resources between the different storage types without managing multiple silos.
AWS Region – You can enable business units to use the same AWS DevOps tools and services which have been adopted for cloud-native applications and use them for on-premises workloads. Symphony has EC2, EBS, S3 and VPC services with additional AWS-compatible services which will be introduced in next release (check the image below).
Containers – Symphony's container service offers a fully managed Kubernetes-as-a-Service that removes the operational barriers of adopting a container-based strategy. Basically, it removes of the complexity of install/configures Kubernetes.
Apps, Apps, Apps – Over 130 pre-packaged stacks of a wide variety of enterprise applications. With a single-click, users can install and deploy the entire application stack.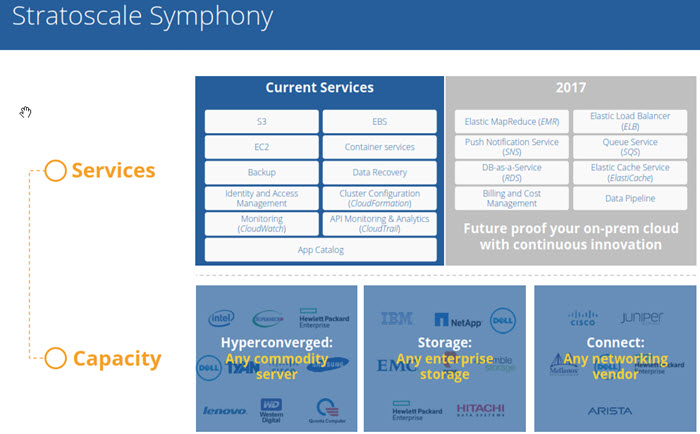 Quote:
Symphony enabled us to set up 100s of VMs in minutes, automatically customize them for specific project needs and scale up and out as needed. Symphony offers a minimal IT footprint solution and low staffing attention requirements by delivering a truly worry-free infrastructure and management. The result was a significant reduction in time-to-market and the lowest TCO.
Stratoscale has:
Self-service
Multi-tenancy and simple tenant management
Scale up, Scale out and down if needed
API driven
Applications and services catalogs
Runs on Any x86 server
Software-only Hyperconverged
Linearly Expandable
Secure
Efficient utilization of all resources
And also:
Storage resiliency – you now have control how many replica counts shall be used for regular (two) and how many for Gold (Three) resiliency.
Simple GUI – comprehensive and simple GUI to create object storage
Direct access to Kubernetes UI – the admin can directly go through the Kubernetes GUI and deploy services and applications. There is also a KubeCtl CLI or Kube API which can be used for automating.
Screenshot showing the application catalog….

Stratoscale Data protection
Stratoscale Symphony has a built-in data protection service allowing you can create unlimited destination sites or multiple protection policies. The data protection is at the block level.
It uses multi-site data protection – with configurable protection policies and backup and data recovery for virtual machines (VMs) and storage volumes.
Protection at the block level – to any number of destinations and configurable protection policies to define a schedule and destination ensures the cloud infrastructure, applications and data are always available.
Other blog posts about Stratoscale
Stratoscale Symphony 3 Generally Available – What's New? – [This post]
Stratoscale Free Trial – Check it out!
Source: Stratoscale Blog
Stay tuned through RSS, and social media channels (Twitter, FB, YouTube)