For remote administration, there are tons of tools around. Paid and free. Today we'll have a look at MobaXterm which is one of them. Previously we looked at few other tools such as mRemoteNG or RoyalTS. Remote administration is daily bread and butter of every IT admin so to test different software solutions before choosing the one you'd like to youse for the lab or work, is a must.
MobaXterm is a multi-purpose remote administration tool. There are tons and tons of functions available in this software and we'll look at some of them. The software works on Windows only so if you're on a MAC, you'll have to use VMware Fusion and Windows VM.
Otherwise, the Windows version has also a portable version which is single executable. The installer version installs normally as usual software.
Considering the size of the package, it's a very lightweight application, which has fantastic value in it providing many protocols and connection options.
The Pro version has unlimited sessions, master passwords, unlimited number of tunnels and macros.
Quote:
In a single Windows application, it provides loads of functions that are tailored for programmers, webmasters, IT administrators and pretty much all users who need to handle their remote jobs in a more simple fashion.

MobaXterm provides all the important remote network tools (SSH, X11, RDP, VNC, FTP, MOSH, …) and Unix commands (bash, ls, cat, sed, grep, awk, rsync, …) to Windows desktop, in a single portable exe file which works out of the box.
There is a Home version (Free) and Pro version (Paid). The free version is limited as you can imagine but gives you a good overview of what's the full version is capable of.
Let's have a look at the user interface first… As you can see, a traditional Windows application. The multi-exec feature is an interesting one as it allows you to execute the same command in multiple destinations. (Imagine connecting to several ESXi hosts, Linux servers etc…).
*********************************************************************
Shop for vSphere licenses at VMware Store:
*********************************************************************
Write once, execute everywhere: this tool allows you to execute the same commands on many different servers at the same time.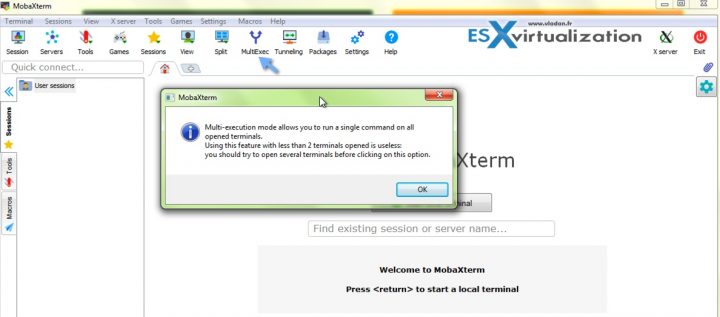 RDP, FTP, SFTP…. tons of protocols including some very rare ones such as XDMCP. You can work on your remote Solaris desktop as if you were working locally on your Windows computer using the XDMCP protocol.
SSH Gateway – In ssh, telnet, RDP, VNC sessions, you can select an "SSH-gateway" (a.k.a. "jump host") in order to tell MobaXterm to connect first to an SSH server before connecting to the end-server you want to reach in the end. This allows you to reach some servers behind a firewall and to secure your connection.
Graphical SSH Tunnel Manager – That's pretty innovative. The graphical SSH tunnels manager allows you to create your SSH tunnels using an intuitive graphical tool.
Screenshot from their website.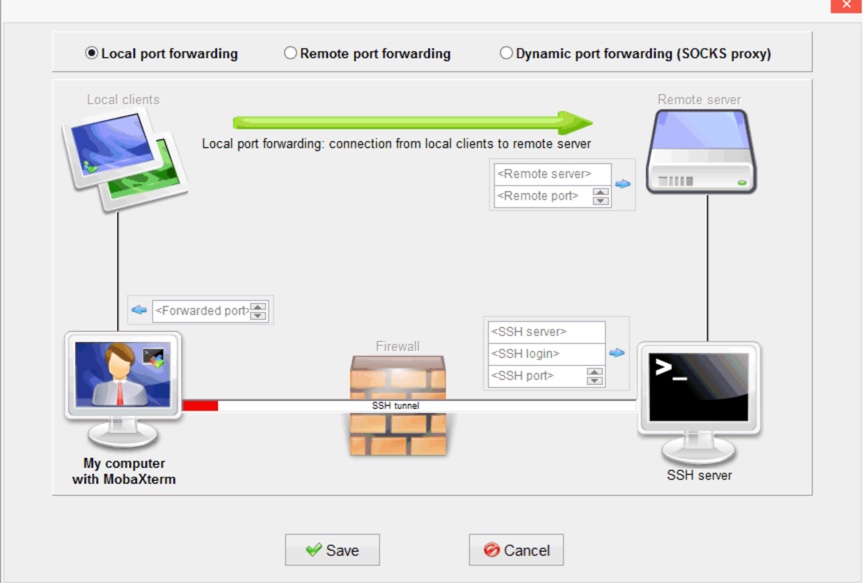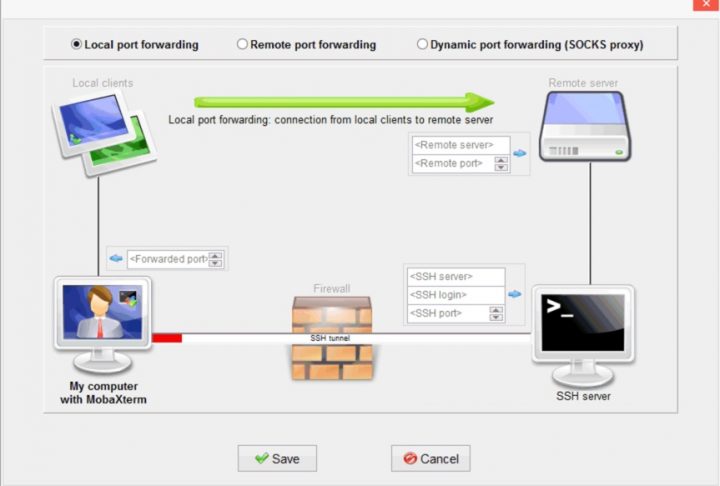 The session manager keeps track of your saved sessions. There are all the different server, desktops or VMs you connect on regular basis.  Traditional RDP session manager looks like this….
Screenshot from their website.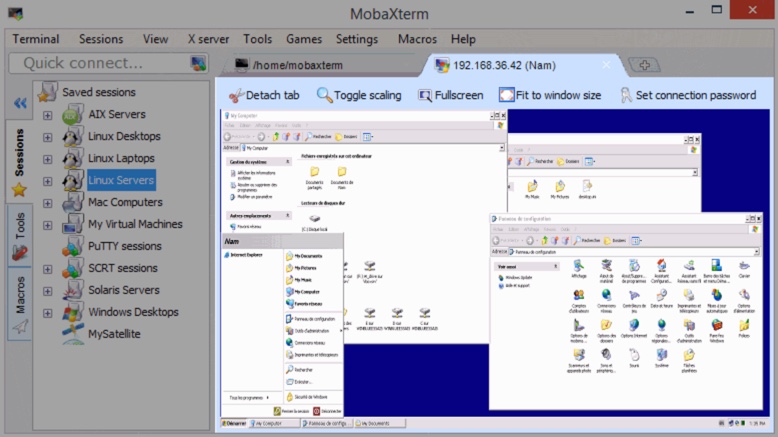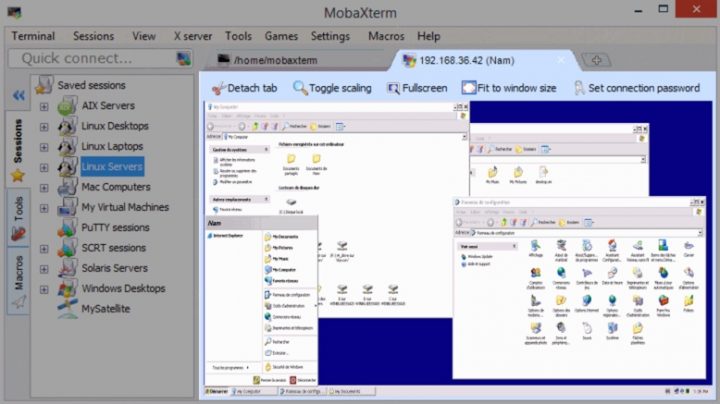 Expand via plugins.
You can install additional plugins which just needs to be downloaded to the application directory.
In order to install these plugins, just download them and put them in the same directory than MobaXterm executable. If you need to enhance MobaXterm with extra tools and commands, you can also use the MobApt package manager: type "MobApt" (or "apt-get") inside MobaXterm terminal.
MobaXterm seems to be a very good alternative which stays simple to use in any case providing many connection protocols and network tools. The bundled games are pretty much useless if you ask me.
If not, worth to note that that the networking tools are still under development. Features like network scanner or port scanner (even the graphical tunnel manager) are for now only experimental.
Check the MobaXterm Website for further details.
More from ESX Virtualization:
Stay tuned through RSS, and social media channels (Twitter, FB, YouTube)