Desktop Watermark is kind of similar to Bginfo, a well-known background info freeware utility. The Desktop Watermark allows also to set up an image which you can control transparency/opacity. It's configurable as a standalone tool or for VDI environments where you basically deploy the utility in the master desktop and then refresh the pool.
It's a free tool from VMware. You'll have to accept the Tech preview agreement before downloading.
There are many variables to chose from. You can change the font, the color of the font, margin, line spacing or text rotation. It's also possible to control opacity.
Quote:
Desktop Watermark is a Windows native application that adds a watermark to a desktop for Virtual Desktop Infrastructure (VDI) auditing or exhibition purposes. A watermark has the ability to be visible or invisible. Invisible watermarks, seen in the screenshot, can be revealed by a tool bundled in the Fling. The tool should be configured by an administrator and enforced on the end user's desktop.
The MSI file is small in size, and fast to install. Possibly you can push the installation through GPO, but there is no central option for its configuration. (haven't tested that). You'll need .NET installed on the machine where you want to use this tool.
I quickly tested on my W10 desktop and it works. The latest version has fixed some issues with W10 where the tool did not work on domain joined desktop.
The configuration screen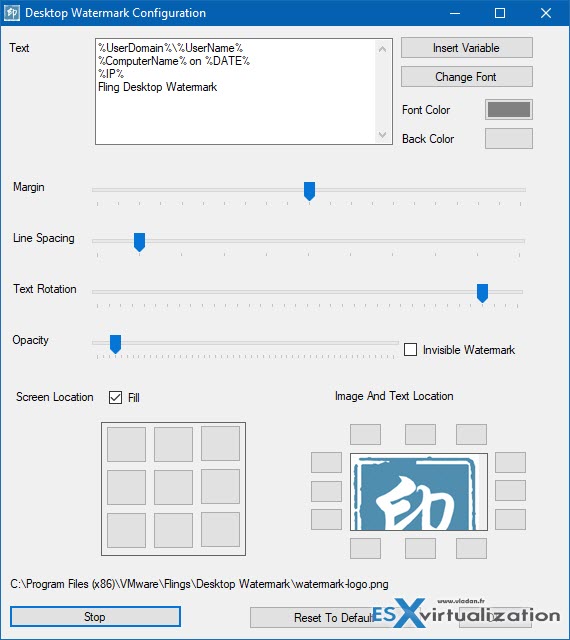 The files location:

And the variables configuration/insertion screen.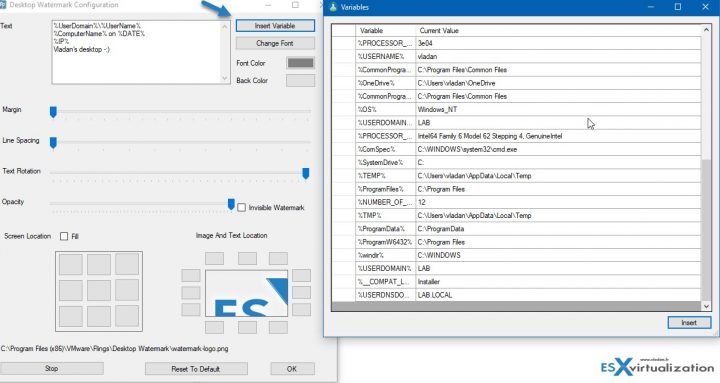 How to use?
Standalone or for VDI.
For VDI scenario: Domain Administrator install/configure the Desktop Watermark application in the VM template, and then refresh the pool.
Using Invisible Watermark:
Check "Invisible Watermark" checkbox when you do the configuration using Desktop Watermark Configuration tool
Screenshot with invisible watermark can be revealed using bundled tool "Reveal.exe" in installed directory of the program
Links:
For more information, see VMware Desktop Watermark Guide-v4.pdf (direct PDF link).
Desktop Watermark Product Page at VMware Flings Site
The product's configuration is password protected. So during the first configuration, you'll get a prompt window to create a password. You'll need to know this password later on if you want to change the configuration.
I don't see doing a manual configuration on every single desktop/laptop within an enterprise, but it's certainly useful when using VDI where you can setup the app on a master desktop and then refresh the pool. You might be using tools such as Norton Ghost or Acronis and doing Image management within your company perhaps?
Another scenario would be using this tool in a VMware Mirage base image. Do you know VMware Mirage? We have set up a lab environment a while ago.
More from ESX Virtualization
Stay tuned through RSS, and social media channels (Twitter, FB, YouTube)