TCP and UDP ports which are used and should be modified for each product.
I found an interesting KB article, which shows you all ports required for all VMware Products. If you dealing with firewalls for local/remote sites, and using VMware Products, this KB might be helpfull since it groups all the products and different ports required to be opened.
The long list of products and especially the list of ports is quite impressive…
To remember them all with all the ports each of those products requies, its not really possible. So I think that it's worth to bookmark this kb and have the possibility to find it when you need it…..
The products are listed in alphabetical order and are listed not only for the latest vSphere 5 but also for ESX 4 and ESX 3 and other older releases of different VMware products.
Here are all the VMware products.  If you click on any of those links below, it opens in new browser window the KB exactly on the exact page height where the product's ports are presented.  TCP and UDP ports are included.
–  AppSpeed
–  Auto Deploy Server
–  Consolidated Backup
–  Converter 3.x
–  Converter 4.x
–  Converter 5.x
–  Data Recovery
–  ESX 3.x
–  ESX 4.x
–  ESXi 3.x
–  ESXi 4.x
–  ESXi 5.x
–  ESXi Dump Collector
–  Guided Consolidation
–  Heartbeat
–  Lab Manager
–  Orchestrator
–  Site Recovery Manager
–  Stage Manager
–  Update Manager
–  vCenter Server 2.5.x
–  vCenter Server 4.x
–  vCenter Server 5.x
–  vCenter Operations Standard 1.x
–  View 3.x
–  View 4.0.x
–  View 4.5.x
–  View 4.6.x
–  View/VDM 2.x
–  vSphere Management Assistant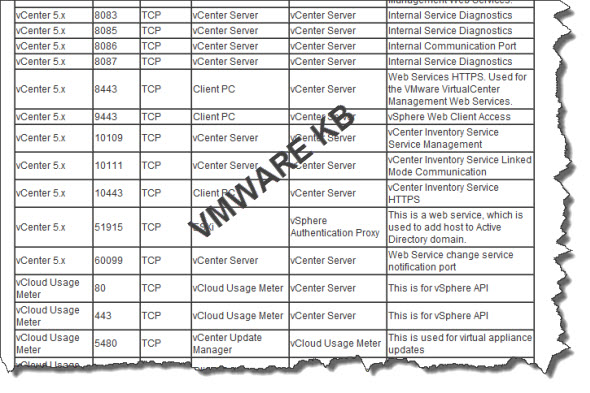 Source: VMware KB article – TCP and UDP Ports required to access vCenter Server, ESX hosts, and other network components
Enjoy… -:p