New lightweight tool created by Eric Sloof.
Eric Sloof's blog was one of the first I started to follow in my early days when I was just starting to learn about  Virtual Infrastructure. Before that I was more into physical hardware, played a lot with VMware Workstation and Virtual PC to learn stuff.
But times has changed and even here in Reunion Island (FR) the Virtualization Business is picking up and working on projects and deploying vSphere Installations became a busy full time job. 😎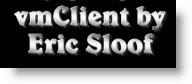 Eric had been nice enough sending me a serial number so I can test his new lightweight vmClient to manage VMs.
What's available in this first release?
Features:
You can control the power of your virtual machines and also the vmClient can present the MKS console of your virtual machines.
You have a possibility to logon to your vCenter server or individual ESX4 or ESX4i host.
Automatically, the available virtual machines are populated in the menu and you can see that:

VM with Green color are runing VMs
VMs with Grayed color are powered Off.
VM with Yellow color is suspended
VM with Red color is a VM with an alarm.

Via a menu item you can generate a Ctrl-Alt-Del in the guest OS. (or you must use the known shortcut …Ctrl-Alt-Ins.)
There is a possibility for the the vmClient and run without borders –  in borderless mode.
Search for the VMs is available at the top and you have a possibility to search for VMs, just try to type the first characters and there is a an auto-complete feature that tries to complete the name.
The software is provided with .NET installer. It means that you have 1 file zipped for the download, and when you unzip there are 2 files inside and one folder. I just created a folder on my C: drive and placed those 2 files there and the folder there. And then run the setup.exe . I think it would be preferable to repackage the installer and have only one executable installer file which does the job automatically. But that's the only point I can think off. Otherwise the client works just fine…
Another think you should know is that to be able to use vmClient you must first install the vMware VI client.
I'll try to shoot a little video to show you how the software behave…