Thinapp 4.6 has been released.
Thinapp 4.6 was released and it brings up quite a few new functionalities. There is a new "ThinDirect" feature which allows redirecting of URLs from native to virtual browsers. Useful when you want to keep IE6 for custom made applications which you have to access via an URL and those applications are usually non compatible with IE7 or IE8. Before you had to know which browser to use for the non-compatible URLs, but now the redirection of URL make things transparent for the end user which does not have to worry about that any more.
The feature is called  ThinDirect –  users are automatically redirected to the appropriate browser (virtual or native and back again) as they navigate through different pages without interruption to their work-flow.
Also the process of the creation of thinapped IE6 was very complex before, but this changed now and it's possible to extract IE6 from any workstation running Windows XP. I haven't tested yet but apparently the process takes just few clicks.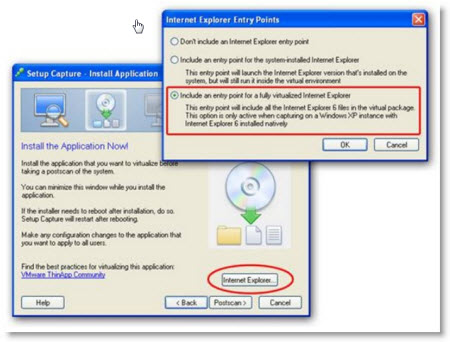 Another feature is Thinapp Converter. This feature completely new to Thinapp.
ThinApp Converter is our first step in automating the ThinApp package creation process from other data sources. ThinApp Converter uses a robust mechanism for performing a conversion, running the application's original installer in a VM and capturing the results of that installation. Past automated approaches that attempted use static analysis on MSI databases to create virtualized applications had a low success rate because most MSI files have custom action DLL files. Custom action DLLs contain arbitrary native code which runs during the time of installation, so their results are impossible to predict ahead of time. By running the actual application installer in a VM, the custom action code gets run and changes made by the custom action are correctly captured.
And Thinapp Converter can automate most of the manual processes when creating package:
* Distributing packaging work-load across multiple virtual machines
* Connecting to a named VM Workstations, vSphere, or ESX
* Taking snapshot of VM initial clean state
* Logging into Guest VM
* Mounting package source UNC share inside of VM.
* Mounting library output UNC share inside VM
* Running ThinApp pre-install snapshot process
* Running application installer in guest
* Waiting for application installer to complete
* Running ThinApp post-install snapshot process
* Generating application project from two ThinApp snapshots
* Building generated project into a package
* Saving both project and package in output library
* Reverting Virtual Machine to initial state
Thinapp 4.6 support also registering virtual services as boot-time applications now. See more at Thinapp Blog.
Source: Thinapp Blog
Get free trial of Thinapp here:
https://vmware.com/thinapp