One of the cool features of VMware Workstation is protecting VMs. This can be a VM which has limited lifetime. You can use those VMs for example for student's class or hand it to prospects or customers without worrying that they'll continue using those VMs after certain period. The use cases are multiple as you can imagine. VMware Workstation allows to set this up in few clicks.
The restriction features are active after the VM's files are encrypted and allows to password protect the VM or set an expiry date. There is also a check box allowing to require the user to change the encryption password when a VM is moved or copied.
The process of enabling this in VMware Workstation is pretty straightforward:
01. First you must encrypt the VMs files by Selecting the VM > Settings > Options TAB > Access control.  Click the button to Enable Encryption. You will be prompted for a password, and a confirmation…. and then the disk files starts to be encrypted. Note that it takes few minutes to few hours !!!! ….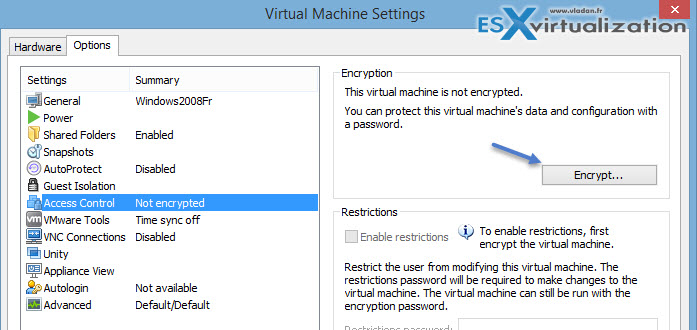 02. Then only you're able to access the area below where you can check the box Enable restrictions.  You are prompted for a password…. This password, you'll be asked for when you want to lift the restrictions on a VM….
03. Once done it "unlocks" the grayed out zone below…. and you access to other options.  You can then specify custom message displayed when VM is about to expire (in advance for several days). And you can also change the default text when the VM expired.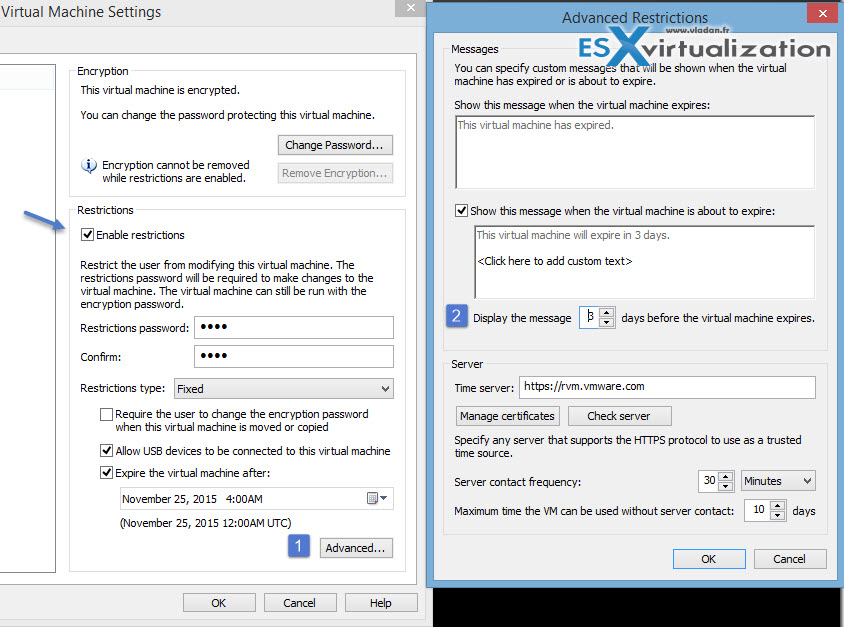 The Restriction type drop down menu can be Fixed or managed. The managed option allows to relay on external management server.
When specify the Fixed as a restriction type, you can specify the options you see in the image above (force user to change password when copying or moving VM, allowing to plug-in USBs and also the expiration date!
When hitting the advanced button, you'll get the other options like the messages that will be displayed when the VM is about to expire in a few days or when a VM has expired.
If you want to go back and lift all the restrictions you'll do it in two phases:
First – you will want to click the button to Unlock all settings.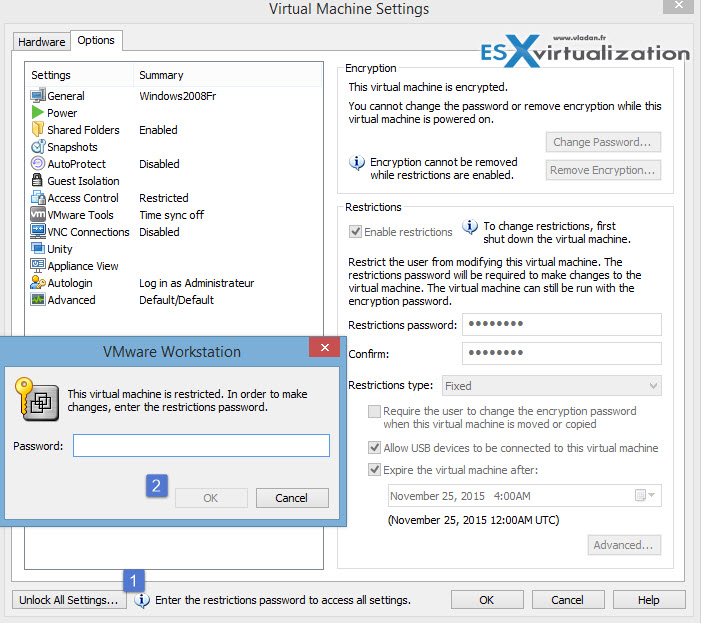 You're asked for a password, of course…. Once enter the correct password you'll need to uncheck the "enable restrictions" check box and hit ok.
Second – Then only you'll be able to come back again …. Select VM > Settings > Options TAB > Remove encryption button!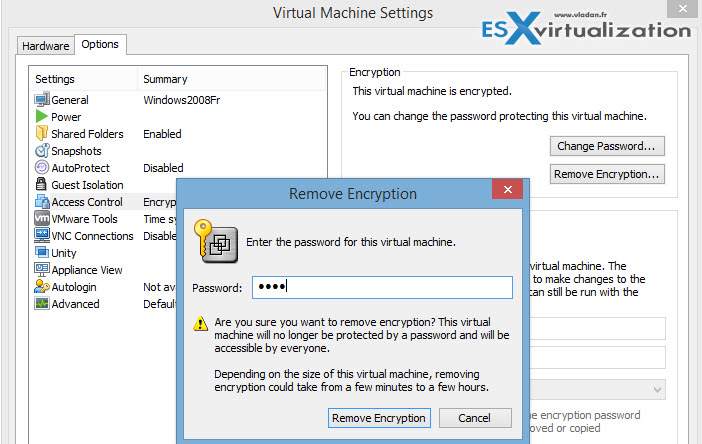 You're asked for an encryption password! And again, few minutes to wait for the decryption to fininsh… (depending on the size of disks).
So there are 2 passwords to setup! One for encryption of the VM and the second one for the restrictions settings! Keep this in mind.
Pretty powerful. Isn't it!
VMware Workstation is rock solid desktop Virtualization software. It's been here since very very long time while improving over the years.
VMware Workstation 12 Pro now supports DirectX 10 and OpenGL 3.3. Workstation also supports 4k displays (3840 x 2160), but also allows to have multiple displays each one with different resolutions.
Monster VMs can be created. Imagine a VM with 16 vCPUs, 8 TB virtual disks, and 64 GB of memory running inside VMware Workstation 12. You can also allocate up to 2Gb of video memory to VMs…. Pretty awesome. Concerning multimedia and audio, a HD audio with 7.1 surround sound is supported.
Also USB 3.0, and Bluetooth devices allows to connect to your VM the latest hardware like webcam, headset, or printer. USB 3.0 is supported also in  Windows 7 besides Windows 8.
VMware Workstation 12 – What's New?
Full support of Windows 10
VMware Workstation Pro provides the following support for Windows 10:

Run Windows 10 as a virtual machine
Run Windows 10 as a host operating system
Windows 10 Auto Detect and Easy Install
Unity support for Windows 10
Migrate Windows 10 PC to a virtual machine
Performance improvements for suspending and resuming encrypted virtual machines
Improved vCloud Air Integration (Workstation Pro on Windows only)

Power operation on remote virtual machines
Enhanced user experience

Support IPv6 NAT network
Tear away tabs
You can drag open tabs out of the Workstation Pro window into new or already existing Workstation Pro windows.
Automatically suspend virtual machines upon host shutdown
Support 4K monitors with high resolution UI
Support for multiple monitors with different DPI settings
Echo cancellation for voice and video calls with Microsoft Lync and Skype
Added USB 3.0 support to Windows 7 virtual machines (with the latest Intel USB driver)
Improved standard installer
Added NAT network configuration in Virtual Network Editor on Linux hosts
Respect left-handed mouse setting on Windows host
You can get $600 credit to use in vCloud Air. Workstation 12 customers are eligible to receive $600 in vCloud Air service credit to use for up to 6 months – twice the standard VMware vCloud Air sign-up offer. Get 30 days trial of VMware Workstation 12 to test it out! Save up to 50% when purchasing as Academic version.