Tintri VMstore 1.4 – new features announced. I was able to assist to a demo of a new version of Tintri VMstore 1.4. If you don't know Tintri, I would like quickly introduce you to a storage vendor company which creates some really cool and fast enterprise-class storage with mixed disk systems (SATA + SSD). Tintri uses Storage Appliance called VMstore.
The VMstore is a storage appliance which uses it's own file system and presents the available storage to your ESX/ESXi hosts via NFS. The storage network is connected through 10 Gigs network adapters.
I was able to see the new version of VMstore 1.4 which will be available to new and existing customers in June 2012. This update brings some new features with scheduled snapshots and VAAI for NFS. The end of 2012 will also brings replication possibility with another planned update, which will enhance the Tintri's capabilities even further. Async and synchc replication is planned, which means that VMware SRM, which does host based replication in the version 5, will have another competitor to deal with.
No I'm not a storage guru. I use the storage that I work with with but I'm not a storage expert. I'm interested in the speed I can get out of a storage with low latency and also I like simple storage interfaces. Tintri provides all that in super simplified dashboard and the storage management is super easy. No LUNs to provision… no datastores to create.. -:) In fact, as a consultant, by deploying those devices I would save some  time (and money) in order to put this gear into production.
The VM's System Disks runs from Flash, the Data disks from SATA to keep the costs down. But I simplify here…The speed of the VMs is maximized and also Tintri uses it's own technique to align the VMs to the Tintri's Filesystem to achieve the best performance. This is quite unique – the Auto Alignement of VMs, which can recover up to 30 % of lost performance through your VI.
In the demo to which I assisted, I was able to see the difference in cloning without and with VAAI support. The VAAI support makes cloning look like copy-paste of Microsoft Word file in Windows Explorer. It's so blazing fast that you must really pay attention to see the cloning actually, otherwise the operation is already finished if you don't look close enough!
The cloning without VAAI, well you know how it works from the speed standpoint by using SAN devices without VAAI. Nothing sexy… -:) Especially for VMs that are 40Gigs and larger. The demo I saw, the clonig operation took 1-2 sec for a VM this size, but I was told that it would be the same for a VM which size is 1Tb. It's because Tintri has a very efficient use of data and metadata.
VMstore by tintri. Click on the image below to see larger view.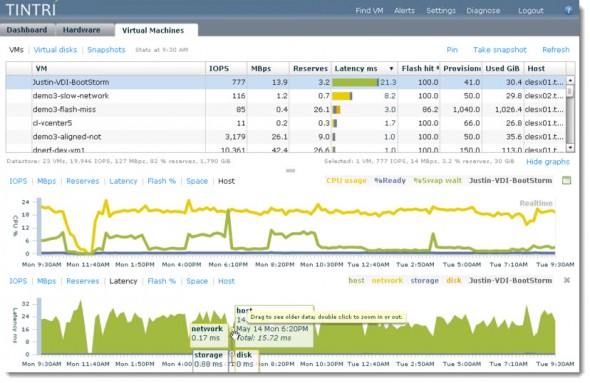 The new Scheduled Snapshot feature – this functionality will be available in few months from now, June 2012. How it works. You do have the possibility to setup scheduled snapshots in order to back up individual VMs. This solutions is per VMDK level snapshots.
The Scheduled Snapshot Feature can actually replace backup software, because even the Individual File Level Restore is possible, because you can Hot-Add and mount the whole data disk and then do copy-paste of your file. Usage of your backup software can be then used to back up the snapshots made by Tintri and sent them to remote location for DR purposes.
Those snapshots can be crash consistent or VM consistent. The latter one quiesces the VM and than the snapshot is taken, which is slower, but guarantee the consistency for restore.
Just to give you an idea on how the clones and snapshots works under Tintri. The snapshots and clones are not the same as the snapshots or clones you do through your hypervisor, through vSphere. Read this:
Tintri snapshots and clones are operations on the VM itself (and just the VM!), and make very efficient use of data and metadata and impose very little, if any, performance overhead. This is achieved by sharing both data and metadata at a fine granularity and by designing the core data paths from the ground up to work efficiently with snapshots and clones. Snapshots and clones can be created instantaneously regardless of the size of the VM, and use no additional space until they are modified.
The result of this is that after I saw the clone of 25 VMs almost instantly, they were consuming almost no space! Just have a look at the screenshot below: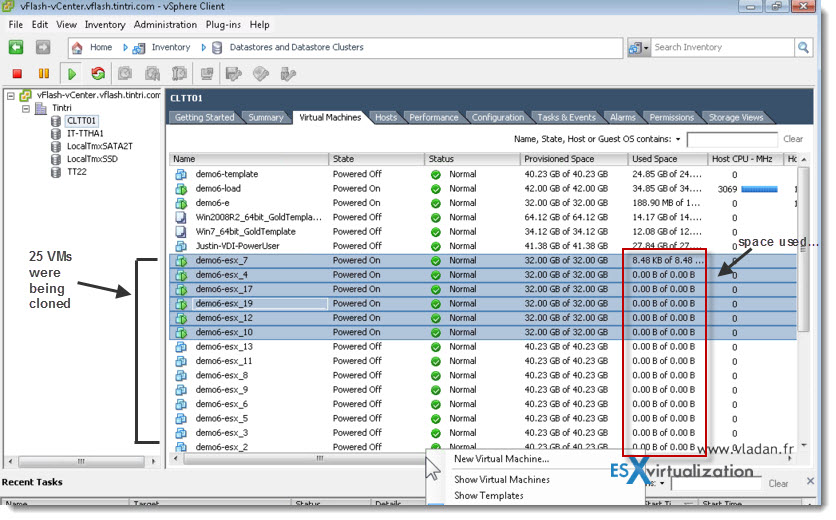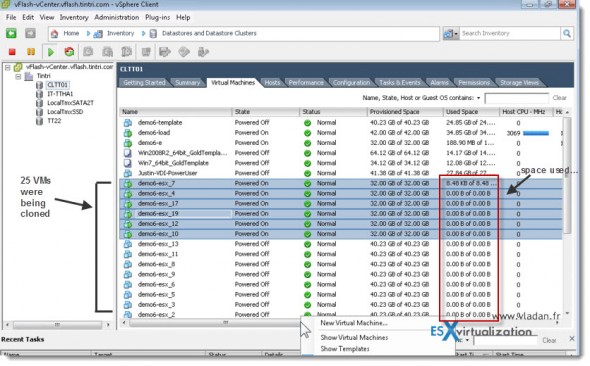 I had a couple of questions about the Maintenance and how it works. But first of all it's a gear with lot's of redundancy. So if there is a problem on an individual hardware component, there is usually a second one which has already taken over.
Redundancy is assured by double raid controlers and double 10 Gigs NICs. Tintri also provides hardware service maintenance contracts in order to assure the hardware maintenance. If you need to upload log files, you can do so with a single click. The data's are sent to Tintri over SSL connection. Then will look up and calls you back to solve the problem.
Here you can see a screenshot from the "hardware" monitoring page.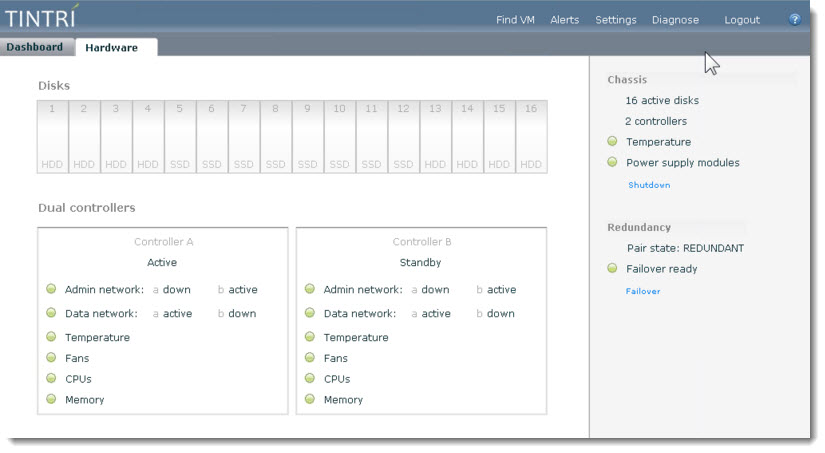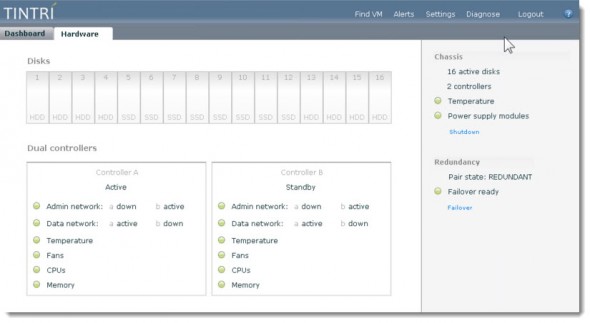 How is Tintri different from other, classic storage vendors. I think the best is to take a quick quote from the Tintri's website:
 There are no LUNs or volumes, tiers, RAID groups or other traditional storage objects that create complexity in a virtualized environment. Provisioning storage for VMs is simpler and faster. VMware™ administrators will feel right at home: The VM objects in VMstore are the same ones used in VMware vCenter™, and the VMs and vDisks will be familiar to VMware vSphere™ users.
How Tintri Stands-up from the crowd?
By adding more features to the Software Appliance, Tintri is closing the gap between the need of solution for real time monitoring and troubleshooting, since you can very quickly find out where your bottlenecks are.
By adding the scheduled snapshot feature they practically tries to push back the standard backup vendors which provides backup solutions with daily backups with e-mail reports. The scheduled snapshots does have an advantage that the performance of the VM isn't altered during the time that the snapshot is taken, like we can usually experience during the usual snapshot operation at the host level, taken by the hypervisor and ordered by your backup software.
On the screenshot below you can see the array based snapshot which operates at the VM level and provides the possibility to have a scheduling and retention policy.  Again, click on the image to see larger view.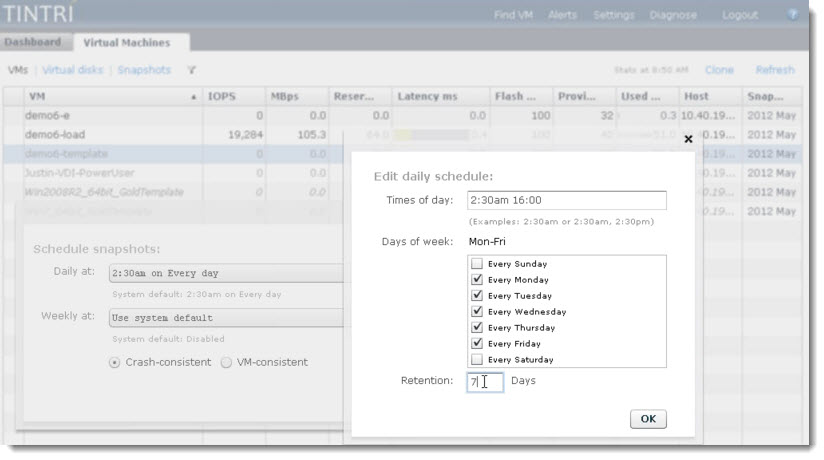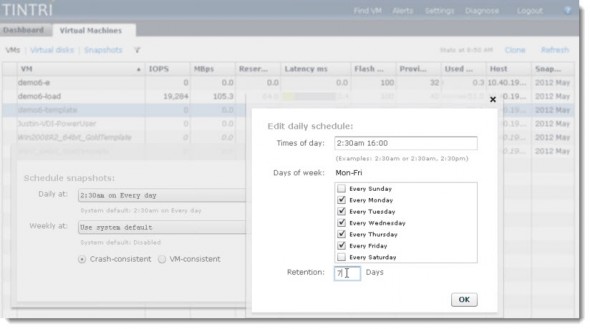 We could spend hours to talk about Tintri and the features that the small 3U box provides. Small in size, but big in features. An entreprise class features… -:)
But, you can also have a look at their website – Tintri.com
Feel free to subscribe to my RSS Feed to stay updated on my new articles.
Enjoy..