With organizations shifting to hybrid or cloud-only Office workloads, Office 365 backup software is becoming another market niche allowing IT administrators to backup and recover the content of user's email box and other outlook objects such as calendar events, meetings, or notes. This post will list, in no particular order, Top 5 best Office 365 backup software. There might be more vendors out there doing Office 365 backup however in this post we'll try to list just five.
The main reason why we need to backup Office 365 data is the fact that public cloud vendors such as Amazon, Microsoft or Google does not offer an utility to protect your data and it is your responsibility as an admin to protect those data.
If the public cloud provider has some problems (and this happens from time to time, remember Microsoft Azure outages which we could see not so long time ago….), you don't have access to your data. And if they say that they had a crash, your data most likely won't be recoverable. That's the reality. It is only your responsibility as an IT admin to protect those data, to back them up elsewhere so you can restore.
Nakivo
Nakivo Backup and Replication allows Office 365 users to backup their data, their emails, their notes, calendar events etc etc. The restoration of individual items or whole mailbox is possible directly to the same mailbox or into a different mailbox.
The product can back up either entire Exchange Online accounts or individual mailboxes. By default, the solution performs incremental backup, backing up only new emails sent or delivered after the initial backup.
To deliver the highest possible reliability and accessibility of backup data, NAKIVO Backup & Replication can store Microsoft Office 365 backups onsite. With such an approach, customers have full control of their data regardless of the account's availability and can use it for recovery at a moment's notice.
Features:
Backup – backup of entire Exchange Online accounts and individual mailboxes
Recovery – Rapid restoration of mailboxes, mailbox folders, or individual emails, can restore emails back to the original mailbox or to a different mailbox.
eDiscovery: NAKIVO Backup & Replication allows organizations to perform eDiscovery on their Office 365 data. Any information in Exchange Online mailboxes and emails can be easily located using a search to meet regulatory and compliance requirements.
Advanced Scheduling Options – You can set up your Office 365 backup jobs to run on demand or schedule them to run as often as you need according to your data protection requirements and needs. Furthermore, NAKIVO Backup & Replication features a convenient Calendar Dashboard which displays all backup jobs, including those for Office 365.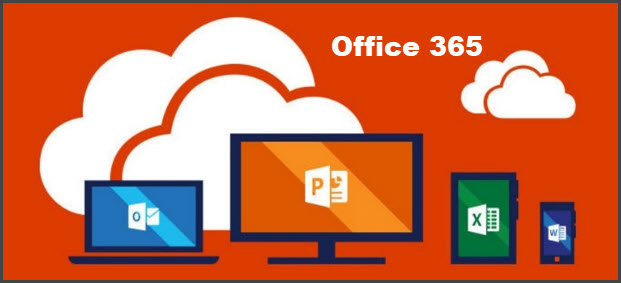 Links:
****************************************************************
Afi.ai
Afi Microsoft 365 Backup is the youngest solution, focused on cloud applications backup and delivering 2-3x faster performance according the company tests. The platform is deployed as a distributed container-based application hosted in Google Cloud and AWS, with no on-premise components.
Afi enables granular Exchange Online backup, including Exchange public folders, online archive and shared mailboxes. The platform provides live preview for all Exchange Online items. The mailbox backups can be recovered back to Microsoft 365 domain, or downloaded offline as PST, MBOX, EML or other popular formats.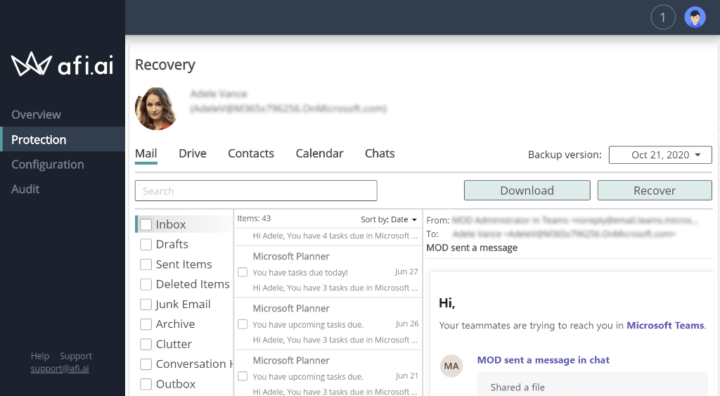 The modern application architecture enables Afi to quickly support new data sources and changes in Microsoft 365. The application backs up and accurately restores OneNote books, legacy as well as classic SharePoint sites, Teams channels and 1-1 conversations.
Features:
Backup – 3x per day automated backups and unlimited on-demand backup runs. Afi backs up all Microsoft 365 data, including Microsoft Teams, SharePoint Sites, Groups, OneDrives, and other items
Recovery– flexible recovery options enabling cross-recovery of SharePoint data to OneDrive and vice versa. Backup data can be exported offline instantly, in the widest selection of formats (PST, MBOX, VCF, ICS and other)
Search & preview– Afi Microsoft 365 Backup enables live preview for all items as well as full-text search for Exchange online mailboxes
Audit & access control– Afi has detailed audit log, capturing all admin and user actions in great detail, including the IP address for each admin session, backup data access and configuration operations. You can create custom administrative roles in Afi and implement the principle of least privilege to limit access to sensitive backup data
Links:
****************************************************************
Altaro Office 365 Backup Features:
Mailbox – the whole mailbox is restored. You can restore to the same location or you can export as PST and open locally to extract just the item you want.
Granular E-mail restores – You can select an item, and restore only that.
File-level restore of OneDrive for Business – restore files or folders from any point in time.
SharePoint Online Restore – individual item restore or a full restore.
Unlimited retention period – the backups are retained during the lifetime of the mailbox and the data are kept forever. If you stop the subscription, the data are deleted.
Encryption – backup data is protected by AES 256-bit encryption at rest. The authentication user interaction (login, setting changes, subscription management and accessing backed up data) works over TLS encrypted channel.
Pricing per mailbox – You can have a case where you have a single mailbox used by multiple users. In this case, you pay just a single mailbox.
Image from Altaro.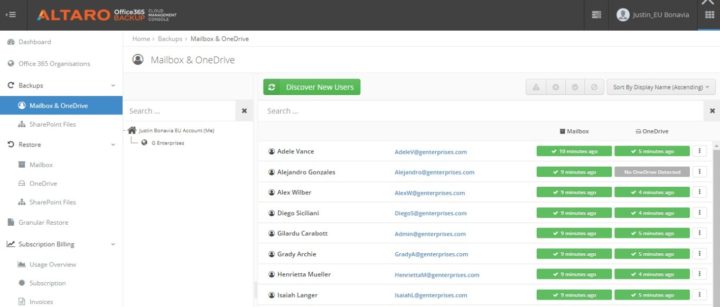 How to test?
Simply sign up and connect an Office 365 account. Backups are taken automatically and saved to Altaro's Azure infrastructure. You have 30 days trial you can test.
****************************************************************
Veeam
The product uses the same format of backed up data as native Exchange Server engine – Extensive Storage Engine (ESE).
Features of Veeam Backup for Office 365
Protects Office 365 data including Exchange Online, SharePoint Online, OneDrive for Business and Microsoft Teams – so that your data is always protected and accessible.
One-Click restore…..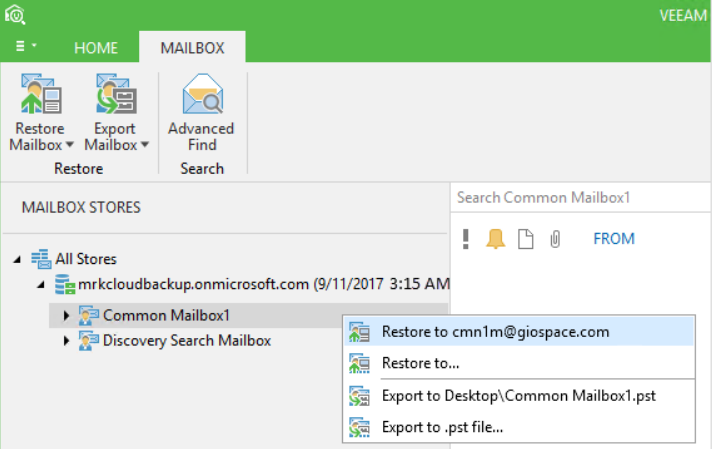 Distributed, scalable architecture – for enhanced scalability in distributed environments with several Remote Offices/Branch Offices and in service providers' infrastructures:
Backup proxies take the workload off the management server, providing flexible throttling policy settings for performance optimization.
Support for multiple repositories streamlines data backup and restore processes.
Support for backup and restore of on-premises and hybrid Exchange organizations – allows you to choose from a variety of configurations and usage scenarios and implement those that meet your particular needs.
Increased performance for restore operations allows for up to 5 times faster restores than in v1.0.
Restore of multiple datastore mailboxes using Veeam Explorer for Microsoft Exchange simplifies workflow and minimizes workload for restore operators, as well as 1-Click restore of a mailbox to the original location.
RESTful API and PowerShell cmdlets will be helpful for automation of routine tasks and integration into existing or new portals.
Support for backup and restore in Microsoft Azure Germany and Microsoft Azure China regions.
Many enhancements were made to the UI, including main window, wizards, dialogs, and other elements, facilitating administration of the solution.
Links:
****************************************************************
Iperius Backup
A young company which does a neat ESXi Free backup solution as well. Single License is necessary to protect a whole environment. The Exchange backup can protect mailboxes on local Exchange servers, on the network and on Office 365 (Exchange Online).
With one license you can protect unlimited servers and unlimited mailboxes, exporting them to PST files. Finally, it is possible to perform the granular restore of individual boxes in a few clicks.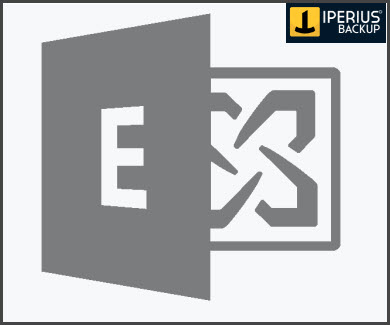 Features:
Hot backup of Exchange 2010 (SP1), 2013, 2016
Hot backup of Exchange Online (Office 365)
Export mailboxes to PST files (compatible with Outlook)
Incremental backup and automatic restore, also from network
Backup to NAS, network paths, Tape LTO, FTP, Cloud
Granular restore of individual mailboxes
Image backup with log truncation
Restore into an active server and even into a different server
Perpetual license and lowest price on the market
Backup repositories – NAS, FTP and Cloud: Google Drive, OneDrive, Dropbox, Azure Storage, Amazon S3 and any compatible S3 storage
Links:
Check Iperius Office 365 backup product page here.
****************************************************************
CodeTwo
CodeTwo Backup for Office 365 is a desktop application that lets you perform full or incremental backups of selected Office 365 mailboxes and public folders, SharePoint Online and OneDrive for Business sites, as well as Teams data.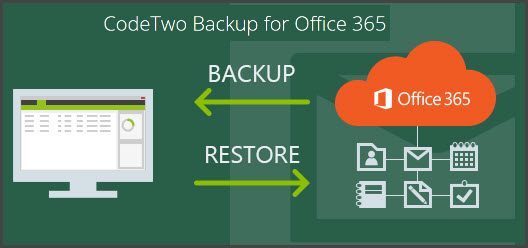 Features:
Back up Office 365 mailboxes – Create offline backup copies of your Office 365 mailboxes and save them to local storages in your company. Run automatic incremental backups to keep users' mailbox copies up to date.
Back up Office 365 public folders – Easily back up the content of public folders in your Office 365 environment to stay assured that no important data is lost permanently
Sharepoint Online, Teams, OneDrive – backup all those solutions via incremental backup
Granular recovery – allows you to browse or search, then restore the item.
Links: 
CodeTwo Backup for Office 365 product page
****************************************************************
VMware vSphere 7.0 coverage on ESX Virtualization
You might want to check our Free Tools page where you can find VMware utilities, but also utilities for Microsoft systems or other "Swiss Knife" software there.