In this post, we'll discuss a new feature of vSphere 7.0 – What is vCenter Server Update Planner? This feature will help you when updating vCenter servers within your environment and also making sure that your environment will be compatible with your other existing VMware products such as Log Insight, vROPS or vRA, but also for different ESXi versions.
At first, within the vSphere web client, you'll see if there are new updates for vCenter servers and get the notifications. Previously you had to go to the VAMI UI to check for updates and do the update/upgrade of vCSA there, manually. And also check whether, if you upgrade, you won't break the compatibility with other VMware products.
Now with vCenter Server 7, you'll be able to run What IF scenario with pre-checks to show you whether your current environment would be affected by the upgrade and show you the individual applications which need to be upgraded first, and to which version! You'll be able to do pre-upgrade checks against a target vCenter server before the actual upgrade process starts, and see whether Yes or No you have an interoperability issue.
Let's say you have an environment with vRA, vRO, Log Insight and you do a pre-upgrade check which will show you that you must first upgrade your vRA to the x.xx version to ensure that the interoperability between the different VMware products within this environment will be assured. That all the products will continue to talk to each other after you upgrade your vCenter.
This is quite a revolutionary, as previously for each upgrade you must go to VMware Product Interoperability Matrices page and make sure about that …. manually. This is a lengthy process where you can also make errors.
To give you an idea, here is a screenshot from the lab, when selecting vCenter server > Updates > Update Planner.

And when you click the Monitor Current Interoperability link, you'll get to this screen. However, in my case, there is nothing to see obviously as I don't curently have populated other products except a single vCenter server in my nested only lab….
Quote from the UI:
Interoperability will display VMware products currently registered with vCenter Server and ensure compatibility before the upgrade. Some VMware products may not be displayed and will need to be added manually using the modify product list option.
Screenshot from the lab.

However, we also have some screenshots with datas… Let's see.
Here is a screenshot from VMware….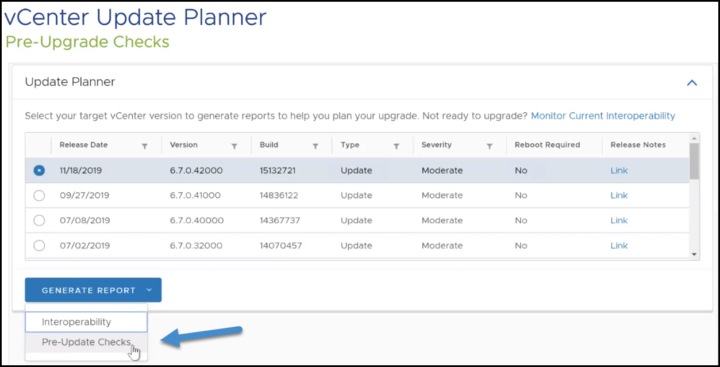 So if there is something wrong with the environment, you'll get the error or warning message before you actually start the upgrade process. Here again, screenshot from VMware blogger's briefing we had before the announce….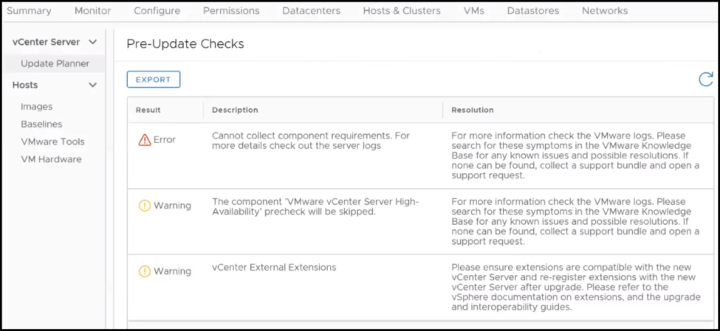 You might also have 3rd party products which are installed. Again, compared to my empty environment, VMware has actually some data on their screenshots, so again, here is the screenshot from the pre-briefing where you can see that an environment has had some vROPs, Log Insight, vRA, but also an incompatible version of ESXi 5 and vCloud Director 9.7.
And as you can see, you'll be also a given a compatible version so you must first upgrade the let's say vRealize Log insight from 4.8.0 to 8.0.0 before you will upgrade your vCenter server otherwise the interoperability will not be possible!
This is pretty cool as you will no longer need to check the VMware website for the interoperability page manually -:).
Note that the "Modify product list" allows you to add a product that wasn't detected by the system automatically. But it will allow you to add a product which wasn't detected right away. You can add your product in there and you can still compare it against your environment to see what is ready to be upgraded.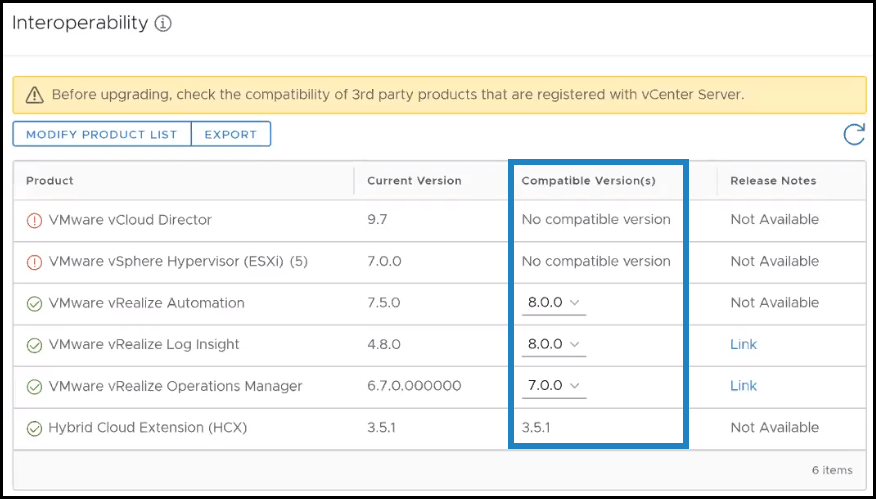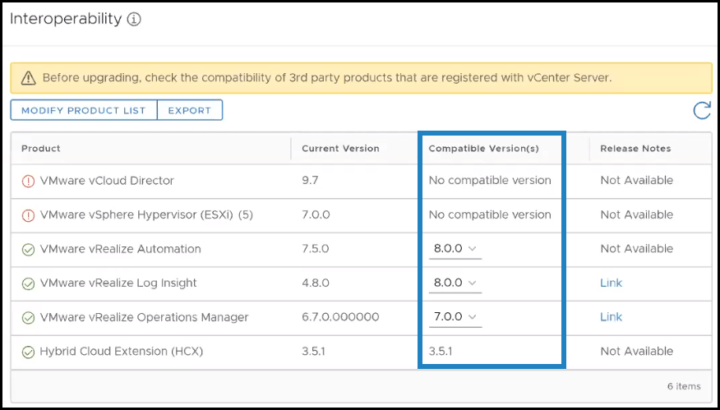 You'll see what's compatible for upgrades and what's not.
Final Words
An awesome feature that will make the life of enterprise admins and consultants a little bit easier. By having the possibility with the pre-checks, to see which product needs to be updated/upgraded so you can then upgrade your vCenter server.
This will be backward compatible and brings more intelligence for future upgrades of vCenter server past version 7. Good job VMware!
More about vSphere 7.0
What is vCenter Server Update Planner? – vSphere 7.0 – [This Post]
You might want to check our Free Tools page where you can find VMware utilities, but also utilities for Microsoft systems or other "Swiss Knife" software there.
More from ESX Virtualization
Stay tuned through RSS, and social media channels (Twitter, FB, YouTube)