During VMworld Barcelona 2019 I went to see ARM booth, which is not a VMware booth, but rather a separate one running by ESXi on ARM developers. The folks were showing some interesting stuff, for example, an HP laptop running ESXi 6.9 or a running version of VMware ESXi 7 on Raspberry PI 4.
It runs a beta code of ESXi because the v7 has not been announced yet, but what's important is the use cases for ARM. In this video, Andrei will teach us some very interesting scenarios.
It was interesting to see where VMware is heading and especially what are the use cases for VMware on ARM and what are the advantages of ARM over traditional x86 servers. One of the advantages is lower consumption and cooling, which makes those devices quite perfect for edge devices such as firewalls or security appliances running ESXi as an underlying OS.
Sorry to post this after VMworld, but you know how is it. While at VMworld, you have no time to write posts….
VMware has had an ARM version of ESXi already last year, however this year, with a new version of Rasberry Pi 4 with 4 Gb of RAM etc. Other hardware present on the stand was a server with NICs which has had each one of them has a RAM and CPU thus behaving as microservices by itself. Apparently connection to vCenter, vMotion, cluster resources configs…. all is there as with "normal" vSphere.
Cloud environments such as Amazon are able to take advantage of ARM platform and provide savings which can go up to 40% less (cooling, consumption) than traditional x86 platforms. As such, building cloud environments with ARM can in the long term make you some good savings with the same performance level.
We can imagine slowly shifting from x86 to ARM in the near future, at least on the cloud datacenter levels.
Video from VMworld Barcelona 2019 with Andrei Warkentin.
VMware VSAN works on ARM too and we could see the server in the corner running 2-node VSAN cluster wit Intel Optane All-Flash configuration.
Smart NICs with CPU and RAM
Those NICs (if we can still call it a NIC) shall be rather considered as micro-servers plugged into a PCI slot. Each of those cards has had 16 Gb of RAM and 8 ARM cores! Each of those NICs is basically a small server (without storage) connected to storage.
There are multiple use cases for ESXi on Arm on both Broadcom Stingray and Mellanox BlueField SmartNICs.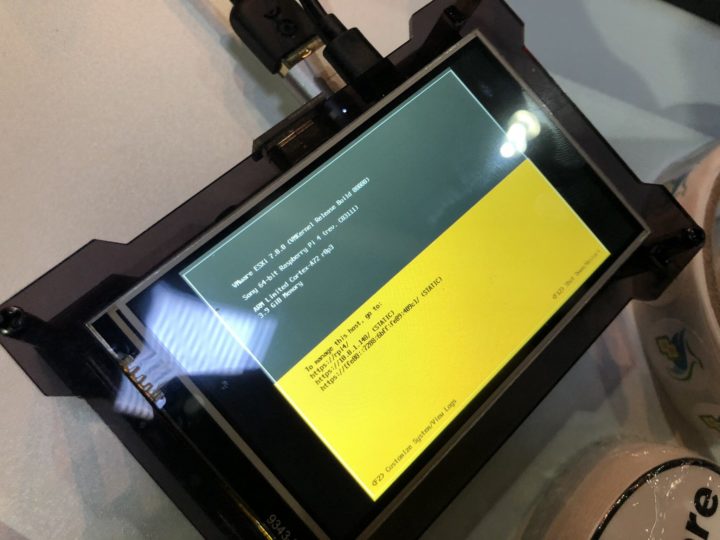 Already in the US, VMware during VMworld US 2019 keynote had a demo showing four hypervisors at the same time on a single x86 server without nesting any of the hypervisor instances. During the Barcelona event, I think there was still the session listed.
The Barcelona event was held 5-8 November this year, where the next year it's already scheduled for the week after (9-12 November). Save your date!!!
Check more from VMworld Barcelona 2019
More from ESX Virtualization
Stay tuned through RSS, and social media channels (Twitter, FB, YouTube)