Veeam Software continues to innovate and create great tools for VMware and Microsoft admins. There has been always some great free tools in the past present on Veeam's website. (Remember FastSCP?). I think it's time to recap which free tools are available, since recently two of those tools are just standing from the crowd… actually the second one is still in beta but has such a great value that it's well worth to be mentioned.
Those tools are free. No time limited period, no spyware. There are more functions in the full versions. The guys at Veeam plays fair… -:).  You can also check my Free Tools VMware page where you can find my full list of Free tools that makes life easier.
Veeam Backup & Replication 6.1 Free version
Also called "Veeam Free Edition" (VeeamZIP) or new FastSCP. It's a free backup tool for VMware and Hyper-V. Can do full backups of running VMs. You don't have to pause or stop your VM in order to make a copy….. Huge. Even if you can run one job at a time, and with no possibility to do incremental, it's just a good help for an admin or consultant who needs to quickly backup some VMs.
The VMDK disk files together with config files, are compressed, and stored in a deduped 'archive' file. You have the possibility to archive VMs like that and then transport them to another location via USB drive for example. Or archive VMs which are not used any more, but needs to be archived and stored somewhere else than in your expensive SAN storage.
Restore of individual files or full VMs is possible with this free software. The full version does incremental backups (up to 20 x faster) and also has the possibility to replicate running VMs to remote (DR) location.

Veeam One Free edition
The new updated version of Veeam One Free edition is super easy to deploy. You can be up and running in less then 15 min. I have introduced this tool from Veeam in my detailed article here already. The tool Integrates the power of Veeam Monitor, Reporter and Business View in a single solution for VMware and Hyper-V.
You'll get out-of-the-box visibility into the performance of your virtual infrastructure and you can learn from the internal KB engine which points on what's the best practices to get the maximum performance out of your Virtual Infrastructure. Which settings to avoid to get better performance etc…

Veeam Explorer for Microsoft Exchange
The product is in Beta for now, but it's public beta so you can apply for it. The product will be integrated in all future releases Veeam Backup & Replication (even the free one). You can browse, search and selectively export items (emails, notes, contacts, etc.) directly from Veeam backups of your Exchange virtual machines (VMs).
You can see and retrieve Exchange items inside Veeam backups — without restoring the entire mailbox store.
You can simply archive individual mailboxes into PST file.  Get more informations here – Veeam Explorer for Microsoft Exchange.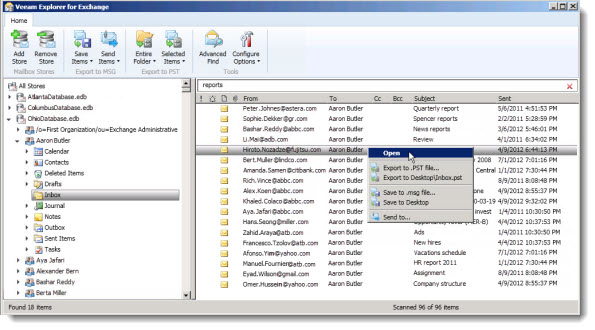 Veeam Extended Generic Report Library
The library includes several free reports for Microsoft System Center Reporting. Veeam Alert Statistics Report, Veeam Generic Performance Top (Bottom) N Report, Veeam Performance Report, Veeam Performance Details Report – Analyze trends with drill down to performance details.
Requirements: Microsoft System Center 2012 Operations Manager, Microsoft System Center 2007 R2 Operations Manager.
Get Veeam Extended Generic Report Library.

Veeam Stencils for Microsoft Visio
It's a free collection of Visio stencils for VMware and Hyper-V.
Veeam Stencils contains:
– ESX and Hyper-V hosts
– Datacenters
– SCVMM
– Local storage, shared storage
– LUN
– VMs with status sign
– NICs
– Networks and more!

Get Veeam Stencils for Microsoft Visio.
Top 5 Free tools for VMware and Hyper-V
was a post which appeared first at ESX Virtualization website. There is many more Free tools for VMware and Hyper-V, check out my Free Tools page too where you can find many useful tools.
Feel free to subscribe to my RSS Feed for daily updates.