Update to PXE Manager for vCenter Fling
This is a guest post by Andy Grant.
Max Daneri has released version 4.1 Update 1 of PXE Manager for vCenter.  Be sure to uninstall the old version including the client plugin prior to installing the update.
For all changes see the changelog.
A new feature that caught my eye is the "VMware ESX to ESXi converter".  I have not had a chance to try this but it sounds like it could be an interesting way to perform ESXi migrations.
I have played around with using PXE Manager for stateless ESXi hosts and it makes it really easy to do, I am interested in hearing from you if you are using this in any of your environments.   I envision decreased risk tolerance and potential resiliency issues.  Much like vCenter itself (Heartbeat aside).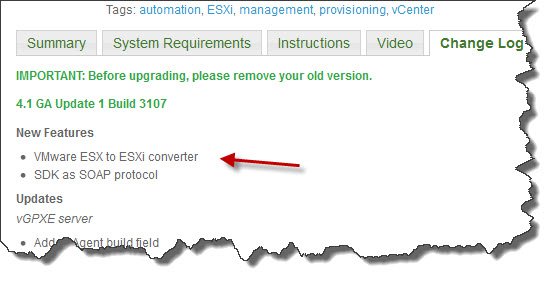 Related: New Plugin for VMware vSphere from VMware Labs: PXE plugin for deployment of stateless ESXi hosts.
Leave a comment below with your thoughts.
.