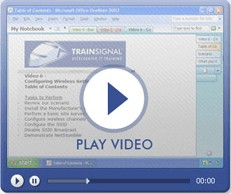 Today I watched a video from the second DVD of the new Trainsignal's vSphere 4 learning course. In this video David Davis explained to me what for are tasks, scheduled tasks, how to use them. Really cool stuff. I did not know that the configuration of SNNP inside vCenter was so easy….
Still inside of the Wired Brand coffee company (a fictif company just to present a real case scenario) I was taken to the Datacenter and all the clusters there. David shows some tricks with the filters in the task section.
Then very interesting par comes where David showed the SNMP traps and triggers, configuration of SMTP and alarms sent by e-mail from vCenter. When and how you can be alerted by e-mail about that something is going on in your Virtual Infrastructure.

Trainsignal and David Davis does great job with those videos. In easy and consistent case scenarios he takes you through the beginning up to the advanced tasks like Fault tolerance or DRS. Watch those free videos from the course.
The full course:

There is now 3 professional training courses for vSphere available. And new, you also have the possibility watch those videos OnLine with instant access, by using your Internet connection. So you don't have to wait for the snail mail for the package delivery.
To learn more about ESXi and ESX and other advanced features inside of VMware vSphere 4, why not using this excellent training videos made by David Davis, Hal Rottenberg, Rick Scherer, Sean Clark and Eric Siebert?
There are 8 DVDs of high quality video learning courses in the whole package composed of VMware vSphere 4 and the vSphere Pro Vol. 1 and Vol 2. Training. Save almost $200 now with this limited-Time Offer ! The courses are also available individually.
You might be interested new training for Exchange 2010 from Trainsignal. This training has been released few days ago and adds directly the possibility to watch the training videos OnLine even before you receive the training DVD's. As always with Trainsignal, you'll not be supprised by the quality of training, which is one of the best video training on the market today.
For a limited time the package is available for $799! only $397. You can watch a free demo video.