VCAP5-DCD Official Cert Guide, Premium Edition – for VMware admins willing to prepare to pass VCAP5-DCD (datacenter design), there is a new book written by Paul McSharry (VCI).  There are two editions of this book available where the paper one has a DVD included with Pearson IT Certification Practice Test engine. The eBook has an online access to the software. The paperback version at the time of writing has not been released yet. Pre-order now for $32.99 ($54.99).  The kindle (PDF) version ($ 33.34) is available. The book is published by VMware Press.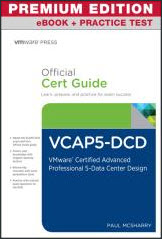 The eBook allows downloading the test engine to your computer. Then you need to install and activate it. The Exam Test Engine from Pearson allows several testing modes. A Study mode, practice exam or flash cards. The study mode present itself as set of questions (you can limit the number of questions or the time you wish to spend), where the exam mode present you with 100 questions and you got 1h30 to complete the test. In total the selection is from 250 built-in questions which can get updated online, together with the rest of the exam.
The eBook has several formats (PDF, EPUB or MOBI), depending what reader, OS, browser you're using, you got the choice to select the version you need.
At the beginning, the book present the VMware VCAP5-DCD exam topics and the chapters where this topic is covered. In total there is a 7 chapters:
Introduction to Technical Design
Creating a Design
Thoughts on Good Choices for Virtualiazation and Design
Developing a Design on Paper and Delivering it Physically
Virtual Machine Design
Project Execution
Tips for Passing the Exam
Sample Questions at the end of each chapter.
At the end of each lesson you have 10-15 questions with multiple choice answers given, so you're able to test yourself for the topics present inside of the particular chapter. It's put a way "Do I know this already?" so you see if you need to read the whole chapter. The answers to those questions can be found in the appendix section.
A quote from Amazon:
Organized test preparation routine through the use of proven series elements and techniques. "Do I Know This Already?" quizzes open each chapter and enable you to decide how much time you need to spend on each section. Exam topic lists make referencing easy. Chapter-ending exam preparation tasks help you drill on key concepts you must know thoroughly.

Master VMware VCAP5-DCD exam topics
Assess your knowledge with chapter-opening quizzes
Review key concepts with exam preparation tasks
Practice with realistic exam questions on the DVD

The VCAP5-DCD Official Cert Guide focuses specifically on the objectives for the VMware Certified Advanced Professional 5–Data Center Design exam. VMware Certified Instructor (VCI) Paul McSharry shares preparation hints and test-taking tips, helping you identify areas of weakness and improve both your conceptual knowledge and hands-on skills. Material is presented in a concise manner, focusing on increasing your understanding and retention of exam topics.

The companion DVD contains a powerful Pearson IT Certification Practice Test engine that enables you to focus on individual topic areas or take a complete, timed exam. The assessment engine also tracks your performance and provides feedback on a module-by-module basis, laying out a complete assessment of your knowledge to help you focus your study where it is needed most.

Well-regarded for its level of detail, assessment features, comprehensive design scenarios, and challenging review questions and exercises, this official study guide helps you master the concepts and techniques that will enable you to succeed on the exam the first time.

The VCAP5-DCD Official Cert Guide is part of a recommended learning  path from VMware that includes simulation and hands-on training from authorized VMware instructors and self-study products from VMware Press.

The official study guide  helps you master many of the topics on the VCAP5-DCD  exam, including:

Understanding the design process and associated terminology
Creating the design, information gathering, and logical design presentation
Making meaningful choices  in virtualization design
Creating logical designs and the process to evolve them into the final physical design
Comprehending project execution and the order of delivery, task validation,  and project documentation
Preparing for the exam with tips and strategy
Reviewing the VCAP-DCD experience
Thoughts:
VCAP level exam does certainly needs a lot of study. If you do a lot of designs, I think you don't have to study as much as if you do just an vSphere administration and implementation. Paul provided me with credentials so I could access the book and the testing software. I only looked through the book and the testing questions just for a few hours, but I think that it's a great help where you find all in one place. You got the in depth lessons, the quizz at the end of each lesson, plus the testing engine from Pearson.
VCAP5-DCD is an advanced exam but with this book IMHO the chances are more on your side than without. The requirements to register for VCAP exam is to have already a VCP.
Source: Amazon
You can check out my selections of VMware Books on my dedicated Books page.