vCenter Server Appliance is very popular for small deployment and also during home lab testings. This is mostly because of it's limitations, and also because of dependency on windows based vCenter plugins. The vCSA 5.1 does currently have some limitations, but the future is going to be with vCSA:
5 hosts and 50 virtual machines. (with the internal DB)
The external DB has to be Oracle 10g/11g  ( as for now)
Lucks of linked mode support
vSphere Storage Appliance – not supported
Horizon View 5.2 with the Composer component (used for linked clones) is supported now with vCSA – read here. How-to install vCSA can be found here. Also worth to read: vCenter as a Linux VM
Here is a quick video from VMware TV showing that the easy to use upgrade process can for example also upgrade the IBM DB2 internal DB is migrated into Postgre SQL. It's not in place upgrade, because a  second vCSA appliance is used which imports the old appliance's configuration data, remap the hosts in the cluster etc….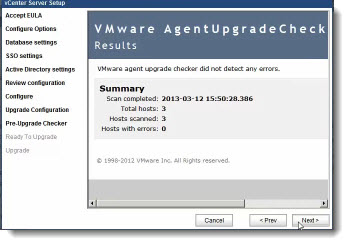 In the video you'll see that there are two vCenter Server Appliance VMs. You first set roles for each appliances, the old one and new one. Copy and paste the keys from one navigator's window into another and say that you want to import that key into the new appliance.
There is quite a few things that changed in vSphere 5.1 (SSO configuration, certificates….), but the process takes care of it – by doing an import from old appliance to the latest one. The hosts that has been managed by the old appliance can be imported through a wizard into the new appliance and pre-upgrade check is run, within the assistant. Really cool and really helpful.
vCenter Server Appliance is part of the vSphere Essentials and vSphere Essentials Plus and higher packages. It really eases the deployment for small shops.
Here is the video from VMware providing all the details concerning the upgrade from vCenter Server Appliance 5.0 to vCenter Server appliance 5.1.
Best to watch in HD and full screen to see all the details.
Source: https://kb.vmware.com/kb/2033990