VMware vCenter Server is also available as vCenter Server Appliance (vCSA). It is a linux appliance – running on Suse Linux Enterprise Server 11 (SLES). It does not provide all the possibilities as if vCenter installed on Microsoft Windows Server system (lacks support for plugins, ex. Update Manager Plugin), but in smaller environments (the vCSA can handle up to 5 ESXi hosts with the embedded DB) it can be an additional money saver for environments running vSphere Essentials only.
Update: If planning to use vCSA ( Linux ) to save on Windows licensing, you should take into account that you can only reassign the Windows license once every 90 days with the Standard edition (retail price $882). That applies to using technologies like vMotion on your virtual machines. If you license Datacenter edition (retail price $4809) then you have unlimited virtualization rights and do not have to worry about reassigning Windows licenses. Good PDF discusses licensing in virtulized environments can be downloaded here.
The above applies to VMware ESX/ESXi, Microsoft System Center 2012 Virtual Machine Manager, and Parallels Virtuozzo.
What's the principal limitations of vCSA 5.1 right now? Features that aren't currently supported:
Linked mode
SQL Server as an external database
Max of 5 ESXi hosts / 50 VMs supported on the embedded DB.
Security Support Provider Interface (SSPI)
VMware Update Manager can't be installed in the vCSA, but you can install it in an additional Windows-based VM or physical server.
Note that if configuring external Oracle DB, then < 1000 Hosts / < 10 000 VMs is supported.
Update: Postgre as an Internal DB has replaced the IBM's DB2.
The base config of vCSA is:
2 vCPUs
8 GB memory
Between 5 GB and 80 GB of disk space
When deploying the vCenter server on Windows-based system, you must install all the vCenter components one by one (or use single install feature). The vCSA comes up automatically prepackaged and deploys very fast, with those components:
vCenter Single Sign On (SSO)
Inventory Service
vSphere Web Client (server part)
vSphere Auto Deploy
Syslog Collector
ESXi Dump Collector
The deployment of this linux based vCSA is pretty easy. No need to be Linux guru, but just following this small how-to you should be able to achieve the installation. You'll need the login/password information: root as a login and vmware as a default password. Otherwise the product can be downloaded as a single file with OVA extension OR, multiple file with OVF plus VMDK virtual disk files. As usually, you would probably want to use the provided download link via a download manager, which works through Java based console, but optimizes the download speed and can resume broken transfers.
You're entitled for the download of the latest release if you're at least vSphere Essentials customer. The latest release of the linux based appliance is: vCenter Server™ Appliance 5.1.0b | 20 December 2012 | Build 947940
VMware How-to install vCenter Server Appliance (vCSA) ? Here are the steps:
01. First deploy the OVA file through the classic vSphere Client by going to File > Deploy OVF template. If you have enough space on your datastore, use the thick lazy zeroed option which is the default option. At first the appliance boots and gets an IP address from your local DHCP server. If you don't have DHCP locally, you must open the console and assign directly IP through the console.
02. When you open the assistant by going to the https://<IP_of_the_vCSA>:5480 through your web browser, after accepting the EULA, you should then choose one of those options:
Configure with default settings
Upgrade from a previous version, which also gives you the option to use the default Single Sign On configuration.
Upload configuration file. Very useful in case your vCenter Server virtual machine gets corrupted, or if you have a saved copy of the config file you can deploy a new appliance and quickly restore the settings ….
Set custom configuration
The screen looks like this..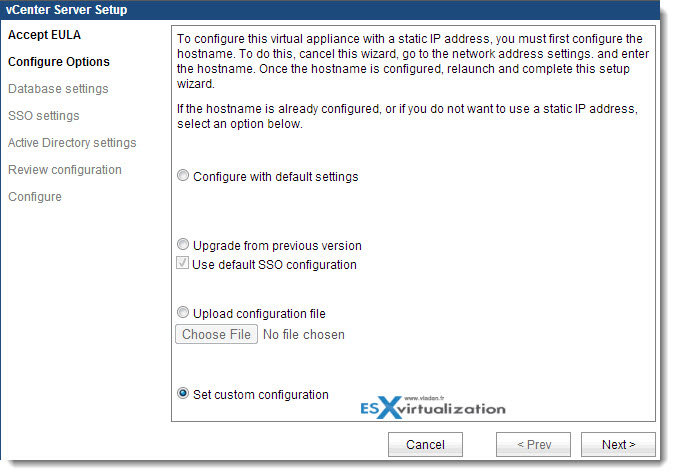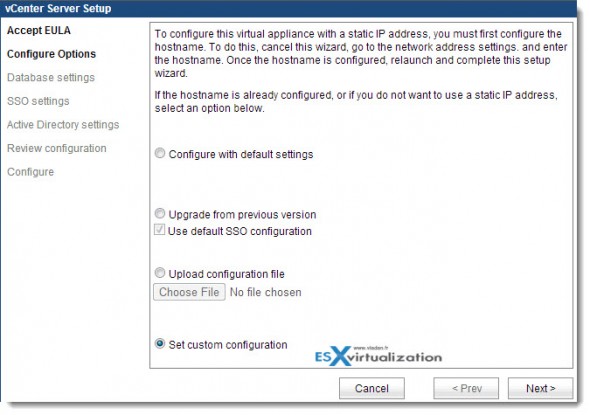 Whichever option you choose you can always come back to the default configuration screen afterwards, and change some options, like the AD integration etc… There are some TABs which are useful for when upgrading from previous release etc… All those TABs are accessible from the default config page which can be reached via the browser https://<IP_of_the_vCSA>:5480
03. Configure the network information by going to the network tab (if you did not go to the console to do that).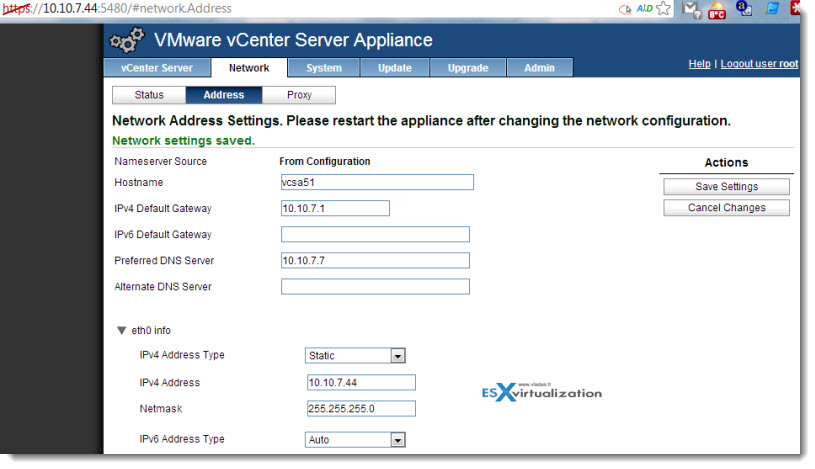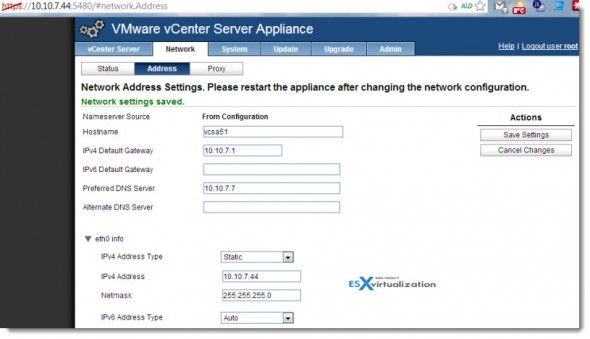 Read the rest of the post on separate page.