Today's post will teach us about the vSphere storage policy. The post's name is VCP6.7-DCV Objective 7.3 – Configure a Storage Policy. You should check the VMware Storage PDF page 241 concerning this chapter as well. Our information about Storage policy cannot be squeezed into a single blog post and isn't perhaps as complete as you would like.
The original VMware blueprint to pass the Professional vSphere 6.7 Exam 2019 can be found here – ( PDF Online at VMware 2V0-21.19). I highly recommend getting all the documentation set for studying, other study guides might exist as well.
VMware vSphere Storage Policy Based Management (SPBM) provides a storage policy framework that serves as a single unified control panel across a broad range of data services and storage
solutions. It is an abstraction layer. SPBM abstracts storage services delivered by Virtual Volumes, vSAN, I/O filters, or other storage entities.
Instead of integrating with each individual type of storage and data services, SPBM provides a universal framework for different types of storage entities.
VM Storage policy control which type of storage is provided for the virtual machine and to which storage the virtual machine is placed. They also determine data services that the virtual machine can use.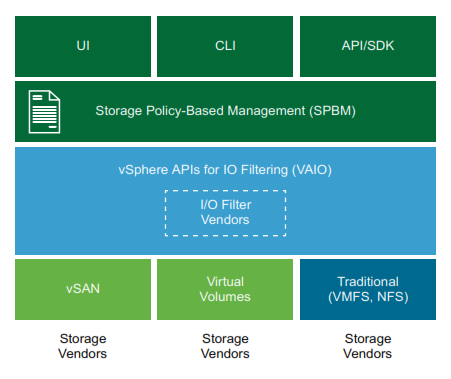 You use the VM Storage Policies interface to create a storage policy. When you define the policy, you specify various storage requirements for applications that run on the virtual machines. You can also use storage policies to request specific data services, such as caching or replication, for virtual disks.
This guide is available as Free PDF!
Free Download at Nakivo – VCP6.7-DCV Study Guide.
You apply the storage policy when you create, clone, or migrate the virtual machine. After you apply the storage policy, the SPBM mechanism assists you with placing the virtual machine in a matching datastore. In certain storage environments, SPBM determines how the virtual machine storage objects are provisioned and allocated within the storage resource to guarantee the required level of service. The SPBM also enables requested data services for the virtual machine and helps you to monitor policy compliance
SPBM offers the following mechanisms:
Advertisement of storage capabilities and data services that storage arrays and other entities, such
as I/O filters, offer.
Bidirectional communications between ESXi and vCenter Server on one side, and storage arrays and
entities on the other.
Virtual machine provisioning based on VM storage policies.
Virtual Machine Storage Policies
VM storage policies control which type of storage is provided for the virtual machine and how the virtual machine is placed within the storage. They also determine data services that the virtual machine can use. vSphere offers default storage policies. In addition, you can define policies and assign them to the VMs.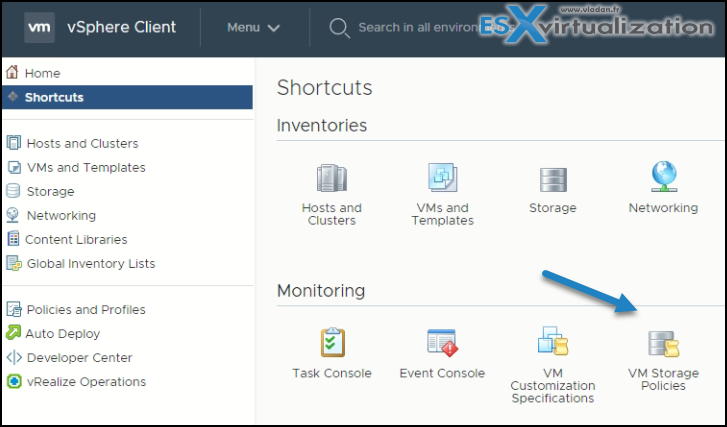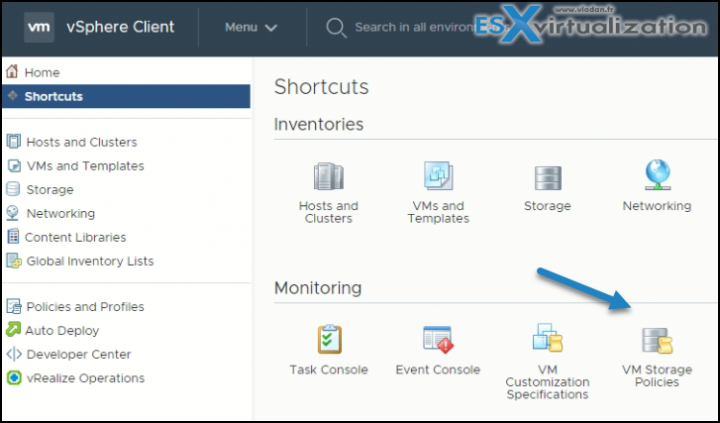 The entire process of creating and managing storage policies typically includes several steps. Whether you must perform a specific step might depend on the type of storage or data services that your environment offers.
The whole process is done in 5 steps:
Populate the VM Storage Policies interface with appropriate data.
Create predefined storage policy components.
Create VM storage policies.
Apply the VM storage policy to the virtual machine.
Check compliance for the VM storage policy.
Before you start creating VM storage policies, you must populate the VM Storage Policy interface with information about storage entities and data services that are available in your storage environment. This info is coming from storage providers, also called VASA providers. Another source is datastore tags.
Storage Capabilities and Services – Virtual Volumes and vSAN, are represented by the storage providers. Through the storage providers, the datastores can advertise their capabilities in the VM Storage Policy interface.
Data Services – I/O filters on your hosts are also represented by the storage providers. The storage provider delivers information about the data services of the filters to the VM Storage Policy interface. You use this information when defining the rules for host-based data services, also called common rules.  They activate the requested I/O filter data services for the virtual machine.
Tags – VMFS and NFS datastores are not represented by a storage provider. They do not display their capabilities and data services in the VM Storage Policies interface. You can use tags to encode information about these data stores. For example, you can tag your VMFS datastores as VMFS-Gold and VMFS-Silver to represent different levels of service.
Create a VM Storage Policy for Tag-Based Placement
Open the Create VM Storage Policy wizard. Click Menu > Shortcuts >  VM Storage Policies > Click Create VM Storage Policy.
Enter the policy name and description, and click Next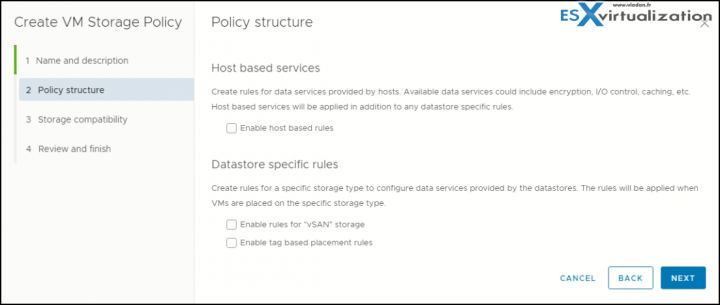 On the Tag-based placement page, create the tag rules. Click Add Tag Rule and define tag-based placement criteria. Use the following as an example.
Tag category – Level of Service
Usage option – Use storage tagged with
Tags – Gold
All datastores with the Gold tag become compatible as the storage placement target.
On the Storage compatibility page, review the list of datastores that match this policy. On the Review and finish page, review the storage policy settings and click Finish.
Check also the vSphere online documentation about how to Define a VM Storage Policy in the vSphere Web Client VMware vSphere 6.7.
Final Words
Stay consistent with the study. Use our study guide but not only. The more you'll read the better. Don't use a single source for the study, but rather multiple sources at the same time. We try to give as many details as possible, with screenshots, but we are not able to cover everything.
Follow the progress of the VCP6.7-DCV Study Guide page for further updates.
Well, this is it for today.
More from ESX Virtualization
Stay tuned through RSS, and social media channels (Twitter, FB, YouTube)