VCP6-DCV Study Guide
is here to help you study towards VCP6-DCV (or delta) exam. Today's topic is new in vSphere 6. Feature called vSphere Content Library was not present in
vSphere 5.5
and made its apparition in vSphere 6 during its release. 
VCP6-DCV Objective 10.2 – Create and Manage Multi-Site Content Library
is today's lesson.
vSphere content library centrally manages virtual machine templates, ISO images, and scripts, and it performs the content delivery of associated data from the published catalog to the subscribed catalog at other sites.
You can also check vSphere 6 page where you'll find how-to's, news, videos concerning vSphere 6.x. Last but not least, my Free Tools page where are the post popular tools for VMware and Microsoft.
Daily updates of the blog are taking time, but we do it the goal to provide a guide which is helpful for the community and folks learning towards VCP6-DCV certification exam. If you find one of those posts useful for your preparation, just share.. -:).
—————————————————————————————————–
Before we start I'd like to point a screenshot showing the ISO management… (must select the Other types button..)

OK, let's get started. vSphere Knowledge
Configure Content Library to work across sites
Configure Content Library authentication
Set/Configure Content Library roles
Add/Remove Content Libraries
Configure Content Library to work across sites
Content Library lets you store and manage content from a central location. Admins can organize content logically into several libraries. Each individual library's storage can be individually configured and managed. Admins can populate each library using several methods:
Clone existing templates in folders into Content Library (migrate your existing templates into Content Library with ease)
Clone a VM as a template into Content Library
Import from a web server
Synchronize content from a vCloud Director catalog
Upload contents from file system
Content library can be shared across multiple vCenter server systems.
A VM template, vApp template or another type file is considered as a library item. Each item can contain several files (ex. OVF has several files .ovf, .vmdk, .mf, …) however vSphere client shows only the .ovf through the content library.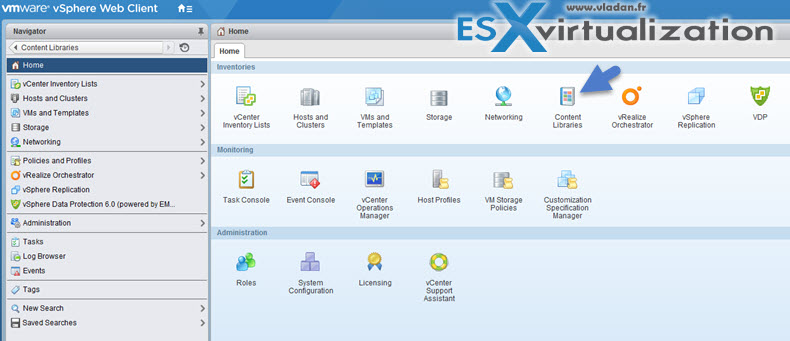 What's the different types of content libraries?
Local Libraries – Local library stores items in single vCenter environment. When you publish to the local library, other users from external vCenter servers can subcribe to this library. And to protect the access you can configure password authentication.
Subscribed Libraries – When you subscribe to published library, then you create a subscribed library, which can be created at the same vCenter server as the original content library or in another vCenter server system.
Pull the content – there is two different ways that you can pull the content out of vSphere content library:
1. Either you can download all the content of the published library after you create the subscribed library
2. You can download only metadata for the items in the subscribed library so you save space.
Permission Requirements
User needs those permissions on the vCenter Server instance where you want to create the library:
Content library
Create local library or Content library
Create subscribed library
Note that Global permission must be assigned to the user….
Content libraries are not direct children of a vCenter Server system from an inventory perspective.  The direct parent for content libraries is the global root. This means that if you set a permission at a vCenter Server level and propagate it to the children objects, the permission applies to data centers, folders, clusters, hosts, virtual machines, and so on, but does not apply to the content libraries that you see and operate with in this vCenter Server instance.

To assign a permission on a content library, an Administrator must grant the permission to the user as a global permission. Global permissions support assigning privileges across solutions from a global root object.
See the diagram from VMware vSphere 6.0  Documentation…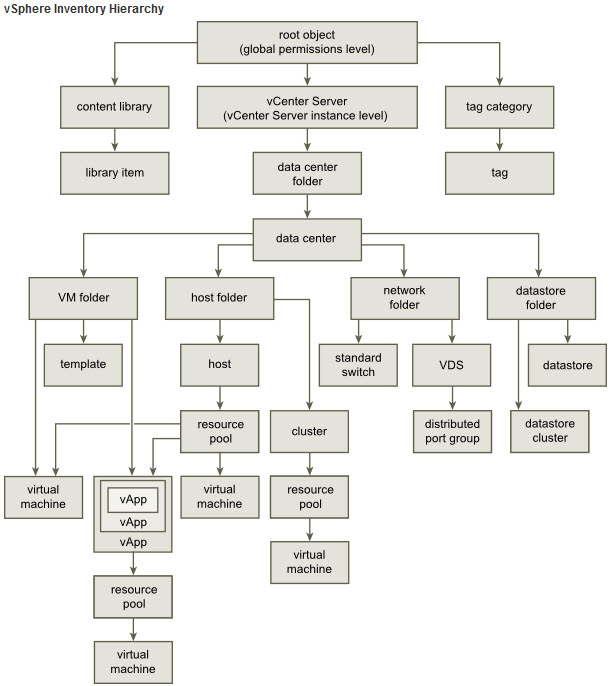 Configure Content Library authentication
To enable authentication, select the library > Actions > Edit settings > Check the "Enable user authentication for access to this library".

Set/Configure Content Library roles
Content Library Administrator
Content Library Administrator role is a predefined role that gives a user privileges to monitor and manage a library and its contents.
A user who has this role can perform the following tasks:
Create, edit, and delete local or subscribed libraries.
Synchronize a subscribed library and synchronize items in a subscribed library.
View the item types supported by the library.
Configure the global settings for the library.
Import items to a library.
Export library items.
You can clone this role or use this role as is and assign this role to the user that shall manage the content library.
Add/Remove Content Libraries
To Add a Content Library: (to create)
vCenter Inventory Lists > Content Libraries > Click the Objects tab > Click the Create a New Library icon
Give it some meaningful name..

Click next to follow the assistant and choose one of the options…

Then again continue with the next button and choose a storage…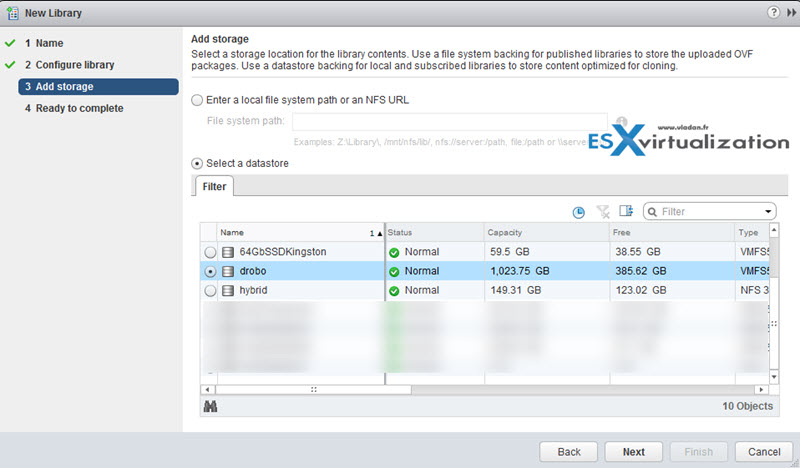 Hit next and finish.
To Delete a Content library:
vSphere Web Client > vCenter Inventory Lists > Content Libraries > Select library from the list > Actions > Delete > Confirm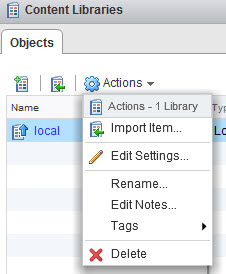 Synchronize Library Items:
Web Client > vCenter Inventory Lists > Content Libraries > Select a subscribed library from the list, and click the Related Objects tab. > Synchronize the item you want to use.
On the Templates tab, right-click a VM or a vApp template, and select Synchronize Item > On the Other Types tab, right-click an item, and select Synchronize Item.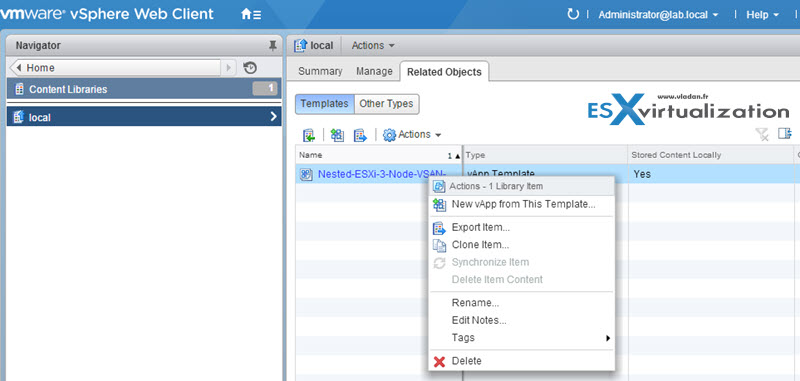 After synchronization completes, the item content and metadata are downloaded to the backing storage of the subscribed library, and in the Related Objects tab the value for the item in the Stored Content Locally column changes to Yes.
Tools
vSphere Installation and Setup Guide
vSphere Administration with the vSphere Client Guide
vSphere Virtual Machine Administration Guide
vSphere Client / vSphere Web Client