Another VCP 6.5-DCV topic to be covered today to help to study towards VMware VCP6.5-DCV certification exam. We continue to fill our VCP6.5-DCV Study guide page where we usually do a one objective per day. Today's chapter is VCP6.5-DCV Objective 6.1 – Configure and Administer vCenter Appliance Backup/Restore. The topic outlines possible ways to upgrade a vCenter server with Platform Service Controller (PSC), with the same or different SSO domains, etc.
Usually, the majority of new VCP candidates right now will go for the VCP6.5-DCV even if the VCP6-DCV seems less demanding and it's still valid. For the VCP6-DCV there are fewer topics to know, but the latest VCP6.5-DCV is perhaps better to have on your CV…
The exam has 70 Questions (single and multiple choices), passing score 300, and you have 105 min to complete the test. We wish everyone good luck with the exam.
Check our VCP6.5-DCV Study Guide Page.
You can download your free copy via this link – Download Free VCP6.5-DCV Study Guide at Nakivo.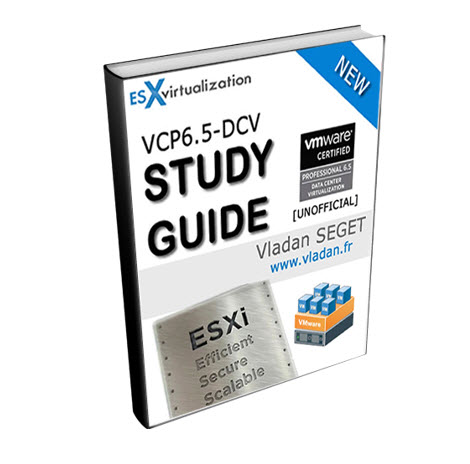 VCP6.5-DCV Objective 6.1 – Configure and Administer vCenter Appliance Backup/Restore
Configure vCSA File-based Backup and Restore
The vCenter Server Appliance supports a file-based backup and restore. In case your VCSA becomes corrupts or non-recoverable from traditional backup via your favorite backup software, you can still restore from file-level backup. And this is the today's topic.
In vSphere 6.5, you can use the vCSA's Management Interface  (VAMI) accessible via the port 5480, to create a file-based backup of the vCSA and Platform Services Controller (PSC) appliance. After you create the backup, you are able to restore its configuration by using the GUI installer of the appliance. (executing the phase 2).
You use the vCenter Server Appliance Management Interface to perform a file-based backup of the vCenter Server core configuration, inventory, and historical data of your choice. The backed-up data is streamed over FTP, FTPS, HTTP, HTTPS, or SCP to a remote system. The backup is not stored on the vCenter Server Appliance.
The steps:
Deploy a new vCSA
Copy the data from the file-based backup to the new appliance.
Simple, right?
What is backed up?
The minimum set of data needed is backed up by default. Those are for example the OS, vCenter services and Inventory. You can additionally backup also Inventory, configuration, and historical data (Statistics, events, and tasks) in a vCenter server database.
You can select whether to include historical data, such as stats, events, and tasks, during the assistant.
Login via:
https://IP_or_FQDN:5480
After you log in, then you can hit the big Backup button. A wizard will start…. (click to enlarge…)

There you'll be presented with a nice wizard which will allow you to specify where you want to send this backup. The location must be an empty folder. Note the option to encrypt your backup data, a simple checkbox.
Note the option to encrypt your backup data, a simple checkbox…… Select Encrypt Backup Data to encrypt your backup file and enter a password for the encryption. If you select to encrypt the backup data, you must use the encryption password for the restore procedure.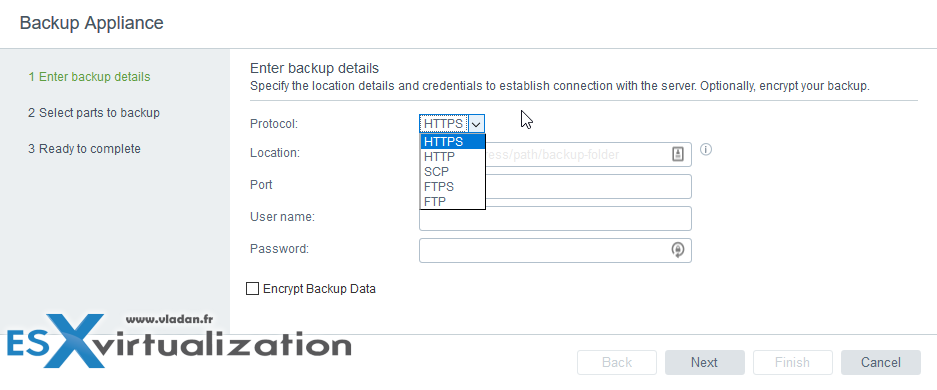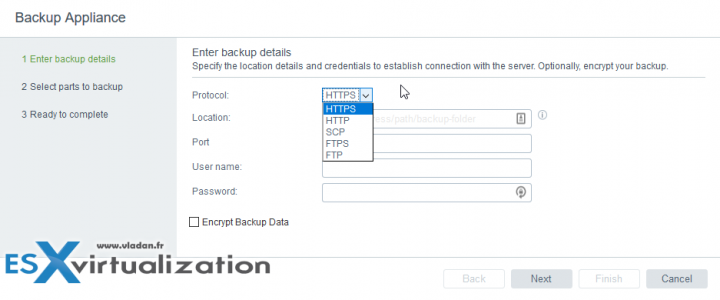 You must have an FTP, FTPS, HTTP, HTTPS, or SCP server up and run with sufficient disk space to store the backup.
You should dedicate a separate folder on your server for each file-based backup. Review the data that is backed up by default and select Stats, Events, and Tasks to back up additional historical data from the database.
Within the Description text box, enter a description of the backup and proceed with the wizard. You'll have a Ready to complete page, review the summary information for the backup and click Finish. The Backup Progress window will open and shows you the progress of the backup operation.
Define supported backup targets
As being mentioned above there are quite a few backup target possibilities. The most important to note is the fact that the backup data are not stored on the appliance so in case something goes wrong and you need to restore, you have the data stored elsewhere.
Supported protocols: FTP, FTPS, HTTP, HTTPS or SCP.
If you want to use FTP, FTPS, HTTP, or HTTPS you should know that the path is relative to the home directory configured for the service. But for ror SCP protocol, the path is absolute to the remote systems root directory.
Wrap Up: This was a shorter lesson today, easy to follow a topic. I'm sure you can handle another one today. Check our VCP6.5-DCV Study Guide Page. 
VMware is really working hard on the VCSA in order to bring feature parity. That's now the case and even more as we have a built-in backup configuration, and (or) vCSA High Availability, which is really useful features. The fact that you can save one Windows license, the VMware environment costs you a little bit cheaper now… -:).
Stay tuned for other lessons.
More from ESX Virtualization
Stay tuned through RSS, and social media channels (Twitter, FB, YouTube)