New update from Veeam today as the company has just released Veeam Backup and Replication 9.5 U4a. You can download the latest patch slipstreamed into the main ISO image here. It is a build 9.5.4.2753) which has 4.9 Gb in size as it also includes all the tools and agents (Windows and Linux).
The new U4a release contains "mostly a cumulative hotfix rollup that addresses issues reported by customers on the original build of Update 4".
Just a reminder for users willing to use Veeam Free Community Version. The community version of Veeam can backup and restore up to 10 instances. It can be 10 VMs, 10 Laptops with Windows agents installed etc, so it's really cool from Veeam to allow us to use their software for free for up to 10 systems -:).
And the community version it's not a locked-in version which does not have a scheduler and can do only full backups. Not at all. Times has changed and with Veeam it is actually a Full Standard Version which protects up to 10 Workloads. How cool is that?  Check out the Veeam Backup Community Version FREE.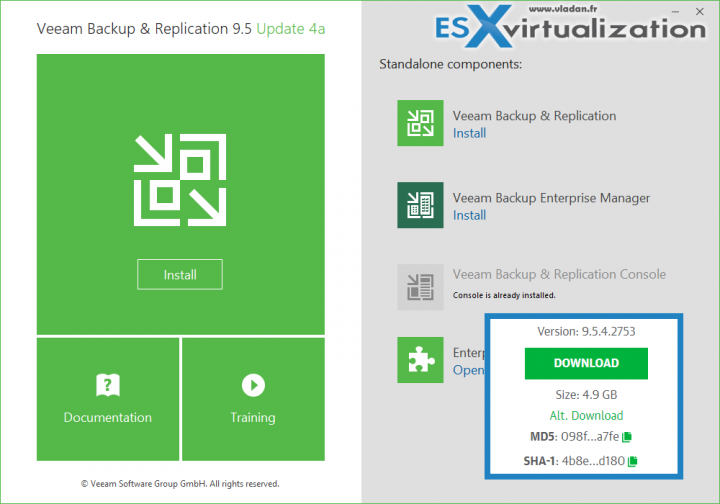 From the release notes:
VMware vSphere 6.7 U2 readiness including support for VMs with virtual hardware version 15. Please note that the testing has been performed on pre-release 6.7 U2 builds, while the official support will still require comprehensive testing of the GA build.
Microsoft System Center Virtual Machine Manager 2019 is now supported as a source for Microsoft Hyper-V VMs backup jobs.
Dell EMC Data Domain using DD OS 6.2 is now supported as the backup repository via both DDBoost and CIFS/NFS protocols.
NSS trustee rights on files and folders are now restored during file-level recovery from NSS volumes hosted on Micro Focus Open Enterprise Server (OES).
Experimental support for keyboard-interactive authentication can be enabled by creating the LinuxKeyboardInteractiveAuth (DWORD) = 1 registry value under the HKLM\SOFTWARE\Veeam\Veeam Backup and Replication key on the backup server. By default, we will look for the "password" substring in the SSH console prompts. You can override this using the LinuxKeyboardInteractiveAuthPrompt (REG_MULTI_SZ) value, where multiple substrings can be specified one per line.
New Japanese era compatibility. 新元号の変更検証済み
Update 4a resolves the following common support issues:
Certificate verification issues cause the backup console taking to long to open, or failing to open with "Object reference not set to an instance to an object" from backup console or "Could not load file or assembly" error in the log.
Upgrade to Update 4 fails with the "Database version downgrade detected … Reboot and restart the setup" error on machines where system time regional format uses a.m. and p.m. (lowercase with dots).
SureBackup jobs start failing after upgrading to Update 4 due to virtual lab settings incorrectly updated by the configuration upgrade, in case of lack of free disk space in the vPower NFS cache folder.
On Hyper-V versions prior to 2016, jobs with application-aware processing disabled fail with "The system cannot find the file specified" error.
Backup of Windows XP SP1 VMs fails with the "Failed to call RPC function Vss.GetFileFromGADir" error.
Various primary storage integration issues with HPE Nimble, NetApp, IBM and Dell EMC VNX storage.
Tape support reliability issues, including a number of UI performance issues with tape management functionality.
HPE StoreOnce Catalyst library memory leak issue (solved by updating the library to version 24.90.0.8).
VeeamZIP™ operation incorrectly consumes a license for VMs that were previously licensed by regular backup jobs.
In addition, Update 4a addresses over 300 minor bugs reported by customers and found during the internal testing.
If you have 9.5 Update 4 installed (RTM build 9.5.4.2615 or GA build 9.5.4.2399), you can upgrade to Update 4a using the update ZIP package which you'll find in the Veeam KB 2926.
Veeam Backup and Replication 9.5 U4a – Trial
Veeam Backup Community Version FREE
Source: Veeam KB 2926
Also from ESX Virtualization
Stay tuned through RSS, and social media channels (Twitter, FB, YouTube)