I don't think that I have written about Veeam Cloud Connect yet, so this is the post about What is Veeam Cloud Connect? It's simple. Veeam works with many service providers who allocate some space at their local infrastructures. Veeam customer can then specify this space as a backup target and use it as a remote repository.
So Veeam Cloud connect is a feature, which is part of Veeam Backup and Replication software, and it's super simple to set up. I'm sure that many of you have already tested or tried, but for those of you who have not, this post will show you what is Veeam Cloud Connect and How to set up.
Note that this post is rather for new Veeam users as the experimented Veeam admins know already their stuff. If you know your way, just skip that or like and promote through social media.
You don't need any additional software in order to use Veeam Cloud Connect. In fact, you'll need to select your service provider who will provide you with a storage space at his end, and that's where your copy of your backups will be stored (The connection transfers data over an SSL/TLS connection, which is encrypted).
Note: You can Download Veeam Trial From This Link
Veeam Cloud Connect integrates hosted backup repositories (called cloud repositories) directly into the Veeam backup console:
Your customers simply click "Add Service Provider" and enter the credentials you've given them.
Their cloud repositories appear in their backup infrastructure.
Well, there is a little bit more work to do as well, but we'll get this covered. It's not difficult. Basically, you will first need to choose your service provider which will give you your login details for your Cloud Connect repository. You can find a service provider from this link at the Veeam website.
Note: In my case I'm using a cloud connect repository by Cloudio from Denmark, but there are many others.
How to Setup Veeam Cloud Connect?
Step 1 – Add Credentials (you'll receive those credentials from your partner). Go to File > Manage Credentials.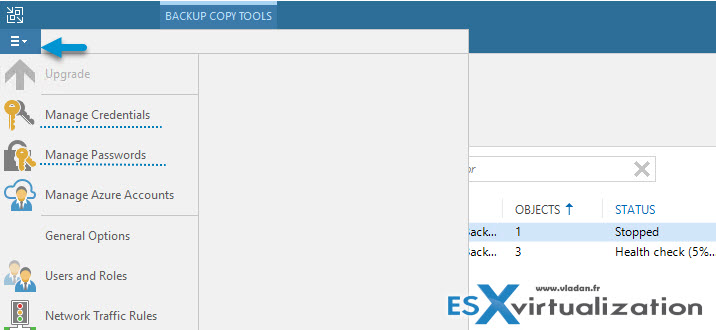 Step 2 – Add encryption password – yes, the backups has to be encrypted before sending them to the cloud repository. If not your backup jobs fill fails. Simply go to File > Manage Passwords.
Note: You need to set up encryption password otherwise you backup copy jobs will fail.
It's certainly wise to select a service provider from your country (yes, regulations…) and which is the geographically closest to you.
Step 3 – Add Service Provider. I think that the screenshot below says it all… You'll need the DNS path or IP address. Usually, the service provider keeps the default port, but there can be exceptions. Make sure to verify that.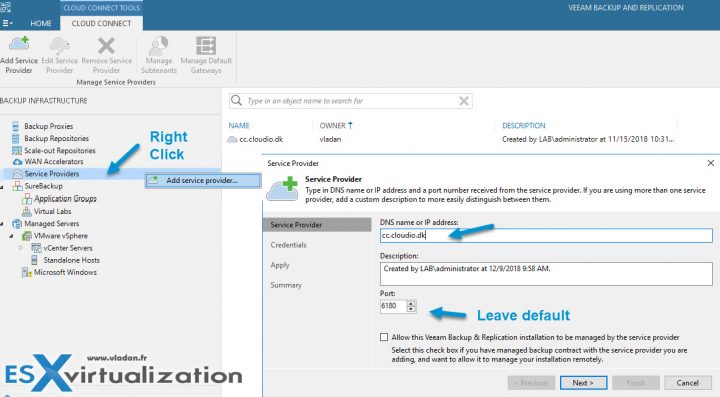 Then enter your login and password from the drop down.
Note: As precised in step above, you must create those credentials before you're able to have it as an entry in your drop-down menu…
So, after you've done that, select the entry and click Apply.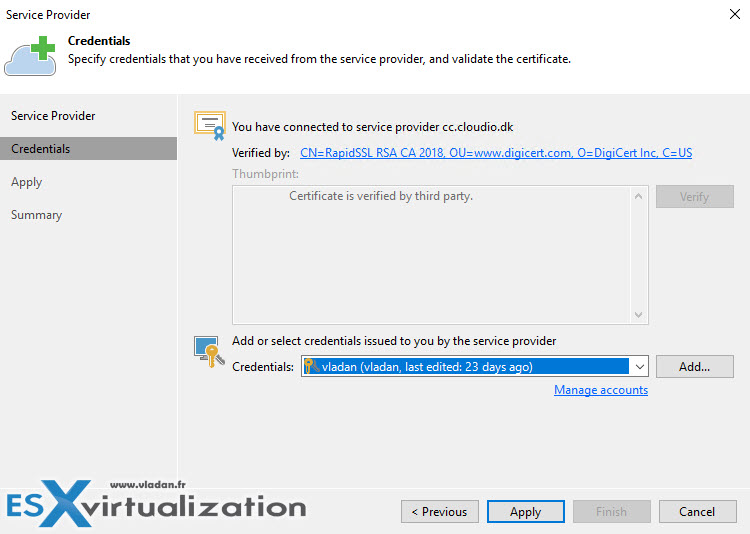 And then, the service provider's repository should appear within your Backup Repositories. You can see some details, such as Type, Host, Path, Capacity and Free space. In my case, as I'm part of the Vanguard program, I'm entitled to use up to 10 TB of storage in the cloud for my lab. That's pretty huge for my small environment, but thanks to Cloudio.dk allowing us to test it this way.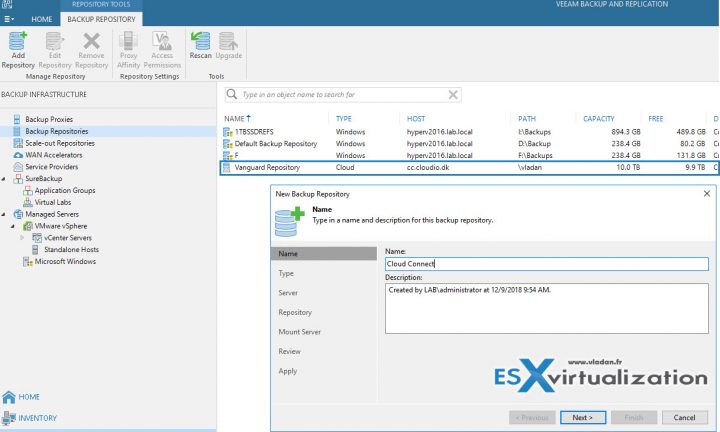 What can you do with that Cloud repository?
Well, you can create jobs and have that cloud repository as a target.
Backup Copy Job(s) – You can create a Backup Copy Job which is basically a job which creates an offsite copy stored in the cloud. This is the most common scenario. It does not do the backup of the VM to cloud storage directly, because when you need a quick restore, it might take some time to pull back the whole VM.
When creating Backup Copy Job you'll need to specify where those objects will be copied from:
From infrastructure
From Backups
From Jobs
So basically, when you do not want to "touch" production VMs, it's best to specify from Backups and Veeam will look into your Backup files and copies the latest bits up to the cloud storage. (Note first backup copy has to transfer every bit as up there is nothing…)
Here it is how this screen looks like.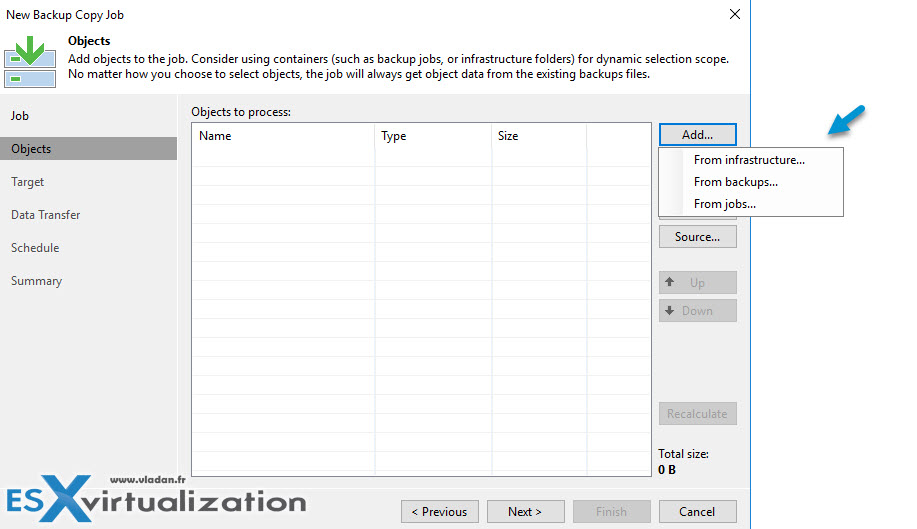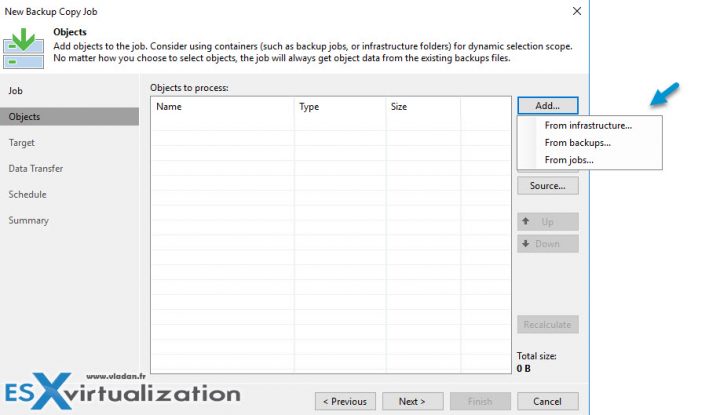 Backup Job – yes, this option is also available and you can directly send the backup to the cloud repository. However, as being said, if you need fast restore, it might not be the best option as it takes time to get the full VM back. Depending on the size of the VM's disks (VMDKs), as usual.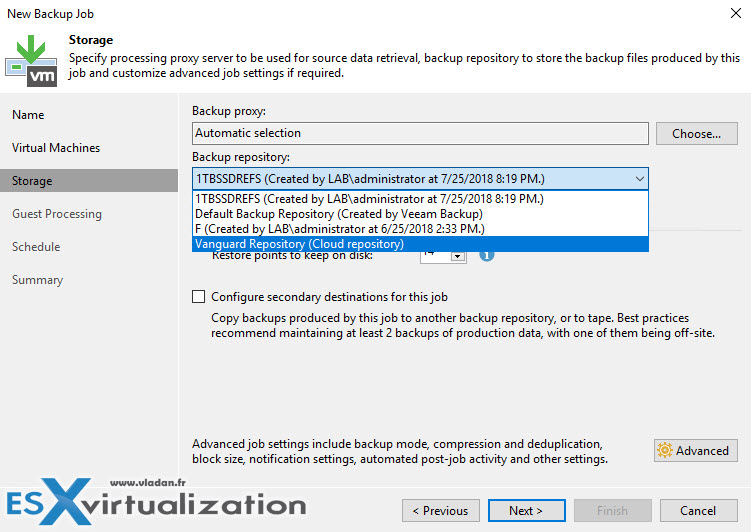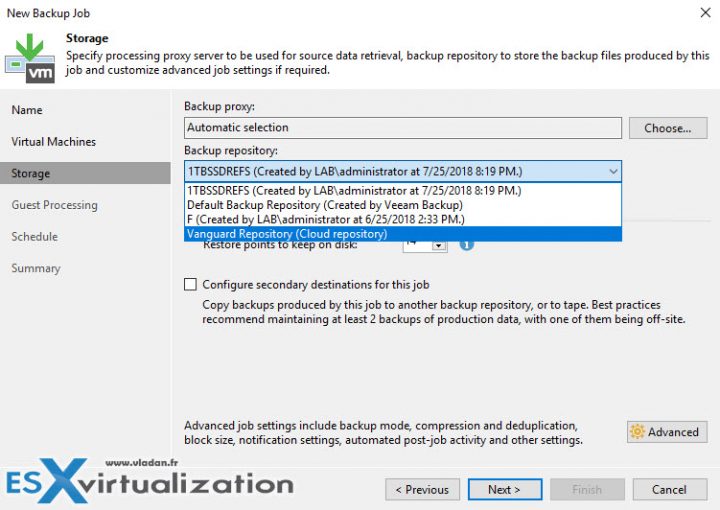 As you can see, backup and backup copy jobs are very simple to set up and you don't need to use any VPN configuration on your end to make this to work. The only requirement is basically to have good bandwidth to be able to push or pull the data.
Note: You can Download Veeam Trial From This Link
Well, this is about it for today. Staty tuned for more.
More About Veeam from ESX Virtualization
More from ESX Virtualization:
Subscribe to RSS, and social media channels (Twitter, FB, YouTube)