VMware DRS is constantly monitoring your vSphere Cluster and making sure that your VMs are getting the resources they're asking for, the most efficiently. VMware Distributed Resource Scheduler (DRS) is checking actually the performance of your VMs and gives placement decisions to which host within the cluster shall particular VM be migrated. If in automated mode, then VMs are actually moved to other hosts automatically. I wanted to start putting down definitions, such as DRS, for new folks starting with VMware virtualization technologies. That's why this post – What is VMware DRS?
Let's get a little bit of knowledge about VMware DRS. There are different variables (25 in total) which DRS evaluates constantly. The variables can be Host resource capacity, Resource reservations, datastore connectivity or VM resource demand. (There is much more).
VMs can be idle (some of them are) and they can wake up and do some important work, use CPU cycles, send network packets back and forth, use memory. So the host can become busy and can become short on memory, CPU or network resources. This influences the decision of DRS to move those VMs to another host. To a host which has more free resources.
Where to look for DRS info?
To view how your cluster is balanced. Connect to your vSphere cluster and Select your Cluster > Click the Summary TAB > View the vSphere DRS info on the dashboard (expand it). But even, you might see the cluster slightly unbalanced and you might ask. Why my cluster is unbalanced? Well, DRS was designed to balance VM across your cluster, but it will not move those VMs if there is no performance benefit.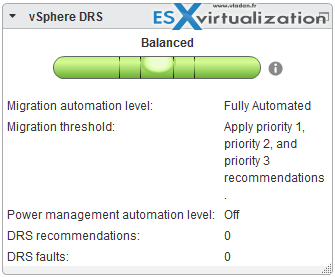 To view details about CPU utilization (still, keep the cluster selected)
the overview of CPU consumption of the VMs.


Where to view details about Memory utilization
By clicking the Memory Utilization menu on the left.
Memory consumption of the VMs.
VMware vSphere DRS – details about network utilization
The network data shows all traffic across physical network interfaces on the host.


VMware DRS – Where to activate?
Simple, just Select your cluster > Configure > vSphere DRS

VMware DRS is present in vSphere enterprise and higher, so if you're on Essentials Plus or Standard you're out of luck, but if you're on the budget and needs only 3 physical hosts then the vSphere Essentials or Essentials Plus are good enough to start with!
vSphere DRS monitors the VM performance and ensures that the host where those VMs runs, is able to deliver the performance the VMs needs. DRS uses active memory when calculating the current host load.
There is a ton of VMware documentation, including advanced settings, if you want to go further. This post is not even close any deep-dive article but gives the reader an overview how the feature works and where to look at it.
Stay tuned through RSS, and social media channels (Twitter, FB, YouTube).
More posts from ESX Virtualization: