I recorded this video during VMworld Barcelona 2015 (check my detailed page), with Luca Dell'Oca (@dellock6) from Veeam Software. I had a few questions to ask him about the upcoming v9 of Veeam Backup & Replication. He told me that another new feature shall be announced this week as well. The product shall be out during Q4 this year and one of the features that stands out is the cloud connect with replication.
Replication to the cloud allows full or partial site failover, depending of your needs, shall be very easy to use (as we have use to it with Veeam) and will allow to do a failover through web portal with just few clicks.
Update: I tested some of the features like:
Veeam (clean) Installation (with new remote console install possibility)
Update 2:  Veeam Backup and Replication 9 has been released. Just before X-mass the RTM version was made available to partners and folks being part of the Vanguard program (including me). The product has an easy installer allowing the upgrade process to be a snap. I have detailed the upgrade processin my post here. Get a Free trial with full functionality during 30 days here.
Many cool new features added to v9 of Veeam as well as many enterprise classed functions providing better scalability when many remote offices. In this case the new Guest Interrraction proxy situated at the ROBO site does the heavy lifting as the Veeam sends only control commands from the main office. The FLR at the ROBO site can now use a new mount server settings allowing avoiding the WAN traffic by specifying local mount point at ROBO site itself for mounting the backup.
Veeam users which does not have a secondary site can leverage the hosted solutions of Veeam via service provider network. Secondary (DR) site is most of the time question of budget and small shops just don't have the budget to build a secondary site. The cloud connect will appear as a remote datacenter. So when creating a simple replication job you'll simply specify the remote datacenter as a target. 
A service provider who is running Veeam Backup and Replication at the remote datacenter will be able to receive a replication job from Veeam user. The client component is installed at the client main datacenter, and can connect as a separate tenant to the service provider's datacenter, isolated from other clients. A stretched network is created allowing to communicate directly with the VM running in the cloud without the need to change any networking in the VM.
Luca was also talking about different ways of creating replication job. One way from live environment and one from backup. The latter one has one advantage, but also one inconvenient. The advantage is that it extract the data from existing backup (so it do not adds pressure to your existing shared storage), but obviously the RTO depends of the frequency of the backup. So you won't have exactly the latest data as it extracts data from Veeam backup file. But especially for smaller customers with not a lot of hardware the advantage is to preserve their workloads at optimum speed.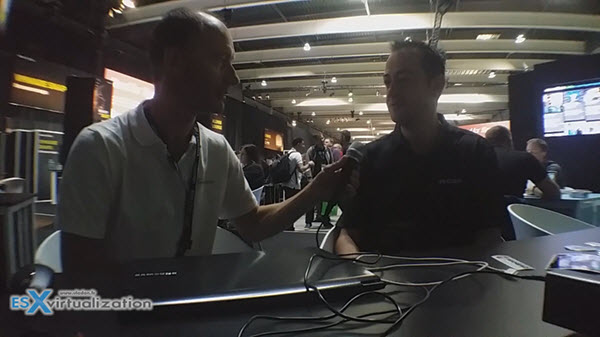 Wan acceleration also works with replication jobs will be another features added to the v9 as the WAN acceleration so far was present in the v8. WAN acceleration is done in-software so no need to purchase another hardware or software appliance external to Veeam in order to handle WAN compression and acceleration for your replication jobs, when the data has to travel to the remote site.
Quote from Veeam's website:
Advanced image-based VM replication through Veeam Cloud Connect is simple to set-up and easy-to-use. It includes:
A cloud host for DR with CPU, RAM, storage and networking resource allocation from a service provide
Full site failover to a remote DR site from anywhere with just a few clicks through a secure web portal, and partial site failover to instantly switch over to selected VM replicas only.
Single port connectivity via a secure, reliable SSL/TLS connection to a service provider with traffic encryption — and much MORE!
Here is the video. I've been a little bit disappointed this time as I did the recording in an area where there wasn't enough light…. -:(.
I'll do better next time… Otherwise, the sound is perfect, with the external mic….
As being said, the v9 of Veeam Backup & Replication shall be out later this quarter. So stay tuned through the blog for other announcements, especially from Veeam, because I'll travel one more time this year. Where? I'll be at VeeamON 2015 In Las Vegas, as a part of the Veeam Vanguard Program.
Download 30 days Free Trial of Veeam 9 – Full featured!
Stay tuned for more news at ESX Virtualization through our social media channels or via RSS.