Veeam v9 Scale-Out Backup Repository can have one (or several) nodes to be put into maintenance mode. A node which is part of a Scale-Out backup repository after being put into a maintenance mode, backup files can be evacuated off that node. What is that maintenance mode and how it can help? We have discussed the Scale-out backup repository in our post here – Veeam Scale-Out Backup Repository.
Imagine that you have a node that is participating in a Scale-out backup repository and you need to do a hardware maintenance without stopping your backup jobs. Or you need to patch that host, clean a virus or malware…. That's a possible use case for "Maintenance mode", in such a situations.
During this time, the backup jobs continue to work because they're pointing to the Scale-out backup repository which "knows" which extents are in maintenance mode and which extents are available to receive backup files.. It's small feature perhaps but it simplifies an admin's job! True?
Veeam v9 Scale-Out Backup Repository – How to activate a Maintenance mode and what to do next?
First – right click the node and check the Maintenance mode.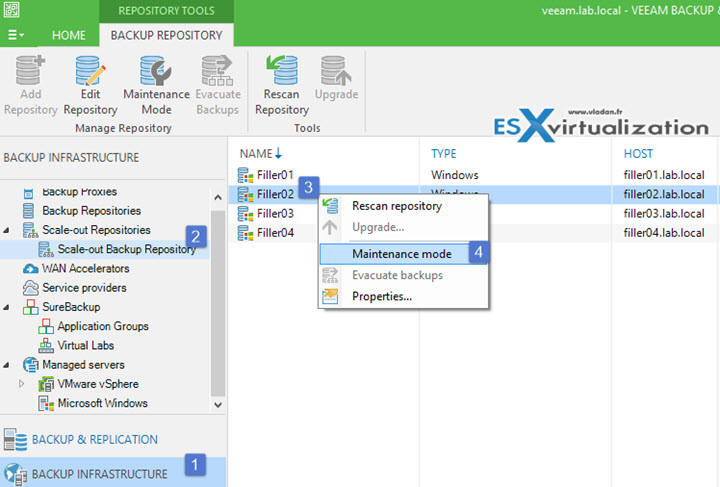 A maintenance job starts and window will pop-up. You'll see a confirmation message… Click the close button.

Second – right click > evacuate the backups. It's as simple as that. Does not it reminds you something?
It certainly reminds me to put an ESXi host into a maintenance mode and evacuate a VMs off that node! That's exactly what happens with Veeam.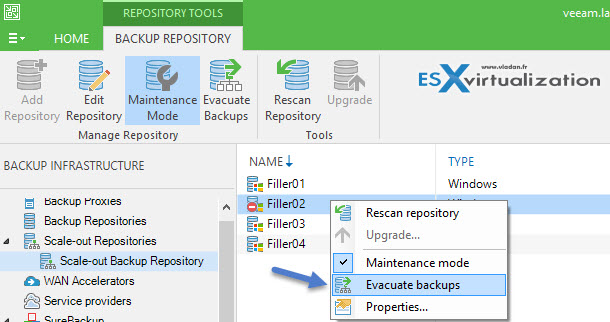 Just that it's not VMs which are evacuating, but backup files which are stored on a particular node.
Again, a confirmation window will pop-up telling you that backups will be evacuated from following extents.  Our screenshot shows 4 servers as a part of Veeam v9 Scale-Out Backup Repository.
Backups will be evacuated from the following extents. Continue?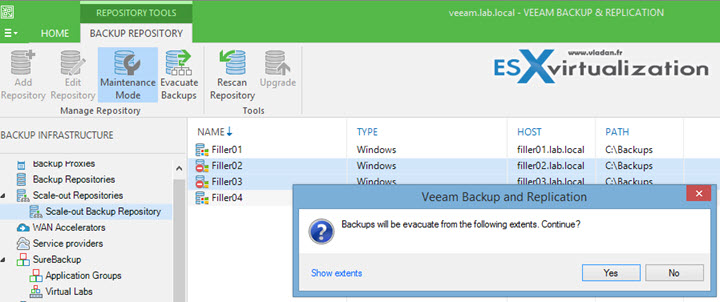 Yes, as you can see, you are able select multiple extents!
An evacuate backup job is created and processed… The window looks like this.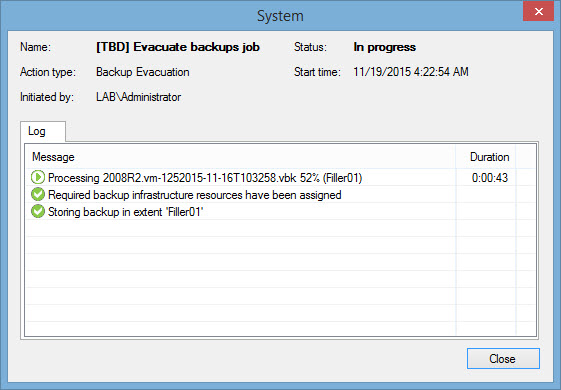 How about to check this on a video? Here you go. I've recorded a small video showing just how that works. Enjoy… -:)
Note that the video and screenshots are taken from the Veeam v9 Beta code…
Traditionally, as your backup repository begins to fill up you are stuck and have to migrate the entire backup file to a new repository. By creating a Per-VM backup file chain, one job can be created for all of your virtual machines, but each VM has its own file chain.
The Scale-out backup repository feature allows a kind of a  "virtual backup repository" to be created on top of the current repositories you're managing in your environment. Per VM-backup File chain can further optimize the storing of the backups because each VM from a backup has its own file chain no matter if you have single or multiple VMs in a backup job. This allows you to create fewer backup jobs as you don't have to "tweak" the space you have left on your repository…. Check Veeam Scale-out backup repository post here.
Note that we'll have a Free product from Veeam for Linux servers. This will be in 2016…
Veeam Backup and Replication v9 shall be out Q4 2015. Stay tuned for other posts about other Veeam v9 features.