Veeam Backup and Replication was awarded during VMworld 2010 this year as a Best of Show and Best New Technology.
The majority of the users of virtualization products today are facing  several problems like the speed of the restoring process or length of the backup window.
But one of the primary fear of a Virtual Infrastructure administrator is the fact that he is not 100% sure about his backups and he does not have the time to test his backups every day….
That's where Veeam Backup & Replication™ 5.0 helps with it's revolutionary technology called Sure Backup. In my article recently I showed you what Veeam brings with vPower. The possibility verifying and starting your VMs directly from the backup is revolutionary approach. It addresses the problem of verification of backups.
Other backup products sure do have a verification of backups, but they don't include a process where the VMs are started in a group of VMs, ping commands issued to verify the connectivity etc and reports all this by e-mail to the administrator… Because to verify  for example, that your Exchange server was backed up correctly, the Exchange Server VM needs to communicate to your domain controller, DNS server and or DHCP server etc… and that's where the It's possible with Veeam Sure Backup by using what's called Application Groups.
Judges at VMworld 2010 agreed that Veeam Backup & Replication v5 is a major step forward in protecting and recovering VMware environments. They awarded it Best of Show and Best New Technology because it "addresses major problems that virtualization administrators have" and "its backup verification technology and ability to reach into applications set it apart."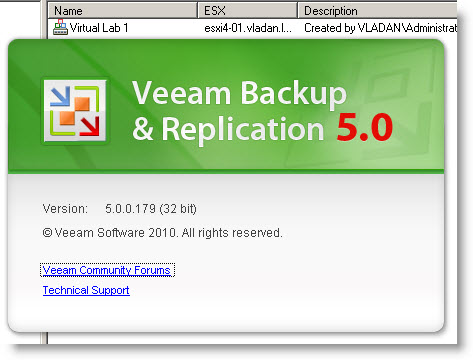 Version 5.0 provides 2-in-1 backup and replication for virtual machines (VMs) running on VMware ESX(i) and performs functions not possible with traditional physical backup solutions or other virtual backup tools. With patent-pending technology, Veeam Backup & Replication 5.0 can run a VM in production or in an isolated virtual lab directly from a compressed and deduplicated backup file on regular backup storage.

As a result, it's now possible to instantly recover a VM directly from a backup, restore individual objects (email messages, database records, etc.) from any virtualized application, and automatically verify the recoverability of every backup without additional hardware or staff. This technology also enables organizations to gain additional
value from their investments in backup storage by using backups to create an "on-demand sandbox" for troubleshooting, testing and development/QA.
The product has 2 versions: Standard and Enterprise.
Veeam Backup & Replication 5.0 is available immediately. North American pricing starts at $599 USD per socket for Standard Edition and $899 USD for Enterprise Edition. The enterprise version does have the Application-item Recovery options.

There is also another promo at the moment in case you're hesitating to go for the Enterprise edition directly…

Free upgrade to Veeam Essentials Plus…Purchase Veeam Essentials on or before December 24, 2010, and upgrade to
Veeam Essentials Plus for free. With this special offer, you get all the extra capabilities in Veeam Backup and Replication.

Enterprise Edition, recognized as Best of Show at VMworld U.S. 2010, including:
– U-AIR™ (Universal Application-Item Recovery): Recover individual objects from ANY virtualized application.
– SureBackup™ Recovery Verification: Automatically verify the recoverability of every backup.
– On-Demand Sandbox: Eliminate the cost of a dedicated lab and the overhead of extra VM snapshots.
Download a free 30-day trial of Veeam Backup & Replication 5.0 here.
See more in this PDF document here…
In addition, a Competitive Upgrade program is offered now through December 24, 2010, at https://www.veeam.com/go/backup-upgrade. New customers receive a 25 percent discount on the price of Standard or Enterprise Edition with proof of purchase of another backup product. More information about Veeam Backup & Replication 5.0, including on-demand demonstrations and a free 30-day trial, is available at https://www.veeam.com/vmware-esx-backup.html
In the video below you'll be able to see the Sure Backup in Action.  There is an Exchange Server VM being backed up and more… -:)