Veeam just released a new version of very popular free SCP client FAST SCP 3.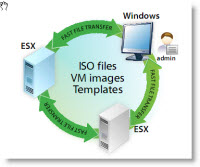 This software is very popular and the Windows 7 compatibility will make happy more than one (including me 😎 ). So it's a great news to announce to all my regular readers. I followed Free SCP since the early days and it's still one of my favorite tools to copy/paste files to and from Virtual Infrastructure under VMware vSphere 4.
The copy/paste operations are up to 6 times faster then other equivalent products by using data compression and full network capacity so when you need to transfer large ISO or data files the time you save by using this tool is just great.
You can download Veeam Fast SCP 3.0.2 from Veeam website here.
Here is the list of all the new features:
Added support for Microsoft Windows 7 and Microsoft Windows Server 2008 R2
VMware vSphere 4 is now "officially" supported.

There are also some bugfixes:
FastSCP doesn't process flat.vmdk files on ESX(i) 4 when using agentless mode
And in the previous version (Veeam FastSCP 3.0.1)  there has been other fixes too…
Inactive datastore error when trying to copy files to/from online NFS datastore connected to an ESXi host.
If the daily scheduled copy job's schedule is set to skip some days, the job always start at 12am on the next day it is allowed to run.
Unknown api version error displayed when processing vCenter containing older versions of ESX servers (prior to ESX 3.0).
File deletion errors are not displayed correctly
Source: Veeam