Veeam will be holding a Datacenter Availability Conference in October 6-9, 2014 in Las Vegas. It's industry's first. Veeam software when started almost a decade ago had as a vision to get the best backup product to the customer. This hasn't changed since. They're simply a group of very passionate people. And why Veeam has success? Simply because they never stops innovate and they did support the virtualization community from the day 1.
Virtualization is great, but how about when you need to restore? You're usually very happy after a successful restore, right? You feel the relief being able to recover without hassle and fast. And it's been Veeam's idea to create SureBackup which makes sure that the VM which is contained within the backup file can actually be powered On, verified, then shut down. And that it's not just a corrupted bits of OOO and 111. It's by creating vPower that Veeam has actually brought the tools that pushed the data protection standards really forward and was immediately embraced by the customers.
VeeamOn conference is held at the Cosmopolitan hotel at Las Vegas. The conference has technical sessions, but also partner and business sessions. There will also be live labs and certifications running during the 4 days event. The live labs as you can expect will also be showing the upcoming v8 of Veeam! During the conference It will be possible to get certified as Veeam Certified Engineer (VMCE) at discounted price. The attendees will receive discounts for VMCE courses and vouchers for VMCE certification exams.
During the event, there will be technical sessions, business sessions and partner sessions. The speakers will also show detailed strategies for capacity planning and performance management using both Veeam ONE and Veeam Management Pack for System Center, which has been recently released. The Veeam Management Pack for System Center brought newly Hyper-V support with advanced dashboards. Also advanced reporting and
capacity planning for Veeam Backup & Replication protecting Hyper-V environments.


There are very good technical session during the conference planned. Here is a quick view.
VeeamOn Technical Sessions:
Advanced Capacity Planning and Performance Management with Veeam
Advanced SQL Server Backup and Recovery with Veeam
Advanced Veeam Backup & Replication Architecture: Follow the Flow
Automation for All! PowerShell Tricks That Make Everyday Life Easier
Backup and Restore Best Practices for Linux VMs
Backup Bottleneck Technical Deep Dive
Business Challenges Met: SureBackup and Virtual Labs to the Rescue!
Better Together: Veeam TAP Partners
Deduplication Any Way You Want It!
Deep Dive: Veeam Backup Management Suite
Deep Dives from Veeam: Product Demos and Live Q&A
Deploying Veeam ONE in Large Environments: Tips and Tricks
Introducing the Veeam Management Pack for Hyper-V
Networking Deep Dive: Veeam Proxies, WAN Acceleration and Virtual Labs
ONEbelievable tricks: Veeam ONE and Automation Services
Operation Repo: Building your Backup Repository
PowerShell and RestFUL API: Ten Things That You Cannot Do with the GUI
The Ultimate Guide to Data Corruption
Top 10 Most Common Misconfigurations in Veeam Backup & Replication
Top 10 Reports for your Veeam Backup and Virtual Infrastructures
Upgrading to Veeam Backup & Replication v8: It's Easier Than You Think
Upgrading to Windows Server 2012 R2 Hyper-V the Right Way
Veeam Backup & Replication Design: Basic to Advanced Design
Veeam Backup & Replication with NetApp Storage: Best practices, Tips and Tricks
Veeam Backup Logs: Tips and Tricks of the Trade
Veeam Backup Management Suite: Under the Hood
Veeam for Cloud Service Providers: Supportability and Design Made Easy
Veeam Management Pack: More Than Just System Center Operations Manager
VMware Backup Best Practices for 2014 using Veeam
vSphere and Hyper-V: Architecting Data Protection Between the Two Hypervisors
What Is the Ultimate Backup Storage Architecture?
Whiteboard Friday — LIVE from VeeamON!
Multi-tenancy: how to use roles, scopes and encryption in enterprise manager
Using Veeam B&R in an IaaS-environment with vCAC, Nutanix and NSX
What's New: Veeam Availability Suite v8
Quote from the VeeamOn 2014 page:
VeeamON 2014 will take place at the ultra-modern Cosmopolitan in Las Vegas, Nevada. Located right on the strip and in the middle of all the action, The Cosmopolitan offers a wide array of amenities that promise to transform your Las Vegas and VeeamON experience into something truly remarkable.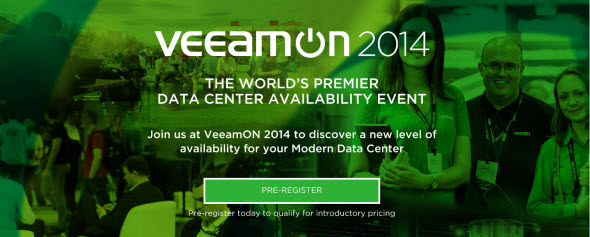 __________________________________________________________________________
The Schedule.

___________________________________________________________________________
Tips and Possible Discounts:
When registering, use promo code VEEAMONSAD14 and you will receive $200 USD discount.
Register here before September 1st and you could win either a regular conference pass OR a VIP pass that includes conference access, VMCE training, VMCE exam voucher AND  5 day accommodation in Cosmopolitan hotel.
Veeam has also special accommodation discounts for VeeamON attendees.
As a partner you can also get free ticket via this offer:
LIMITED-TIME SPECIAL OFFERS, Check the details here.
Until Aug. 31 2014, sell VeeamON 2014 tickets* to take advantage of these special offers**
Sell 4 passes and get 1 pass FREE!
Sell 7 passes and get 3 passes FREE!
Pretty amazing. Just a week before VMworld Barcelona 2014.
Get more details from VeeamON 2014 Page here.