SureBackup – a revolution for backups of Virtual Infrastructure.
I assisted at the bloggers meeting last night with Doug Hazelman from VEEAM Software. Doug had already did a pre-post on Veeam company's blog veeammeup.com where he did not showed any new information, but only analyst's reactions.
The announcement has been done officially today on Veeam's website.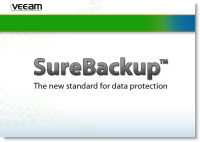 SureBackup is not a new product but a collection of new features. SureBackup will be part of Veeam Backup and Replication v5.
There will be One big new feature which is a Recovery Verification. So you will be sure that your backups are reliable and you can use them in case you need them…. You're be able to see if your VM is in good shape, ready to be powered On and not broken. Also the the applications or patches which had been installed just before you had run that backup. Are that backups consistent, isn't there a blue screen when you boot this VM? You'll have the possibility to be sure about that. And this any other vendor does….

This applies not only to individual VMs but also to for example to VMs like Exchange 2007 which needs Active Directory and DNS to work with.  All this "linked" servers must be "UP " to be able to check your Exchange 2007 server is backed up correctly. So we might see those 3 VMs to be verified at the same time….. and declared consistent…
The new patent technology will be able to run VMs directly from compressed backup files. It's OS and platform independent, without the need for an agent installed inside of a VM.  How your actual infrastructure has to be setup?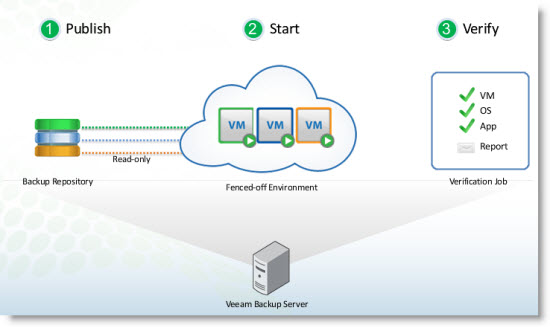 The backup files can reside on any storage – local, remote, SAN, CIFS – SureBackup engine will still be able to run VMs from them. It might already be the case for you if you're using Veeam Backup v4, so you will not need to change anything to your existing backup strategy, because the version 5 of Veeam Backup and Recovery with SureBackup technology will be able to verify backups made with version 4 of the product.
And it's fast:

NFS storage will be used during the verification process and some kind of Isolated environment will be created automatically from within Veeam Backup.  The compressed VMs will be able to be instant powered on for automatic verification and declared as consistent.  The tests revealed that verification of 150GB Exchange data-store with 200 mailboxes was done in 2 minutes!!!! You can also schedule verification outside of the backup window.
The VEEAM Backup and Replication v5 should be released in the 3rd Quarter of 2010.
Part of the new features are also other features:
To restore any backup from any available restore point in completely isolated environment.
Universal application-item recovery – without agent restore capability.In fact you'll use tools like you  exMerge to restore a mailbox from an Exchange Server backed up a day before…
Production replica On-Demand where you'll be able to test patches and updates in completely isolated environment or troubleshoot issues.
Get the datasheet PDF on Veeam's website.
Video from YouTube: