Veeam has recently released a Veeam One v7 R2 version of their product, which in it's free version adds some great value. Not only the installation process is highly simplified (you'll see it in the video) but also the out of the box experience is great.
If you're new to Veeam, than know that It's 3 in One product – Monitor (with alarms), Report and Business View. You'll need a Windows VM to install it.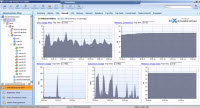 The product is compatible with the latest VMware vSphere 5.5 and Microsoft Hyper-V 2012 R2 so people experimenting with mixed clusters shall find the product fit their environments. The free product can be converted any time to full licensed without loosing historical data. It's possible also to download a 30 days trial which will lock the advanced (paid) features after 30 days.
Possible integration into Veeam Backup v7 allows monitoring of Veeam backup servers (CPU, Memory, disk and network) or VM backup status.
Additionally, vCloud Director 5.5 is supported as well. If you need fencing, then VCD is for you. vCloud director which will be around for until 2017 according to VMware.
Veeam One v7 R2 New features:
VMware
vSphere 5.5 support
vCloud Director 5.5 support.
Microsoft
Windows Server 2012 R2 Hyper-V and free Hyper-V Server 2012 R2 support
Support for Windows Server 2012 R2 and Windows 8.1 as guest virtual machines (VMs)
Support for System Center 2012 R2 Virtual Machine Manager (VMM)
Support for the installation of Veeam ONE and its components on Windows Server 2012 R2 and Windows 8.1
 What you'll see in the video?
Really Simple Install/configure process
Connection to my vCenter server, look and feel the UI
Some advices, errors, troubleshooting answers right after
Video from my lab:
Watch in HD and Full Screen…
The predefined dashboards, reports and widgets makes the initial experience very good.
The free product has limitations compared to the paid version of Veeam One, like the performance data which on the free version are stored only for 7 days or the performance reporting only the latest 24 hours. You can find further details at the product page at Veeam.