Veeam has opened new resource website which is an incredible training ressource.
It's a free website, which has been sponsored by Veeam and where you can watch training videos on backup technologies for different hyper-visors.  The website has some great video  content already provided by some top Experts in the Industry, not only specializing in VMware vSphere but also Microsoft Hyper-V. Elias Khnaser, David Davis, Greg Shields, Eric Siebert, Rick Vanover….  This unique video resource website will stay updated with latest content.
Backup in Virtual environments works way different than in backups in physical systems. That's why one has to learn new techniques of backups and which one to use for this or that application. Which one needs the Volume Shadow copy service, VSS Writers, Requestor, Provider….. well you'll see there.
In addition, you can take an online exam for Free and test yourself on backups strategies and techniques…
A quick quote from Veeam's Blog about the new website – www.backupacademy.com:
FREE community resource site that provides training on basic principles of virtualization and data protection. These basic principles are presented in a product-neutral fashion,meaning that there are no specific backup products mentioned. The only time specific products are mentioned is when the hypervisors (VMware ESXi, Hyper-V) are mentioned, as well as specific guest operating systems and applications that we need to protect as IT professionals.
This content will initially be released as eight tracks, each with a specific theme that helps deliver the fundamental principles of data protection for virtual machines. Further, this content is aimed at providing those who are very new to these technologies with what they need to proceed confidently in embracing a virtualized infrastructure and backing up virtual machines.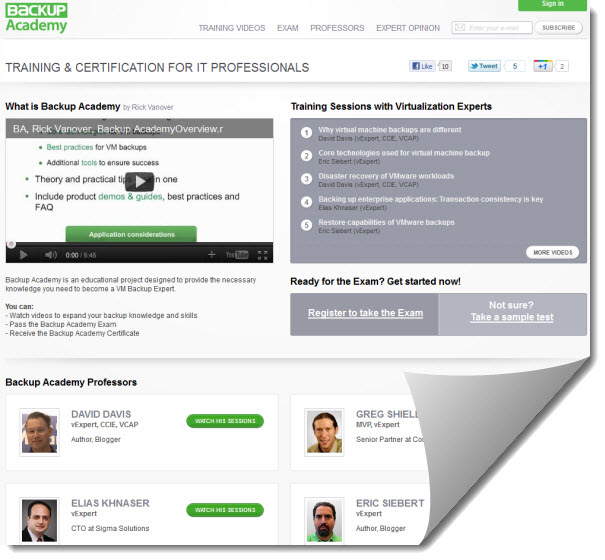 Source: Veeam Blog