The news has come out few days back, that VMware Workstation Technology preview 2013 is available for testing. Anyone can download and test the Tech Preview of VMware Workstation with Virtual Hardware Version 10 (or vmx-10) which will be (or should be) part of the final release. Each major step forward in Virtual Hardware version introduces support for more RAM or CPU plus other enhancements. You could read my post about the current Virtual hardware version 9 in this post.
Interesting read if you ask me what were the previous versions of Virtual Hardware. If you want to see the history of  Virtual Hardware versions, there is a VMware Kb article for that: Virtual machine hardware versions.
The current VMware Workstation 9 has introduced the possibility to restrict and encrypt VMs too. A feature which gets further enhanced, where an encrypted VM with restrictions for modifications will expire in time. Useful when wanting to create restricted VMs for sharing with time as a limit.
What's New in the VMware Workstation Technology Preview May 2013
Note that:
There are no guarantees that changes in this preview will be forward compatible with other VMware software, nor that these changes will be present in future supported releases of VMware Workstation.
New in this release – 

Virtual Hardware 10:
16 vCPUs – Quite monster, isn't it? To be able to use it you'll need a PC or server with at least 8 cores with hyper-threading enabled to create and power on a VM with this configuration

Expiring Virtual Machines
The encrypted VMs with restrictions, introduced in Workstation 9 has been enhanced to time limit restriction.  Pretty cool.
This feature establishes a secure connection to a web server at VMware.com to validate the current time and prevent users from rolling back their host clock.
New Converter built in
This Workstation Technology Preview includes a preview of the next version of VMware Converter.   The Converter enables users to make Physical machines virtual.  This version of the Converter includes support the following enhancements:
Guest operating system support for Microsoft Windows 8 and Microsoft Windows Server 2012
Guest operating system support for Red Hat Enterprise Linux 6
Support for virtual and physical machine sources with GUID Partition Table (GPT) disks
Support for virtual and physical machine sources with Unified Extensible Firmware Interface (UEFI)
Support for EXT4 file system
Support for vSphere 5.1 virtual machine hardware version 9
SSD passthrough
Windows 8 can optimize performances when run from SSD. VMware Workstation can detect when the Virtual Machine Disk file is being stored on an SSD drive and pass this information to the guest operating system to enable Windows 8 to make the same optimizations when it is running in a virtual machine.
Pre-Release OVF Tool
OVF tool is used when manipulating Open Virtualization Format (OVF) packaged VMs. The latest pre-release version of the OVFTool is included in this Technology Preview of VMware Workstation and is used by Workstation to upload and download virtual machines to and from vSphere.   The OVFTool is also used to import an .OVF file which may come in handy when importing virtual machines created using desktop virtualization software developed by Oracle.
Windows 8 Unity Support
For those of you who don't know what is Unity Mode. The unity mode is a mode where you run a VM in Workstation, and this VM runs in the background while providing you the running applications in that VM side by side with the host applications. In the example below you can see running explorer window on my W7 laptop while the executed VM in Unity Mode is Windows Server 2012 has also an explorer window running. Those two windows can run side by side, drag and drop shortcuts or files…  A small VMware Workstation icon is added to the border of the Windows Explorer window on the right. You can click to enlarge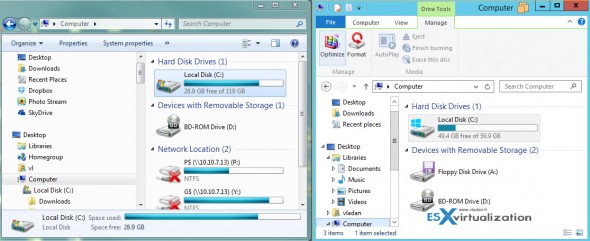 The Tech Preview of Workstation will expire the 15 October 2013 and can be downloaded from the Workstation Community Page.
Requirements before you install.
It's pretty common today to have a CPU which is VT-x support, but still. If you have an Intel CPU that has VT-x support, you must verify that VT-x support is enabled in the host system BIOS. The BIOS settings that must be enabled for VT-x support vary depending on the system vendor. See the VMware knowledge base article athttps://kb.vmware.com/kb/1003944 for information about how to determine if VT-x support is enabled.
When you install a 64-bit operating system, Workstation performs checks to make sure the host system has a supported processor. You cannot install a 64-bit operating system if the host system does not meet the processor requirements.