VMware has announced a new version of their hybrid cloud offering called VMware Cloud Foundation 3.5. It's a simple path to the hybrid cloud through an integrated software platform that is the foundation for both private and public cloud environments.
Technically, the deployment and installation are heavily automated, based on vSphere 6.7 U1, NSX and VSAN. In order to have things in place, VMware works with their partners providing hardware solutions, for the private or public cloud.
VMware Cloud Foundation is an integrated software stack, with compute virtualization (VMware vSphere), storage virtualization (VMware vSAN), network virtualization (VMware NSX), and cloud management and monitoring (VMware vRealize Suite). It is a single platform that can be deployed on premises as a private cloud or run as a service within a public cloud.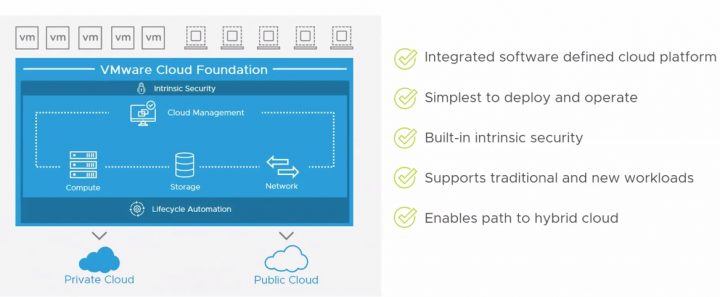 VMware Cloud Foundation is supported on certified vSAN ReadyNode server hardware from a variety of vendors, including Cisco, Dell EMC, Cisco, Fujitsu, Hitachi Vantara, HPE and QCT, and on certified hardware switches from Cisco and Arista.
Cloud Foundation can deploy the full SDDC stack. It means that it has a cloud management software (VMware vRealize Suite). Via SDDC Manager you can automatically deploy vRealize Automation, vRealize Operations and vRealize Log Insight.
The SDDC Manager complements vCenter Server and vRealize Suite products. It brings basically a new functionality for building and maintaining the SDDC. The cloud admin will continue to use vCenter Server as the primary management interface for the VMware virtualized environment.
Overview of VMware SDDC Manager. Screenshot from VMware.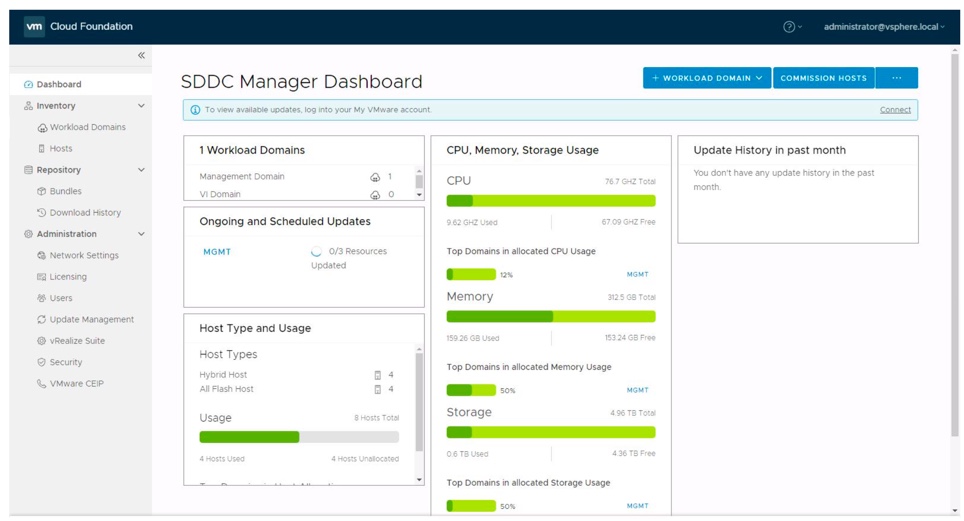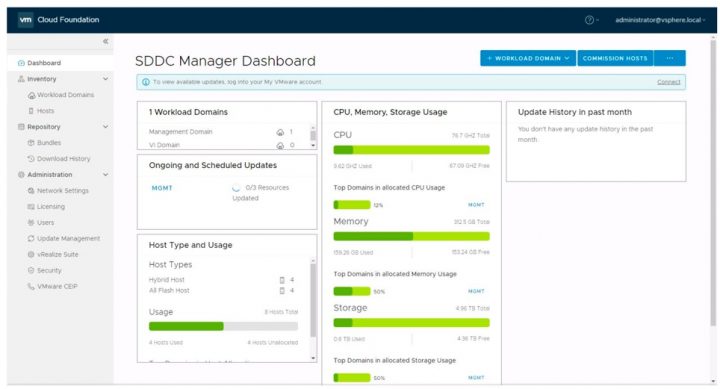 What's New in VMware Cloud Foundation 3.5?
Clarity UI as for all VMware products.
More intuitive end-to-end UI driven workflows
Improved UI responsiveness and performance
New! Dashboard with widgets to more easily surface important SDDC information
Updated navigation and consistency between workflows
Extendable platform to ensure that we can incorporate new releases and functionality (ex. New workflow wizards, dashboard widgets)
Updated for vSphere 6.7 U1
NSX-T Workload domain
NFS Workload domain – use cases that requires NFS
Composable Infrastructure Support

Everything new from vSphere 6.7U1 which we have already blogged about, is of course, part of the VMware Cloud Foundation 3.5.
What is VMware Composable Infrastructure?
We have mentioned it above, but you might wonder what is that means? Well, let's have a look.
Converged – Preconfigured package of software and hardware in a single unit. Enables simplified procurement and easier operation. Designed for a specific application or workload. Management of those discrete resources often remains siloed.
HyperConverged – Adds deeper levels of abstraction and greater levels of automation for easy-to-consume infrastructure capacity.  Software-defined elements are implemented virtually, with integration into the hypervisor environment. Scaling is done by deploying additional nodes. (Ex. VMware VSAN).
Composable – Fluid pools of compute, storage and network. Simplified platform management. Resources can be provisioned & reconfigured on demand. Reduce underutilization and over-provisioning while creating a more agile data center.


Few questions:
SDDC Manager is only available for Cloud Foundation. In situations where the customer possesses licenses for all other software components, SDDC Manager licenses can be purchased incrementally. For example, you'll also need vCenter server (bought separately – link here).
SDDC Manager is not part of VMware vCloud Suite. SDDC Manager is available exclusively with and for Cloud Foundation.
vSAN is a required component of Cloud Foundation.
VMware vSphere 6.7 U1 Buy/Download links:
vSphere All Editions – different versions of vSphere
VMware vSphere 6.7 U1 Essentials PLUS – full vSphere suite for SMB
VMware vSphere 6.7 U1 Essentials – Good way to start, for small shops.
Per Incident Support Click Here
VMware vCenter Server 6.7 U1 Download
VMware vSphere Hypervisor (ESXi) 6.7 U1 Download
More from ESX Virtualization
Stay tuned through RSS, and social media channels (Twitter, FB, YouTube)