VMware has announced, during VMworld Las Vegas, a new major update to their flagship virtualization product, VMware vSphere 6.7 U1. This release has some major enhancements so here is our post which details that.
One of the first ones which will touch every user is perhaps the fact that the HTML 5 web client is equal to the Flash-based client. From 6.7 U1 onwards, only the HTML 5 client will receive new updates. That's certainly a very good news for every virtualization admin out there.
Update: The vSphere 6.7 U1 Download is available.
Another good update to vSphere 6.7 U1 is what's called vCenter server convergence tool which is a tool to manage complex topologies, to make them simpler. Basically, you can now migrate external PSCs within a multi-site environment to reduce complexity.
VMware vSphere 6.7 U1 What's New?
Fully Featured HTML5-based vSphere Client –  yes, this one was long time awaited. We've been waiting to have a vSphere client which works (and not the one which is slow and buggy). VMware delivers after few years of wait, but yes, it's finally here and we can enjoy it.
New Cluster Wizard – allows configuring vSphere HA, DRS, and other cluster's services, including host's networking, within a simple wizard. Additionally, when you add more hosts to the cluster you can go back to this wizard and do that through there.
Configuring clusters will no longer be the same. Some screenshots from VMware blog post.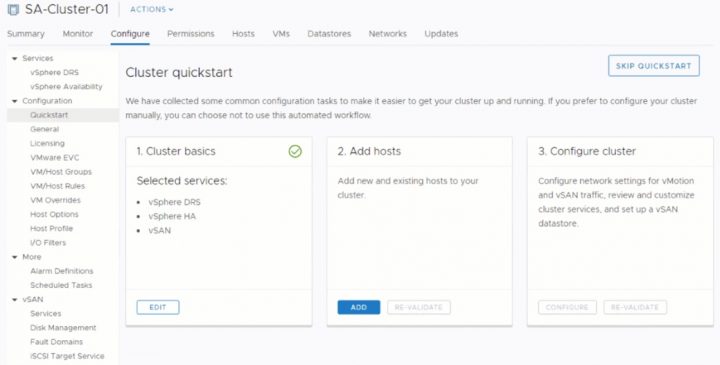 New Integration of I/O controller firmware update within vSphere Update Manager (VUM) – everyone knows that vSAN updating and maintaining is quite a pain when it comes to versions of the firmware of I/O controller which must match with software driver's version. Now with the new VUM's integration, it's VMware who takes care of the problem automatically.
Quote from VMware:
integration of I/O controller firmware update with VUM. Customers are now able to remediate software and firmware in one maintenance cycle under a single VUM UI. It is much faster and safer to do cluster remediation in one operation. vSAN HCL checks are built-in to ensure the host being remediated is compliant to the vSAN HCL before VUM moves to the next host. The I/O controller firmware is updated via an integration with the server vendor's firmware update utility.
Also new in vSphere 6.7 U1:
UNMAP support – unmapping blocks when the Guest OS sends an unmap/trim command is now available.
Mixed MTU support for vSAN Stretched Clusters  – you can now setup MTU for Witness traffic and different for vSAN traffic.
Historical capacity reporting – allows you to track the evolution of capacity of your vSAN Datastore.
Enhanced support for NVIDIA Quadro vGPU powered VMs; and Support for Intel FPGA – more on that later.
vCenter Server Convergence Tool – this is a game changer for reducing the complexity of vSphere topologies with multi-site and multi PSCs. It allows migration from an external PSC architecture into embedded PSC architecture and also combines, merges, and (or) separate vSphere SSO Domains. This is pretty much a game changer which ends up some of the complexities of VMware environment.
Enhanced vSphere Content Library – you are now able to import of OVA templates from an HTTPS endpoint and local storage. There is also a new, native support of VM templates, which has been added.
Wrap Up
Things are going forward at VMware and this is finally a good news for customers which hesitated to upgrade from previous releases of VMware vSphere. Now they can use only a single HTML 5 client to fully configure and manage the vSphere infrastructure. Previously it was a constant switch between those two clients where some features were still not implemented. Now it's finished.
More news about what's new in vSphere will come up with additional posts in the days to come.
From the personal side: In fact, to be honest, this year, I missed pretty much quite a lot of VMworld as I've been sick after eating at a Mexican restaurant. (nothing against Mexican people, at all). This had put me almost two days offline, and as you can imagine, it was exactly during VMworld US. Oh well, I'm back, so if you're regular reader and subscriber of the blog, be sure to stay tuned for more articles and news about VMware, virtualization and IT. However, I'm taking a few weeks off so don't expect many daily articles (as I usually post daily) any time soon. -:).
Downloads and availability
Right now vSphere 6.7 U1 is not available for download. When it will, I'll update the post. I expect this to happen few weeks from now.
Source: VMware Blog Post
More from ESX Virtualization
Stay tuned through RSS, and social media channels (Twitter, FB, YouTube)