New version of VMware Compatibility guide has been released by VMware.
The Online Searching tool is still in preview, but the possibilities are numerous. You can check whether your existing parts of your virtual infrastructure are compatible with different versions of VMware vSphere or ESX 3 or ESX 3.5….
The tool presents itself as a webpage where you can enter a search criteria, most likely the same way that you usually do by using the VMware HCL (Hardware Compatibility list). tool version 1.0 and about which I blogged here.
Well this time you have got the possibility to use a button which collapses the whole searching form. It hides the search options away, while leaving place for the results. Quite cool and ingenious.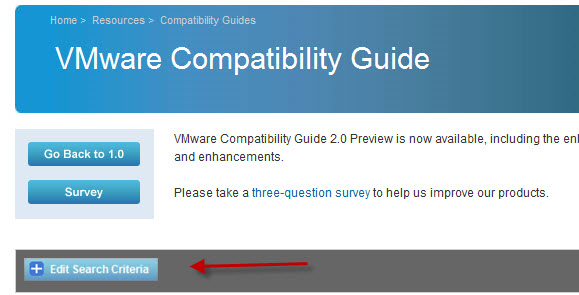 And when you click again on that button, the search criteria appears again, so you have the possibility to change the options…. -:). You can try the tool for free and leave a feedback there…
Vmware is currently working on releasing a next generation of the tool which will gives you more details and better search options.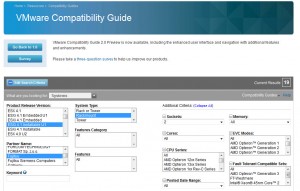 You can click on the image on the left to see a larger picture… -:)
Enjoy…
If you like this blog you can subscribe to the RSS feed and stay updated with daily updates. If you do not know how to use RSS, check my page on that. Don't worry it's not difficult and you'll see another way on how to save your time during the day.
This website has started it's life few years ago as a small bookmarking site and keeps growing every day. You can follow me on Twitter or check our Facebook page.
Recently I also put in place a Mailing list through Mailchimp, which is a Free Service (up to 2000 subscribers). You can subscribe to this list to get Weekly newsletter with the latest articles delivered directly to your e-mail.
You can find the embedded form below, or on the sidebar of this website.