VMware Converter 6.1 Released adds possibility to convert (Powered Off) Hyper-V v3 VMs and also compatibility with Windows 10 OS. This is strange as just few weeks ago I tried to convert my laptop running W10 by using the 6.0 version of VMware converter and did not experienced any issues.
VMware converter has many possible sources possibilities. It can be physical systems running Windows, Linux or Virtual infrastructure running VMware or Hyper-V. Converter also supports third party backup software like Acronis or Ghost. Also Parallels Desktop, Symantec Backup Exec System Recovery, StorageCraft, Microsoft Virtual Server or Virtual PC, and Microsoft Hyper-V Server virtual machines to VMware virtual machines.
VMware Converter 6.1 – What's new?
Support for additional guest operating systems: Windows 10, Ubuntu 15.
Offline conversions for HyperV 2012 R2 virtual machines.
SSH key based authentication for the Linux sources during conversion.
Support for VMware Workstation 12.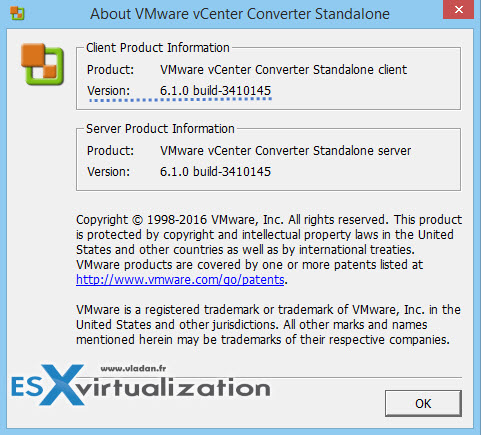 So mostly evolution of already a very good product by packing latest OS for conversion or as a guest OS where it's possible to install the converter software.
Make sure to check the Release notes. Download Here.
If you're looking for another conversion tool, which allows file convert VHD to VMDK.  Have a look at Starwind V2V converter. It allows to convert VHD to VMDK virtual disk file format. VMware converter does need Hyper-V server running in order to connect to and convert hyper-V virtual machine (powered off) into VMware VMs. Starwind does not. It works only with the flat file.
So what to do when you recover just the VHD files on some external USB, or you downloaded some Microsoft preview software? The answer might just be the Starwind V2V. Check my post about How-to convert VHD to VMDK with Free Starwind V2V Converter.
Looking for some tips?