After your P2V one of those steps to do at first is the Installation of VMware Tools.
Also, not only you should get rid of all the physical hardware in Device manager that's not used any more but also those software packages which had been used on a physical server to manage the hardware (like HP's ILO , Fujitsu's ServerView, or Dell's OpenManage), or the soft that manages the RAID drives.
So first thing to do after you P2V and install VMware tools into your freshly converted VM is to show all deactivated hardware in Device Manager:
01. On your VM go to Start > RUN > CMD > Enter
02. Type "set devmgr_show_nonpresent_devices=1"

03. While still in the command prompt window type: devmgmt.msc and then open Device Manager and click on the Menu go to View > Show Hidden Devices (like on the pic).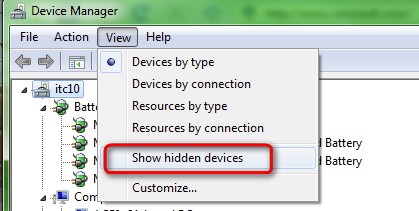 Then you should see which devices are marked like ghosted devices.They are grayed out. Those devices you can safely remove from the device manager.