VMware Converter is a great tool to convert Physical systems to virtual. Usually used for that purposes, in some scenarios, it can be used as poor man's DR plan. I'll show you how to use VMware Converter to synchronize changes when P2V(or V2V), and so actually keep another copy of that VM on another (Free) ESXi host.
In fact by using VMware converter standalone, you can do the first "full" conversion and then sync only the changes made to the system. I'll show you that in a second. I'm using a Windows 2003 server file server VM for this test. In my lab I do have 2 ESXi hosts with two vCenter servers configured, but you can "sync" VMs like that between ESXi hosts only as well. It can be a Free version of ESXi too.
Here is how to do it:
1. Install VMware Converter Standalone software (use "local installation")  inside the VM that you want to sync > click convert machine button > select This local machine.
2. Select the destination cluster, host, datastore > name the VM. Also make sure that you keep the same Virtual machine version. Do not check the "Perform final synchronization".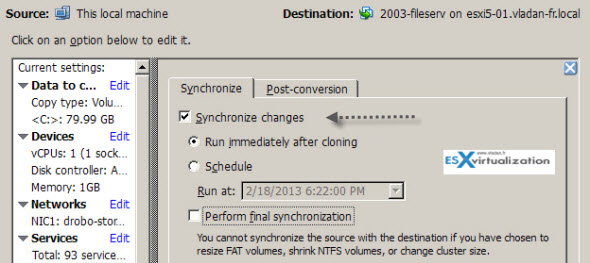 3. Now, when you have an exact copy of the VM stored on another host, you can test if it starts up correctly (without connecting the virtual NIC to avoid duplicate names/IP address on your network).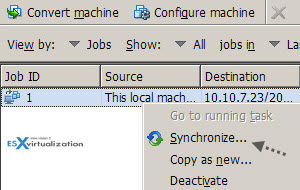 4. Whenever you need to sync the source VM with the destination VM, just RDP to your VM > Right click the job > synchronize > Next > Finish… 
That's all…
Since now on if you need to resync, just go to point 4 of the tutorial.
If part of your infrastructure is still physical, and you do not have enough funds to buy a commercial product (there are tons), it might be a cheap free solution. One think to keep in mind is that you'll have to deal with drivers issues and post-conversions clean-ups, removing ghosted devices from the destination VM etc. I have also done a post about VMware Converter best practices.
This post was showed up first at ESX Virtualization at vladan.fr. Feel free to subcribe to our RSS Feed.