There is many ways to install ESXi hypervisor. Homelab enthusiasts runs ESXi from USB stick most of the time. Why you might ask? There are several reasons for that. One of them is because it saves one SATA port (in case your motherboard is limited). Another reason is that you can actually go "disk-less" and have only shared storage attached via iSCSI and no other hard drives in your system (lowers the electricity bill). And if you're in doubt, you can attach shared storage even if you're using the ESXi Free version. In this post that I call fancy VMware ESXi 6 Installation Guide I'll talk about different ways of installing ESXi, because I received few questions about that.
If you're planning to run VMware ESXi 6 in production you should start at VMware HCL page to find a compatible hardware first. I already showed in the past on how to search for compatible hardware system through VMware HCL here.
Different ways of installing and booting VMware ESXi :
Installation to the USB stick which will be then used by the server to boot from
Installation to the local SATA/SAS or FC drives which can be configured on RAID1 for redundancy
Installation to SD Flash card
Boot from LUN via hardware iSCSI card, FC, or FCoE (Fiber channel over Ethernet)
Going stateless with Auto-Deploy
VMware ESXi 6 Installation Guide
Use USB flash as a boot device – The installation process will partition the USB stick this manner….

You can either burn the ISO to a CD and then use it to install the ESXi where during the installation process you select the USB stick as a destination. Or you can use VMware Workstation to create a new VM > point to the ESXi iso as a source and mount the USB stick so the VM can use it as a destination.
The screenshot from VMware Workstation…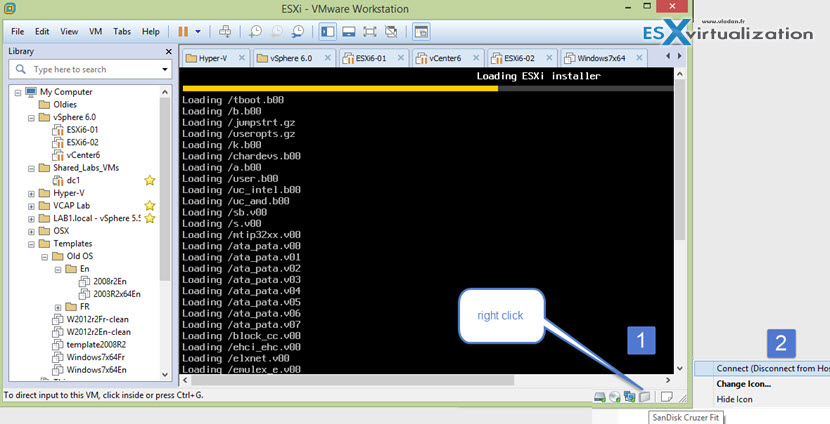 You'll see screen like this. Note that SanDisk USB as an option…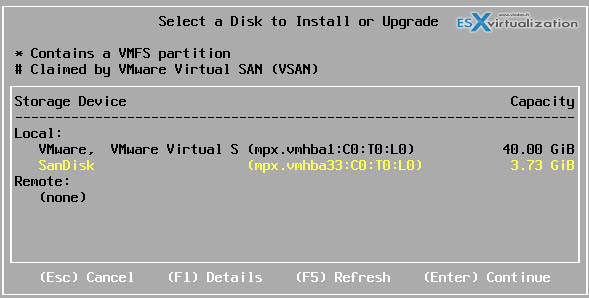 Before the installer starts it asks you to setup the keyboard and root password. This is quite important as the default language is English, but then not everyone uses English keyboard, right? So choosing your language during those steps avoids some headaches when you seek for this or that particular key you have used in your password … -:)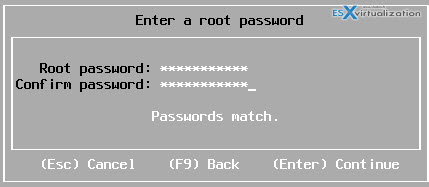 Once installation finishes, just disconnect the USB thumb from within Workstation and plug it in your server. You'll need to configure the BIOS to boot from that deviceYou'll do some quick network configuration. Those configuration steps are very easy to do as you're basically guided when you first open the DCUI (direct console user interface). You'll need to hit F2 key in order to access the DCUI.
The first boot allows you to set IP address and other network settings like netmask, DNS, hostname…. Again. Very easy so guys who knows your way just skip the rest as this post …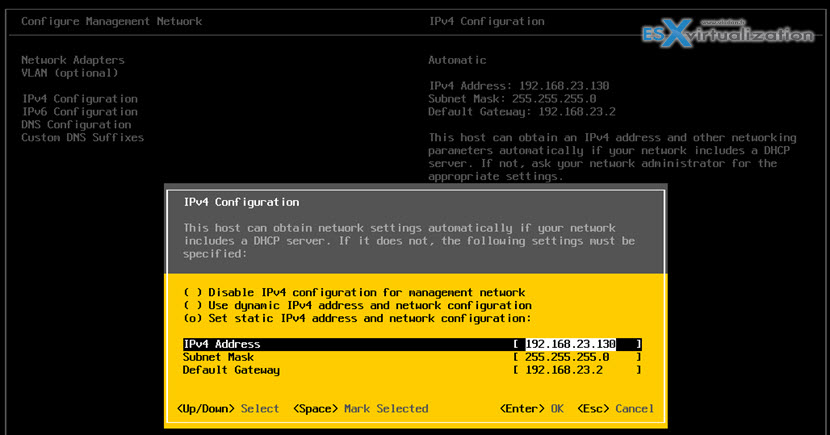 Once you got that done, it's very easy to install vSphere client (C++ client or some call the client "fat client"). It's so far most popular. A way more popular than the Web based vSphere client because of the speed. But VMware has done some significant enhancements in the vSphere 6.0 release – Login 13 times faster, Right click menu now 4 times faster or Most tasks end to end are 50% faster.
So this speed difference between those two versions of vSphere client will be no longer obvious. You are also limited with the vSphere (fat) client in the virtual hardware (vmx) for your VMs where you can create for example VM with hardware version 11, but this VM won't have all functionalities of this hardware version as the Fat client is limited and the features are not surfacing through.
The Windows based vSphere client is accessible on the vCenter server installation media or as a download when you first connect via web browser to your ESXi host.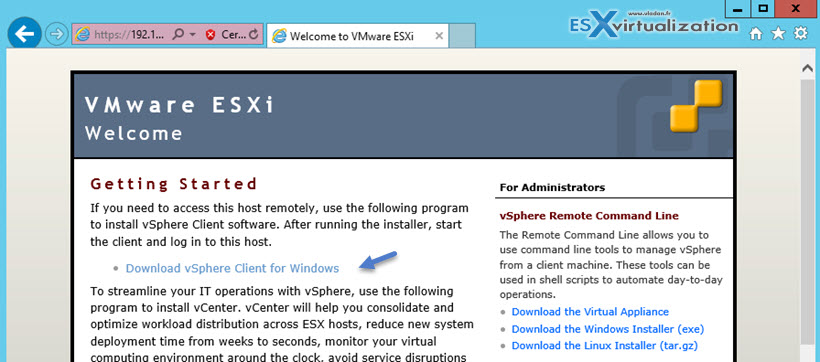 This concludes this simple VMware ESXi 6 Installation Guide.
You can also check this video where I'm demonstrating the installation of ESXi (as a VM in VMware Workstation):
Check out my vSphere 6.0 page with latest guides, videos, tutorials. VMware has put a lot of efforts to this version 6.0 release (not GA yet) to make things simple. If you're planning more than one ESXi host for your local business, or you're learning VMware technology you should check this article where I'm detailing the steps of installing vCenter Server which manages several ESXi hosts in a cluster.