When several weeks back the VMware Hands On Labs (HOL) went public beta I was immediately heading to the inscription page to put my name down to participate in the evaluations and tests. The HOL for being remote is something that I shouted about a way back in my article here – Technet Virtual Labs from Microsoft are Free. And I wasn't the only one. VMware listens.
Update: The service is fully operational. (my old article needs correction). You can go and start at this page at HOL community. or go directly to the HOL web access portal.
Slowly, the service has been brought to light, with now the possibility to participate in the public Beta through an Interest List. I put my name on the list, but during two weeks nothing happens, even if I saw other fellow vExperts and bloggers tweeting about the labs. So I pinged @VMwareHOL through Twitter and it was Pablo Roesch – @heyitspablo who replied favorable to my demand.
VMware has already a catalog of several categories from the Cloud infrastructure, Cloud operations, End-User computing and there is more to come. Labs, which would take days for you to prepare at home, but most importantly, you'd need the resources (hardware) to be able to run them all….

It's quite difficult for most of us to put few thousand $USD and build a lab with two whiteboxes and shared storage unit. When I built my lab few years back to learn VMware technology, I had to save some money first….  It's still running, enhanced with few SSDs.., but I'm hitting the memory limit. Today's VM are demanding in resources. Who would imagine few years back that some VMs would require 4vCPU with 14Gb of RAM ? (vCOPs 5.6.).
So having the possibility learning remotely without investing into a real lab, it's a dream solution. You can get prepared for passing VCP or VCAP with just remote lab! Not quite yet, as the service just starting and the catalog of labs currently available just isn't fully
As for now I haven't been able to do more than a lab or two. The experience was rather good, with an excellent layout, where you can activate the slider with the manual which walks you through and provides detailed information about what to do, which password to use and in case you have troubles, it provides you with throubleshoting tips as well. In my case when I was doing the Horizon lab, there are few troubleshooting steps as well for syncing time and restarting services via putty.
Here is a shot from the user interface. You can click to enlarge.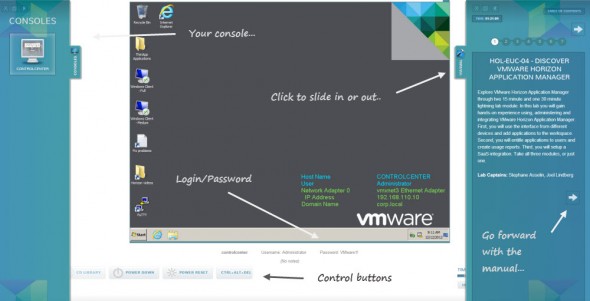 I am French…
Yes, my website is written in English, but I'm using laptop with French keyword. The UI isn't adapted to that…. -:(
With different keyboard layout, my principal difficulty ….. was to find the right keys for the default password which is present in all the labs… -:). I could not find the keys I needed. I had problems before opening the session when the lab starts (logging into the 2008R2 VM, and even after switching the keyboard to French from within the guest OS, there were the keys, which were not there where they suppose to be on my laptop keyboard… hmm.
As a result, it got me frustrated as I wasn't able to type the passwords properly… -:(. The second lab I took I had the same problems. I was thinking, that I must do something. So after I got an external keyboard (French too, but a DESKTOP one) , things got better. Also, I wrote the password VMware1! to a notepad file and I copy paste the password where I needed. The password is the same for every login inside of that particular lab and I think for all the HOL …
If you fell a sleep, you can continue working in the morning…
Yes, the labs resumes the session. If you became inactive for x reasons, when you come back, the lab can resume where you left it… that's a good point.
Here are the current available VMware labs.
Cloud Infrastructure
HOL-INF-02 – Explore vSphere 5.1 Distributed Switch (vDS) New Features
HOL-INF-04 – Deliver Optimal Performance with VMware vSphere 5.1
HOL-INF-05 – VMware Site Recovery Manager (SRM)
HOL-INF-06 – Deploy and Operate Your Cloud with the VMware vCloud Suite
HOL-INF-07 – VMware vCloud Networking and Security (vCNS)
Cloud Operations
HOL-OPS-01 – VMware vCenter Operations Manager Enterprise
HOL-OPS-05 – Explore VMware vCenter Operations Manager Enterprise New Features
HOL-OPS-07 – VMware vCenter Orchestrator – "The Undiscovered Country"
End-User Computing
HOL-EUC-03 – Troubleshoot and Optimize VMware View
HOL-EUC-04 – Discover VMware Horizon Application Manager
Wrap up:
I think that it's just great that Project NEE was born, bring in the possibility to test and learn VMware technology for persons needing it and wanting to learn. As I wrote in my other article, that the Microsoft's labs are free, that's reality. Microsoft is not using the labs as a cash machine, but as a marketing tool. And the marketing usually costs some money….. So I would actually be surprised if VMware is planning to charge for taking the labs. If that's the case, it will of course loose the momentum and the interest.
VMware HOL links: