Virtual Labs from Microsoft are free, for everyone with Windows and Internet Explorer as the only requirements.
I stumbled through an article (in French) the other day showing some free access to microsoft's virtual labs. I thought, ok, let's take it for a spin and see what it's looks like.
Remember the VMworld Copenhagen labs? They were great, but they're gone. Closed. During VMorld Copenhagen 2011 I spoke with Irish Spring from VMware – read my article on it here – who told me that there might be a possibility to access those VMworld labs later, but it's not so sure if it will be free. He told me that there is an ongoing internal discussion about this topic and nothing was sure on what the result will be. Who could benefit to get the access to those labs. Partners? vExperts? Some sort of paid access for everyone? Or, free access for everyone? (Yes, Yes ….. -:).
Since then there has been no sign of a life of such a possibility. What a shame.
The Technet Virtual Lab gives you an access to pre-built labs. There is plenty of them depending on the product you want to test. If I for example select the Microsoft Exchange as a product, there is thirteen of them with Exchange 2010 and seven of them for Exchange 2007.
There are other products:  W2008 R2 Server (17 labs + 11 on 2008 standard), IIS, Sharepoint, Lync, Forefront Scturity, SQL Server 2005, 2008, 2012, SCVVM, SCOM….  Pretty impressive,  if you are hungry to learn new technology at no cost, it's for you. The only cost for you is your internet connection and your time spent in the lab….
What's the requirements – Only Windows 7, Windows Vista, Windows XP, Windows 2000, Windows Server 2008, and Windows Server 2003 are supported. It means Windows boxes with Internet Explorer, since the technology behind uses ActiveX, which is a proprietary of IE.
So I went and clicked on one of those Exchange Server labs.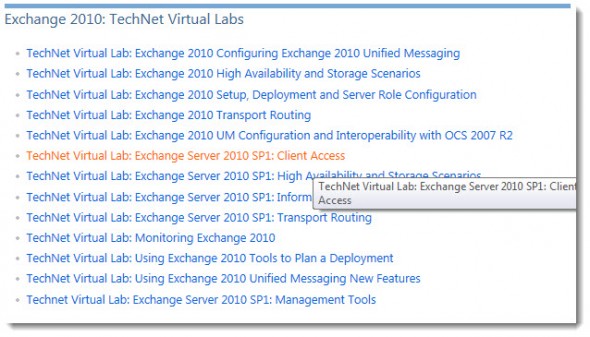 You'll get to the next screen which enables you to launch the preparation of that lab. I think that the the deployment process vary depending on the complexity of the lab.  The one I launched took about 5 min.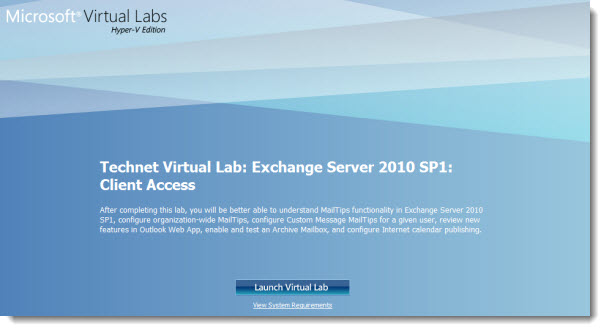 During the preparation, you can see the progress bar growing…. The interface is in Adobe Flash…

So after 5 minuts of wait (but apparently the wait can be up to 15 min), I ended up with nice remote desktop session, which you must launch first. Over there I had four VMs on the left hand side of the screen. And on the right hand side you can read the lab scenario (the manual), which is handy. On the left hand side you can see those four VMs where you can connect by double clicking each of the VMs icon, and do what you have to do and accomplish in the lab.
The Lab's manual in PDF can be downloaded to your computer and then you can open it on another screen if you want.
*********************************************************************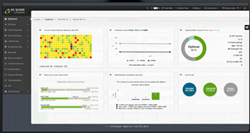 DC Scope for VMware vSphere – optimization, capacity planning, and cost management. Download FREE Trial Here.
Tracks the performance of VMs with a summary view of the resources and metrics in degradation.
Easily improve the performance of your infrastructure.
DC Scope is affordably priced per VM.
*********************************************************************
You can see the workspace on the screenshot below. You can click on the image to see a larger view.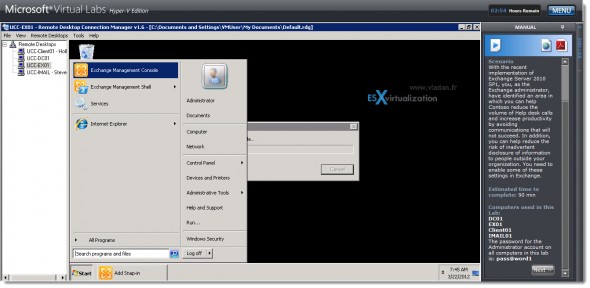 A quick quote from the Technet site:
TechNet Virtual Labs enable you to quickly evaluate and test Microsoft's newest products and technologies through a series of guided, hands-on labs that you can complete in 90 minutes or less. There is no complex setup or installation required, and you can use TechNet Virtual Labs online immediately, free.
I mean, those labs are there for free and if you like technology or want to learn some new products from Microsoft.. those labs are for you….
The obvious advantages:
– No Fees ( the access is Free for everyone )
– No login is neccessary to access those labs
– No MSDN subscribtion
– No homelab (which can be costly…-:), just a Windows box.
The disadvantages 
– the latency (obviously, because the labs are at the remote location, and it depends of the speed of your internet connection)
Any reactions? Any suggestions for VMware?
Readers, the future of VMware labs is in your hands. So Tweet this, share this… -:). Let's see if VMware can hear us. I wish that VMware would provide everyone with the exact same kind of experience.
You can access the Microsoft's Technet Virtual Labs through this link.
Source:   Synergeek.fr (In French)
Enjoy.. -:)