If you're experiencing problems and the status TAB shows in red, the vCenter service might be in not running state, you might want to try restarting the vCenter server service. To do that, just go to the vCenter Server > Status page, then click Start vCenter (this step may take a while):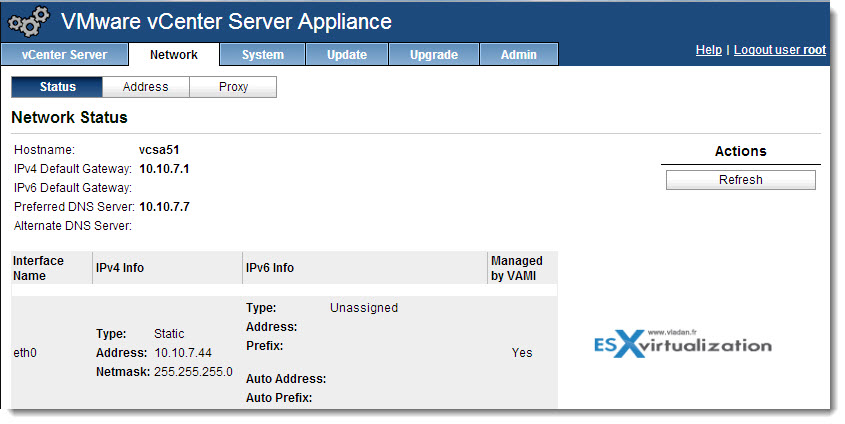 04. When done, you can fire up your vSphere Client (Windows based) or use the new vSphere Web Client, and connect to the vCSA. Very convenient….

Wrap up.
The installation and configuration of vCSA (if used with the bundled DB) takes less than 10 minutes to complete. It's a convenient way to deploy fast small vSphere environments running vSphere Essentials or vSphere Essentials Plus. A packages, which are limited to manage maximum three ESXi hosts.
The upgrade process for future releases is well prepared, since operated through the Upgrade TAB from within the appliance. I would bet that the vCSA will be completely and fully functional without any limitations in future major release of VMware vSphere which we might see this summer.
Already, In vSphere 5.1, all new vSphere features are available only through the vSphere Web Client. The traditional vSphere Client will continue to operate, supporting the same feature set as vSphere 5.0, but not exposing any of the new features in vSphere 5.1, like vSphere Enhanced vMotion etc. The vCSA will receive an additional attention from VMware to remove the dependency on Microsoft's OS, as vCenter is part of the core vSphere components.
Further Reading.
Feel free to subscribe to our RSS Feed for free daily updates. The blog runs on WordPress 3.5 and the theme is based on Genesis Framework by using the Dynamik for Genesis as a child theme.