VMware Integrated Openstack (VIO) 4.0 announced during VMworld 2017 in Las Vegas. This is already the fourth release of Openstack (called Ocata) which is managed and supported by VMware. We have reported on the Mitaka release last year and the post was a great success.
So again this year, VMware moves forward and proves that their commitment to Openstack is a long term and that Openstack is an important part of their long term strategy.
The OpenStack development with VMware has started since roughly 2012 when Nicira was acquired by VMware, then during 2013, when VSAN has been introduced, the VSAN can be leveraged for OpenStack deployments.
Key capabilities of the VMware Integration.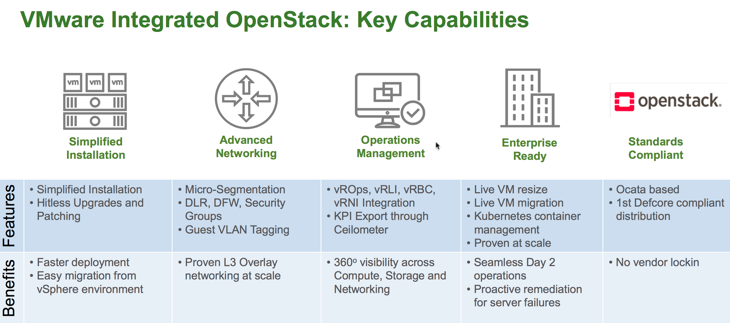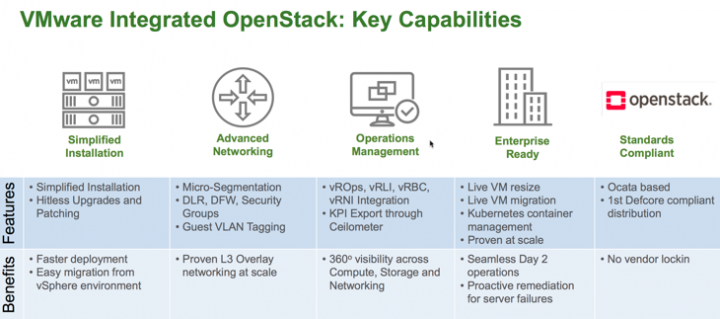 Developers are ready to work in no time (or almost) as the deployment of Openstack through VMware vSphere is greatly simplified. The VMware stack is used for the base support of Openstack components.
For example the Openstack Nova relies on the standard vSphere compute stack or the storage Cinder/Glance uses industry standard VMware vSAN with ready nodes or general vSAN nodes. The networking part (Neutron) can leverage the power of SDN such as VMware NSX with advanced security and multi-tenancy, or advanced NW services with massive scale and throughput.
Management and Operations tools
Those are standard VMware tools such as vRealize Operations, vRealize Log Insight, vRealize Business or vRealize Automation. Those tools whih each VMware admin already using, can be used to manage and monitor Openstack.
For example the vRealize Operations has a dedicated dashboard for Openstack services and tenants, or vRealize Log Insight is able to consolidate all logs coming from all Openstack services. Log insight has also dedicated dashboard for Openstack.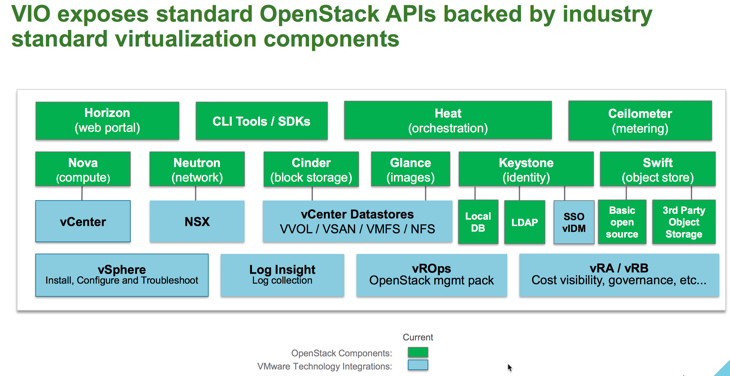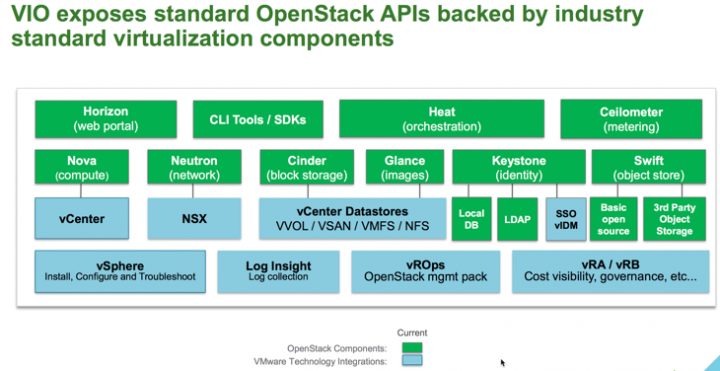 There are open APIs and underneath the traditional VMware stack.
The infrastructure design where you can see which parts are installed where.
What's New in VMware Integrated Openstack 4.0?
Uses the latest features and enhancements from the Ocata release.
VM Resize, OMS LVM, vCenter HA, vRA integration
Multiple vCenters – you can leverage multiple vCenters (up to six).
Multiple NIC types, Guest VLAN tagging, FWaaS
Expanded EPA Support (CPU pinning, NUMA placements, large pages)
vRealize Automation Integration – fit OpenStack into your existing cross cloud service catalog. Leverage existing investment in infrastructure tools.
Platform Enhancements
Live resize VMs – hot resize VM without a reboot. Using the Openstack API and calling then the vSphere to do the job.
Respond to increase in resource usage without service disruption. Simplified management and improved usability. Increased resiliency through vCenter HA.
Multiple vCenter servers allows the distribution of compute across multiple vCenters. This results increased scale.
Enterprise Grade, fully supported Kubernetes with VMware Integrated OpenStack in the 4.0 release and onwards.
And here, from the release presentation, we include this couple of highlights which are not only part of the 4.0 release of VIO but also part of the previous releases.
More flexible and extendable Nova scheduling placement API
Nova cells used by default
Resource tagging of network resources, enabling logical network mapping across OpenStack clouds
Cascading deletes of snapshot volumes makes deleting volumes with snapshot much faster
Publicly shared images in Glance, enabling easier sharing
Heat Templates with conditions (if, and, not, or) simplifies Cloud formation porting and improves reusability
Stay tuned for more information and announcements from VMworld 2017. We have a dedicated page for VMworld 2017 here.
More from ESX Virtualization:
Stay tuned through RSS, and social media channels (Twitter, FB, YouTube)