VMware Mirage is one of my products I'm interested in since a couple of months. Since the acquisition of Vanova by VMware, the product has been updated and improved by VMware. I've assisted to a live Demo of the product during VMworld Barcelona. I did an interview with Tom Nikl – Mirage product manager. If you have missed that, you can read the original article here – VMware Mirage – VMworld Barcelona Demo..
And I have also Installed and tested VMware Mirage in my lab recently, you can have a look at the whole step-by-step serie:
VMware Mirage can do an in-place migrate to Windows 7 by keeping users data. Think that is normally a manual process in the IT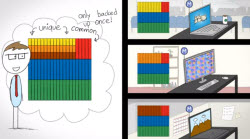 world. Being able to automate that saves tons of time.
In the video you'll see how the Mirage technology works. How the the layers of common OS, application and users datas are managed centrally, backed up and synced.
In remote locations, a  branch reflector can be used to centralize the traffic from the clients located at the remote office, rather than each of the individual clients connecting over the wan directly to the datacenter. This can save an additional bandwidth.
Using Mirage as a desktop backup strategy – the usual physical desktops aren't usually backed up. The companies don't really care. Maybe some golden images are done with Acronis or other software(at regular basis?), but that's all, and if something goes wrong, the IT stuff just usually re-installs the desktop with this image. VMware Mirage can help with maintaining single centralized endpoint for OS and data. By maintaining backup points, it's easy to revert in case of problem.
Go and test VMware Mirage yourself, here is the link to the product page at VMware.
If you liked this post, don't forget to share …… and subsribe to our RSS Feed.