VMware Mirage in Barcelona – demoed by Tom Nikl. I passed by the VMware stand during my stay at VMworld Barcelona 2012, and I was able to record a demo of product called VMware Mirage. A product that I have already wrote about in my article here (see the architecture pic and video).
Update: And I have also Installed and tested VMware Mirage in my lab recently, you can have a look at the whole step-by-step serie:
The VMware Mirage product will interest few people I know personally.  All IT admins which needs to protect desktop and laptops as a quick recovery or migration solution. People that might not want to implement VMware View as a desktop solution. Mirage could be the solution for them.
It's not a bare metal recovery solution. You still needs to have windows 7 installed and activated first. But then, the first thing to do is to install the VMware Mirage client onto the new system, and then through the management console you point the user's Image and start synchronizing.
The  small Mirage client is installed on the physical system. The client synchronizes the data to and from the central location. If the device get lost/stolen or hardware failure, the user's data can be easily restored.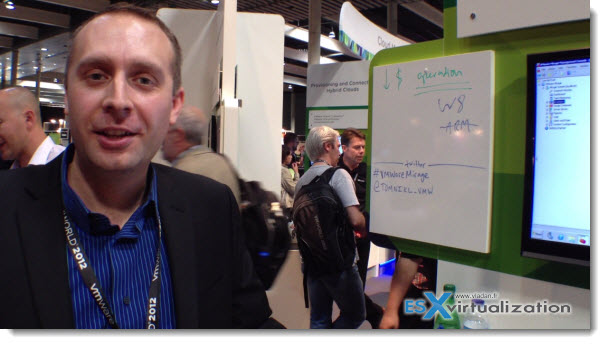 The local PC is divided into 6 layers and two groups:
01. Base Image Layer –  a Driver Library Layer, and a Departmental Application Layer (experimental).
02. User-Application Layer – Machine Identity Layer and User Data Settings Layer.
Those 2 layers compose the whole desktop. This desktop can be individually managed. It's calledCentralized Virtual Desktop (CVD).
If user deletes a file, which he needs to recover later, the user can recover deleted file himself as well.
In the demo presented by Tom Nikl from VMware.
You can find out more about VMware Mirage from the product page of VMware Mirage at VMware.
VMware Mirage v3.6 introduces the following features and improvements:
Base Layer (BL) Provisioning – Prepares a new device to be part of the organization by cleaning up the device files, applying an existing BL, and then seamlessly migrating the contents of the endpoint to the Mirage Server (as in Centralize Endpoint).
Fusion support – Mirage supports managing desktops running in a Fusion hypervisor for Macs.
Streaming enhancements
During Restore processing, you can view the streaming status of each downloading file. You are notified if a file you try to open is not finished downloading, and advised when that file becomes ready for use.
Performance improvements were implemented which promote faster response time and enhanced user experience.
Scalability improvements – Faster management console response time in larger scale CVD configurations.
Reconnecting a device to a CVD (Force Upload) – A device that has lost its synchronization for any reason can be reconnected to its CVD and can continue backing up incremental changes as before.
Default Policy Auto Selection – In endpoint assignment wizard streams, a default Upload Policy (predefined in Security Settings) automatically applies to the endpoint if no other policy is specifically selected.
Configuration tabs are more logically organized – Upload Policy selection moved from CVD Auto Creation tab to General tab.
VMworld Barcelona 2012
VMware Mirage – VMworld Barcelona – Demo video – this post