VMware has released already version 11 of their powerful scripting environment – PowerCLI 11. PowerCLI cmdlets are created to automate VMware environments administration. This post will detail all about VMware PowerCLI 11. One of the new updates in this release is a new security module which will allow you to automate some of the security features that vSphere has.
In fact the new VMware.VimAutomation.Security module has the possibility example, to get security info about your VMs or get some information about KMS cluster. Key Management Server (KMS) cluster provides the keys that you can use to encrypt the vSAN datastore.
PowerCLI 11 brings also updates for other modules such as Host profile module, Storage (vSAN) or updates for vCloud Director (recently updated to v 9.5).
VMware works together with the community to release useful updates and improvements. Many additions which are added on weekly/monthly basis are submitted by the community of users so the new release is an evolution of this environment.
VMware documentation has tons of examples of how to manage VMware vSphere, by starting a connection to the vCenter server, and then managing vSphere infrastructure and its individual components.
PowerCLI 11.0.0 What's New?
Added a new Security module
Added new cmdlets for Host Profiles
Added a new cmdlet to interact with NSX-T in VMware Cloud on AWS
Support for vSphere 6.7 Update 1
Support for NSX-T 2.3
Support for Horizon View 7.6
Support for vCloud Director 9.5
Multiplatform support for the Cloud module
Updated the Get-ErrorReport cmdlet
Removed the PCloud module
Removed the HA module
How to update?
Simply by entering
Update-Module VMware.PowerCLI
into your PowerCLI window.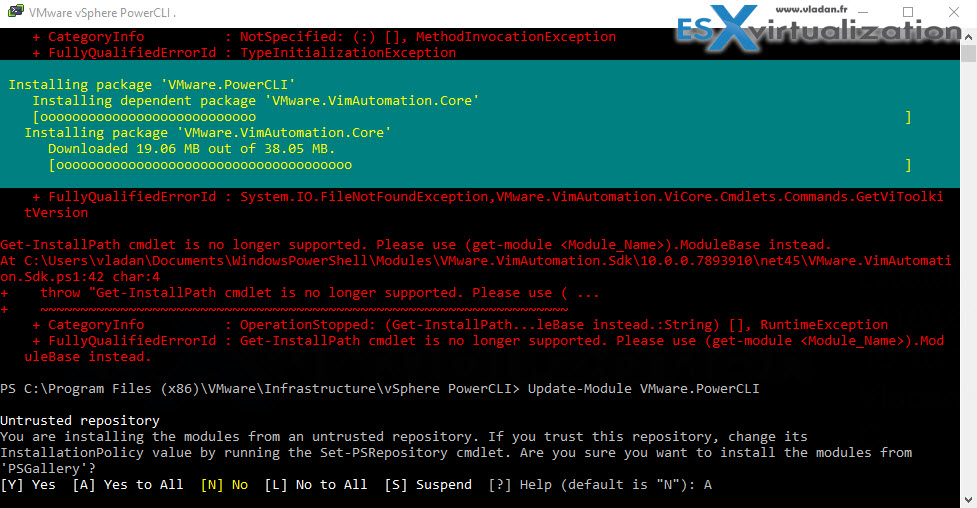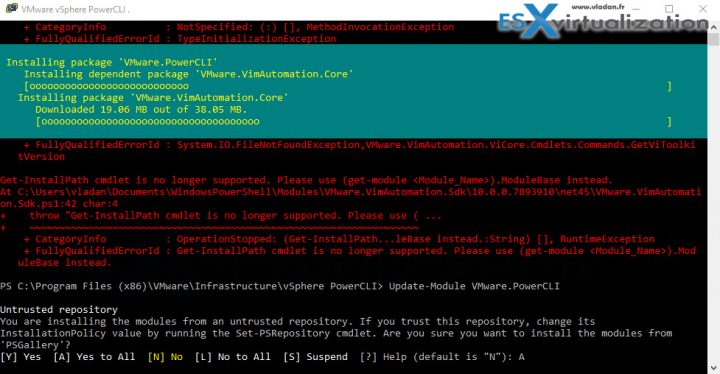 Check the VMware PowerCLI 11.0.0 User's Guide.
Source: VMware PowerCLI blog
Worth to note that VMware PowerCLI contains modules of cmdlets based on Microsoft PowerShell for automating vSphere, but not only. There are also all other VMware products. Such as VMware Site Recovery Manager, vSphere Automation SDK, vCloud Director, vSphere Update Manager, vRealize Operations Manager, VMware Horizon, NSX-T, and VMware Cloud on AWS administration, and more.
VMware PowerCLI provides a PowerShell interface to the VMware product APIs.
More from ESX Virtualization
Stay tuned through RSS, and social media channels (Twitter, FB, YouTube)