Together with the recent release of vCenter 5.1b, there has been new release of VMware Site Recovery Manger (SRM). The SRM 5.1.0.1 is an update for the SRM 5.1 release and the 5.0.2 is an update for the older 5.0.1 release (in case you're on the release before upgrading to the 5.1.x).
SRM 5.0.2 is available in those languages:  English, French, German, Japanese, Simplified Chinese.
VMware SRM 5.0.2
Upgrade 5.0.1 to 5.0.2 – You can perform an in-place upgrade of SRM 5.0.1 to SRM 5.0.2. VMware recommends in-place upgrades rather than fresh installations. With an upgrad, the history reports, recovery plans, protection groups and customizations of recovery plans are kept.
What's new in SRM 5.0.2?
New OSs are supported for customization (W8, W2K12, RHEL 6.2/6.3, and Ubuntu 12.04).
vSphere Replication accepts MD5 certificates
The OpenSSL implementation has been upgraded to 0.9.8t
Autogenerated certificates are now 2048 bit
And the are number of resolved issues.
Links for SRM 5.0.2:
Quick quote from VMware vSphere blog concerning compatibility:
If you're upgrading SRM and using vSphere Replication: You will need to upgrade vSphere Replication at the same time to match the SRM version.  In this case you may actually already be running VR at the latest version, but please make sure you check the revisions of VC, SRM, and VR to make sure they work correctly together!
VMware SRM 5.1.0.1
What's new in SRM 5.1.0.1?
The 5.1.0.1 does not provide new features, but has mostly bug fixes. The latest release of SRM, the SRM 5.1.0.1 (build 941848) addresses some critical issues where using an imported PKCS12 certificate, fails the upgrade. So you must use auto generated certificate – see KB 2036909. The issue was fixed with the latest build 941848.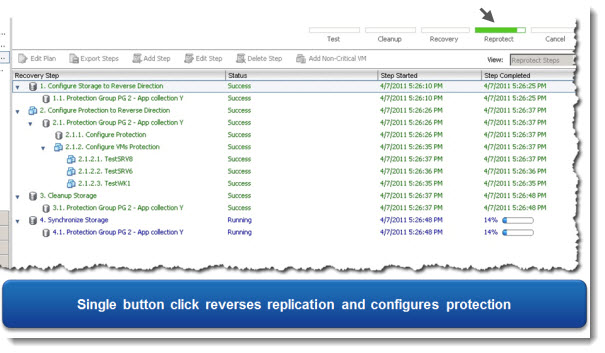 I already reported in details about the the new features introduced in SRM 5.1. Reprotect and failback with vSphere Replication  – In previous release you could reprotect and failback on array-based protection groups only. The 5.1 release is fully 64 bit application. The APD state has been improved, as I already reported in my blog post about SRM 5.1 here.
Links for SRM 5.1.0.1
Source: VMware Blog